Which Diecast Car Brand Is The Best | Survey from Community of 24,300 Collectors
As a collector, one of the hardest questions you would answer is what diecast car brand is the best. It is so hard because there are different types of collectors each with its own preferences such as price, detail and so much more.
Thus, I decided to make a poll to ask on forums consisting of about 24,300 collectors. My aim here is to find what the majority of the collectors think on the topic of which diecast car brand is the best.
According to the majority of collectors, the best diecast car brand is AutoArt getting 50 out of the 137 which is 36.50% of all total votes. This is because AutoArt is always famous for its attention to detail. The second is Hot Wheels having 35.04% of total votes.
In this article, I am going to show my data so you can see plus screenshots. You would also see the scores of other brands.
Getting the Data to find out Which Diecast Car Brand is the best
But first, I would like to start with providing the screenshots of the poll and how I got the data.
What I did was to survey two active car modeling communities. One community has about 6,400 members and the other community has 17,900 members.
In total, I made a survey for 24,300 collectors.
However, as with almost all surveys, I can't make them all answer to the poll but I got a total of 137 votes.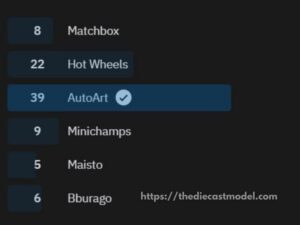 Here is one of the data from the bigger community. I will compile the data later in a table.
But in their community, most are a fan of AutoArt which is actually a good diecast brand and one of my favorite when I'm talking about attention to detail.
Now, let's go with the 2nd poll I've made.
In this second poll, I was quite surprised with the results.
But in the second poll, it seems like Hot Wheels is winning.
I actually attribute Hot Wheel's popularity to the votes. It is not surprising that most people would recognize Hot Wheels because of the commercials we always get.
I remember having too many Hot Wheels commercials when I am watching some cartoons way back to my childhood.
Data analysis to find which diecast car brand or company is the best
Now, here is the data I've gathered
| | | | | |
| --- | --- | --- | --- | --- |
| Model Brand | Forum 1 | Forum 2 | Total Votes | Percent Vote |
| Matchbox | 8 | 2 | 10 | 7.30% |
| Hot Wheels | 22 | 26 | 48 | 35.04% |
| AutoArt | 39 | 12 | 50 | 36.50% |
| Minichamps | 9 | 2 | 11 | 8.03% |
| Maisto | 5 | 3 | 8 | 5.84% |
| Bburago | 6 | 4 | 10 | 7.30% |
| | 89 | 49 | 137 | 100% |
Survey Data
First, let's talk about my data.
Actually, I also voted in the poll. This is because I am part of the community and I think voting first would encourage others to vote.
Thus, since I voted twice, I actually subtracted 1 vote from AutoArt because that's what I voted for.
That's why the vote for AutoArt in the data became 50 instead of 51. I subtracted one of my votes since I voted twice to encourage others to vote.
But I think this data gives an accurate result on which diecast car brand is the best.
Let me arrange them for you.
These are the best diecast car brands based on their votes.
Auto Art – 36.50%
Hot Wheels – 35.04%
Minichamps – 8.03%
Matchbox and Bburago – 7.30%
Maisto – 5.84%
So, based on the data, we can conclude that.
AutoArt is the best diecast car brand according to the majority of collectors where it got 36.50% of the votes. The second best diecast car brand is Hot Wheels which got 35.04% of the total votes. It was followed by Minichamps with 8.03% of the votes and the one with the fewest vote is the Maisto brand only getting 5.84%.
I will be giving a brief introduction to each of these diecast car brands. I will also arrange them according to the most voted to the least voted.
1. AutoArt
According to the poll which got 137 votes from collectors, AutoArt is the best having 36.50% of the total votes.
It got 50 votes which are actually not surprising.
When it comes to details and attention quality, AutoArt will simply not be left behind.
Their models are very detailed that even the rims and dashboard would look like the real one even for a scaled model.
Furthermore, the paint they use on their models is all premium quality. Thus, it would be quite rare to impossible to see imperfections on their finished products.
AutoArt is actually a Hong Kong based model car manufacturer which has produced over 45 different car models that ranged from the 1/12 to the 1/64 scale.
As you can also see, I also voted for AutoArt since I like their brand.
Also, whether I voted or not, it would still win first place on the poll.
If you are interested in AutoArt, I actually have an article you can read. I've made a summary of why AutoArt is Valuable. You can find the blog post here: Why is AutoArt Expensive and Valuable
2. Hot Wheels
Hot Wheels won second place getting 35.04% of votes which accounts for 48 out of 137 votes.
In my opinion, if you're on a budget, Hot Wheels is a good choice. That's why I am not surprised with it getting second place.
Plus, they make good 1/64 scale model cars plus tracks.
I also believe that popularity is the cause of this amount of votes for hot wheels. This is because of their intense emphasis on marketing campaigns.
I would always remember those Hot Wheels commercials since childhood and they are the first car model brand I've actually owned.
For the price to quality ratio, I can't complain. They actually did well to provide cheap model cars.
What I mean is that even if they are a lot cheaper than AutoArt, if you check the price to quality ratio, they would almost be the same.
Hot Wheels is owned by the company Mattel which we will discuss later.
If you're interested in Hot Wheels, then I have an article for you to check out. It is where I discussed how hot wheels produced good quality models for a cheap price. Here is the link: Why are Hot Wheels Cheap
Also, if you're interested in collecting them, here is my article for that: Are Hot Wheels Worth Collecting?
3. Minichamps
The third place goes to Minichamps getting 11 votes or 8.03% of total votes.
In my opinion, this brand is not getting the love it deserves since they actually make good quality 1/18 scale models.
Furthermore, their models are reasonably priced.
They won't even lose if you are checking their price to quality ratio. They provide good detail at a reasonable price.
The reason for that they are known for providing heavier models which mean that they are really sturdy because they are made with almost all metal.
So, I think their low vote count is because of 2 things.
One is that, unlike Hot Wheels, they aren't that popular.
The second is that the collector's scale is the 1/43 scale which Minichamps is not known for.
If you want to know more about scales, then I have an article for you. Plus, I even computed the price to ounce ratio per scale and it's interesting. here's the article Diecast model scales: A Complete Analysis
If you're looking for a sturdy model with textured seats and steering wheels, I believe that Minichamps can offer you that.
4. Matchbox
I actually thought that Matchbox was popular. But I am wrong. It actually tied with Bburago getting 7.30% of votes each.
Matchbox is actually owned by Mattel.
If it seems familiar, this is because Mattel owns Hot Wheels.
They actually bought Matchbox a few years back so, that's a good fact to know.
That is also why Matchbox car's and Hot Wheels' tracks are compatible with each other.
You can actually play a matchbox car on a Hot Wheels track and vice versa.
If you're looking for their difference, the main difference is that Hot Wheels are more on the fantasy side while Matchbox is more on the realistic side.
I think that's why it's not that popular.
What I mean is that you would see ghosts or sharks on a Hot Wheels track while on a Matchbox, it would be more realistic.
But they both perform well on the 1/64 scale.
If you're interested in more differences between Matchbox and Hot Wheels, feel free to check this article: Matchbox cars vs Hot Wheels: Which is better.
5. Bburago
Bburago tied with matchbox cars getting 7.30% of votes.
Bburago is owned by May Cheong Group but before, it was actually an Italian company.
Bburago's original name was Martoys in Bburago Di Malgora, Italy. Hence, its name.
However, Bburago went bankrupt in 2007 because of Maisto. That's why it was bought by May Cheong Group who owns Maisto.
For more information on Bburago vs Maisto, I actually have an article for you. Here is the link: Which is better Maisto vs Bburago
However, Bburago is actually good when it comes to creating supercar models such as Ferrari.
This is especially true for Ferrari model cars since they even hold an exclusive license to make Ferrari diecast cars.
They are also known for these model cars: Ferrari, Lamborghini, Maserati, Porsche, McLaren, Bugatti, and many more.
6. Maisto
Maisto is last on the list having only 8 votes and getting 5.84% of the total votes.
However, it is worth noting that Maisto dominated the market before that's why Bburago went bankrupt.
Maisto is actually owned by the May Cheong Group. The company that bought Bburago.
Maisto is actually good at creating Nissa, Ducati, Harley Davidson, Bentley, Honda, Acura, and Yamaha models.
In my opinion, this is one of the best brands when we are talking about price. You can get a model for half its price compared to other brands if you chose to get Maisto.
Furthermore, they research their detail well.
In my opinion, what made it last is also because of its price.
Because it is way cheaper than other brands, their raw materials and labor cost should also be low in order to make a profit. Thus, it won't be able to show its quality and detail like other models.
However, I must say that their 1960s and 1970s models were actually really good and worth collecting especially the Harley Davidson models.

"Only the things I love"
thediecastmodel.com is reader-supported. When you buy through links on the site, I earn an affiliate commission.
So, here are the things I love when taking care of my Diecast Models.
Cleaning the Models
The first we are going to talk about is cleaning the models.
Removing Dust
Air Brush – For me, this is the best since it not just removes dust but you can use it in painting/clear coating.
Air Duster – This is a good alternative to Airbrush
Normal Brush – If you are short on budget, you can use a normal brush. However, make sure that the brush has soft bristles because there are some hard brushes than can cause scratches. That's why I recommended a good brush that can do the job properly.
Cleaning and Shining Hacks
Well, here are some of my cleaning hacks for removing scratches, oxidation, and so much more.
Removing Decal Adhesive – Use Goo Gone on those hard-to-remove decal adhesives. It works fast and works like charm!
Waxing and Polishing – Here is something a lot of people don't know. Waxing protects the clear coat and paint while polishing shines the model. Instead of buying it separately, use a 2 in 1 to save money. Get this instead.
Beginner Wax – The wax I recommended earlier is good and provides the best results based on my experience. But a beginner might have a problem especially if they're not good at applying wax. Solid wax reaching hard to reach surface can be hard to remove. You have two choices here. One is to use a qtips to reach those surfaces, another is to use a liquid wax I recommended.
Cleaning Wheels, Rubber, Plastic – Do not forget that rubber and plastic surface are quite different, especially in the cleaning process. Just wiping it down won't do the job. That's why I use Meguiar's Vinyl and Rubber Cleaner and Conditioner. Works like charm!
Make the Wheels Shine! – Making our models look good won't be complete without tiny details such as shiny wheels! Do not forget this because however small this is, the difference can be as big as night and day.
Remove Scratches Easily – Tiny scratches are not the end for your model. Here is a simple trick I've been using to make my models look scratch-free even without repainting. Use T-Cut.
Painting the Models
Painting Tools
Make sure when you paint models, have these ready.
Tape – A tape is important if you are painting a straight line. Furthermore, it will prevent your paint to scatter on other parts. I recommend Tamiya Tape since it is really made for models. Furthermore, they stick really well preventing paint splatters.
Brush (Beginner) – Find a good set of brushes to paint your models. Of course, you can opt for an airbrush but it's quite expensive.
Airbrush (Intermediate/Expert) – This will yield a significantly better result than an ordinary brush because you can easily spray the paint evenly. I recommend this if you know what you're doing.
Stand(Optional) – Stands are good because it can be hard to manually hold the models while painting. It is optional but in my opinion, the price is well worth it for the comfort it gives.
Drop Cloths – Drop Cloths will protect your surroundings from the paint.
Primer – The most common beginner mistake I see is painting models without any Primer. A primer will prevent imperfections such as bubbles or paint not sticking to your models. It is a small price to pay for quality results.
Clear Coat – A clear coat will protect the paint of your models. This will make the paint last longer. Also, it is the one responsible for making your models shine.
Paints
Of course, you can't do painting properly without paint. So here are the ones I recommend.
Acrylic Paint – Good for beginners because it dries quickly. However, it doesn't produce results as good as enamel paint.
Enamel Paint – Provides a good quality finish and longer-lasting paint. However, it takes longer to dry and requires expertise to use.
Model Maintenance
Model Storage
Simple Wood Cabinet – While it doesn't let you display your models, wooden cabinets are good storage for these models. For one, they are not heat conductors which means that the temperature inside will remain constant and remain cool. Furthermore, they prevent light from reaching the models which can cause oxidation.
Clear Cabinet with Lock – If you want to display your models, then I recommend this. It closes so dust won't easily get to your models. I also recommend you don't put more than 1 model in each compartment since metals are good conductors of heat.
Model Photography
So you want to show off your models to others? Well, I got you covered.
Here is my beginner-friendly model photography tutorial that teaches everything from taking pictures to the editing process.
You will also see me doing hands-on photography in that tutorial.
Here is the link: How to Take Pictures of a Diecast Model or Model Kit | Helpful Illustrated and Video Guide