What is the Largest Model Car? Model and Scale Analysis
Sometimes. we just have moments where we are looking for quick facts. For a collector, one of the things you would most likely think about is finding out the largest model car. What exactly is the largest model car. Furthermore, what scale of model car is actually the largest.
The biggest scale model car is actually the 1:4 scale Ferrari SF71H which has a length of approximately 48 inches. But 1:4 is very rare and one of a kind. The most common largest scale model car is actually the 1:18 model. You can also find the 1:12 model but only in selected stores.
When it comes to the diecast model of a car, almost all of us would want an exact replica, which is like art and emotion for us. Something we can display and tell the story of that car. That's why the size of the model car matters. This article would talk more about the largest model car which includes their scale.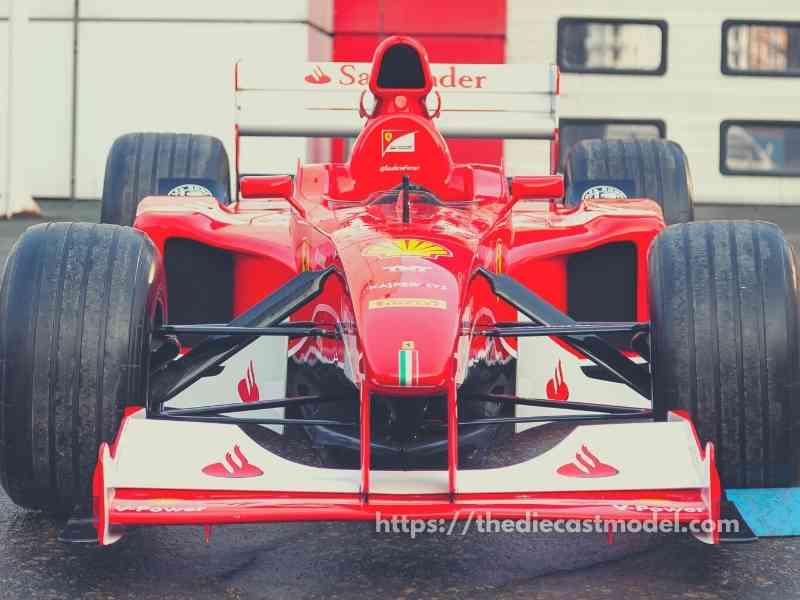 What is the biggest scale model car?
As a car enthusiast, you'll not settle for anything less than an exact copy of your favorite supercars. You'll be concerned about its build quality, interior, and performance.
Regular models usually end up on a bookshelf if they are the right color and have the right rims.
But what about the special contrasting stitched diamond leather sports seat of a Novitec spoiler set? Regular scale models definitely won't be able to replicate it A to Z.
That is where the largest model cars make an impact.
If you are an ardent collector of diecast model cars, you'll be more inclined towards the biggest one.
One of the largest model car scale sizes is 1/18 and the most popular as well. Model cars in this scale are between 10 (250 mm) and 12 (300 mm) inches long. And, it is said to be 18 times smaller than a car.
For some reason, 1/18 scale diecast cars appear to be the most popular size of collectibles.
In the days of Hot Wheels, Matchbox, and Micro Machines (the company that boasted that their cars could fit on a single dime), many collectors grew up with 1/64 scale model cars or even smaller.
As a result, it may appear strange that so many people are turning to larger models.
The biggest popularity
When it comes to detail, it's difficult to fit every nut and bolt of a Ferrari into a model that's only a couple of inches long.
In contrast, larger-scale model cars are a little more difficult to work with.
As soon as you place it on your desk, it takes up space that would normally be used for your coffee.
When you put it on a shelf, the front wheels dangle precariously from the ledge.
Cars in the 1/18 scale diecast cars provide the ideal compromise.
These allow for great detail without sacrificing the convenience of a small model car that can be placed anywhere. It's just the right size for a scale model car collection.
Amazing detailing
Collectors seeking authentic details such as working bonnets, doors, and boots should look for 1/18 scale models.
These cars come with more delicate features such as working lights, electric engine wiring, rubber hoses and suspension, and a realistic interior.
Almost all diecast 1/18 scale models produced in recent years have opening doors, bonnets, and boots, as well as steering wheels that turn the front wheels.
Tires are frequently used in conjunction with functional 'springy' suspension systems.
Typically, the hood or bonnet lifts reveal a highly accurate and detailed engine bay.
Genuine leather interiors, precise engine detail, fully operational sunroofs, windscreen wipers, adjustable seats, movable gear levers, and numerous other realistic accessories are standard on higher-end models.
Depending on the type of vehicle represented, the majority of models are approximately 11 inches (280 mm) long by 5 inches (130 mm) wide by 4 inches (100 mm) tall. This level of detail is typical in 1/18 and larger scales.
The 1:18 scale is ideal for visualizing all of the elements that collectors love.
Biggest value
The 1/18 scale is simply a practical size.
It's not too small or too large for the collector.
When it comes to determining value, the size of a replica is extremely important.
Although larger models are more valuable than smaller ones, they take up more space to display and store, which may turn off some collectors.
One of the most important factors influencing the value of a replica model car is its appearance and size.
Ardent collectors are frequently only interested in vehicles in 'mint condition,' with no visible wear or defects.
Compared to an identical model with minor marks or blemishes, these vehicles will have a higher resale value.
What is the biggest model scale?
The biggest model scale is actually the 2/3 scale of an airplane called the Fokker DR1 triplane. For car models, it is the 1:4 scale Ferrari SF71H. However, these models are one of a kind and the usual biggest model car you can buy is the 1:12 scale model.
For more information on the largest RC planes, you can check this article I've made here: Largest Model Planes Guide
The 1/12 scale is a common scale (ratio) for models and miniatures.
One inch on the scale model is equal to twelve inches on the original object being copied in this scale.
This scale is also known as a one-inch scale depending on the application (since 1 inch equals 1 foot).
The scale is rarely used in the high-end diecast model and radio-controlled cars but is popular for dollhouses, particularly those geared toward adult collectors.
The scale is also used in the construction of model live steam railroads.
1/12 scale action figures and related toys are also popular, particularly those based on super-heroes and associated concepts such as Marvel Legends, DC Universe Classics, and, most recently, Mezco Toyz's One:12 series.
It has also been used in one similar game, Shadowrun Duels. In fact, Jonathan Swift's 1726 novel Gulliver's Travels also used the 1:12 scale. Gulliver and the Lilliputians were compared using the ratio.
What is a scale model?
A model's scale size is a fraction of its actual size. For example, a 1/18 scale model is one-eighth the size of the real thing. The larger the model, the lower the number in the scale size.
Before you choose a model, think about its scale.
The scale you select is determined by what you want to build, how you intend to display it, and how many and what types of models you want in your collection.
If you live in a house with enough space for a dedicated hobby lair, your options are obviously different than if you live in a cozy apartment.
Conclusion
Despite being the biggest scale model, 1/12 is barely used in diecast cars (except high-end model cars and remote-controlled models).
Although the scale model cars are very conspicuous in details, these lack convenience. On the other hand, 1/18 models are practical—neither too big nor too small. It's a perfect size for collectibles featuring all the details accurately.
That is why, when it comes to larger model cars, adult collectors are more interested in the 1/18 scale.

"Only the things I love"
thediecastmodel.com is reader-supported. When you buy through links on the site, I earn an affiliate commission.
So, here are the things I love when taking care of my Diecast Models.
Cleaning the Models
The first we are going to talk about is cleaning the models.
Removing Dust
Air Brush – For me, this is the best since it not just removes dust but you can use it in painting/clear coating.
Air Duster – This is a good alternative to Airbrush
Normal Brush – If you are short on budget, you can use a normal brush. However, make sure that the brush has soft bristles because there are some hard brushes than can cause scratches. That's why I recommended a good brush that can do the job properly.
Cleaning and Shining Hacks
Well, here are some of my cleaning hacks for removing scratches, oxidation, and so much more.
Removing Decal Adhesive – Use Goo Gone on those hard-to-remove decal adhesives. It works fast and works like charm!
Waxing and Polishing – Here is something a lot of people don't know. Waxing protects the clear coat and paint while polishing shines the model. Instead of buying it separately, use a 2 in 1 to save money. Get this instead.
Beginner Wax – The wax I recommended earlier is good and provides the best results based on my experience. But a beginner might have a problem especially if they're not good at applying wax. Solid wax reaching hard to reach surface can be hard to remove. You have two choices here. One is to use a qtips to reach those surfaces, another is to use a liquid wax I recommended.
Cleaning Wheels, Rubber, Plastic – Do not forget that rubber and plastic surface are quite different, especially in the cleaning process. Just wiping it down won't do the job. That's why I use Meguiar's Vinyl and Rubber Cleaner and Conditioner. Works like charm!
Make the Wheels Shine! – Making our models look good won't be complete without tiny details such as shiny wheels! Do not forget this because however small this is, the difference can be as big as night and day.
Remove Scratches Easily – Tiny scratches are not the end for your model. Here is a simple trick I've been using to make my models look scratch-free even without repainting. Use T-Cut.
Painting the Models
Painting Tools
Make sure when you paint models, have these ready.
Tape – A tape is important if you are painting a straight line. Furthermore, it will prevent your paint to scatter on other parts. I recommend Tamiya Tape since it is really made for models. Furthermore, they stick really well preventing paint splatters.
Brush (Beginner) – Find a good set of brushes to paint your models. Of course, you can opt for an airbrush but it's quite expensive.
Airbrush (Intermediate/Expert) – This will yield a significantly better result than an ordinary brush because you can easily spray the paint evenly. I recommend this if you know what you're doing.
Stand(Optional) – Stands are good because it can be hard to manually hold the models while painting. It is optional but in my opinion, the price is well worth it for the comfort it gives.
Drop Cloths – Drop Cloths will protect your surroundings from the paint.
Primer – The most common beginner mistake I see is painting models without any Primer. A primer will prevent imperfections such as bubbles or paint not sticking to your models. It is a small price to pay for quality results.
Clear Coat – A clear coat will protect the paint of your models. This will make the paint last longer. Also, it is the one responsible for making your models shine.
Paints
Of course, you can't do painting properly without paint. So here are the ones I recommend.
Acrylic Paint – Good for beginners because it dries quickly. However, it doesn't produce results as good as enamel paint.
Enamel Paint – Provides a good quality finish and longer-lasting paint. However, it takes longer to dry and requires expertise to use.
Model Maintenance
Model Storage
Simple Wood Cabinet – While it doesn't let you display your models, wooden cabinets are good storage for these models. For one, they are not heat conductors which means that the temperature inside will remain constant and remain cool. Furthermore, they prevent light from reaching the models which can cause oxidation.
Clear Cabinet with Lock – If you want to display your models, then I recommend this. It closes so dust won't easily get to your models. I also recommend you don't put more than 1 model in each compartment since metals are good conductors of heat.
Model Photography
So you want to show off your models to others? Well, I got you covered.
Here is my beginner-friendly model photography tutorial that teaches everything from taking pictures to the editing process.
You will also see me doing hands-on photography in that tutorial.
Here is the link: How to Take Pictures of a Diecast Model or Model Kit | Helpful Illustrated and Video Guide
Source