Bburago vs. Maisto: Which is Better
When you just started with your passion as a diecast model collector, the first thing that comes to your mind is, which diecast brand will be lighter to your pocket, and with whom you can build a large collection in a short time. Both Bburago and Maisto are famous diecast car brands, known for their affordable pricing ($30 or less than that) and found in almost any store—from Costco, Target, Wal-mart, and even on Amazon.
Maisto is better than Bburago if you look at the brand's popularity. While both are under the same company, Maisto is generally better when it comes to providing nearly perfect proportioned bodies and attention to detail. Bburago on the other hand is better as a kid's toy.
The blog will discuss Bburago and Maisto as a brand and which one is a solid investment for beginner diecast collectors. 
Let's see.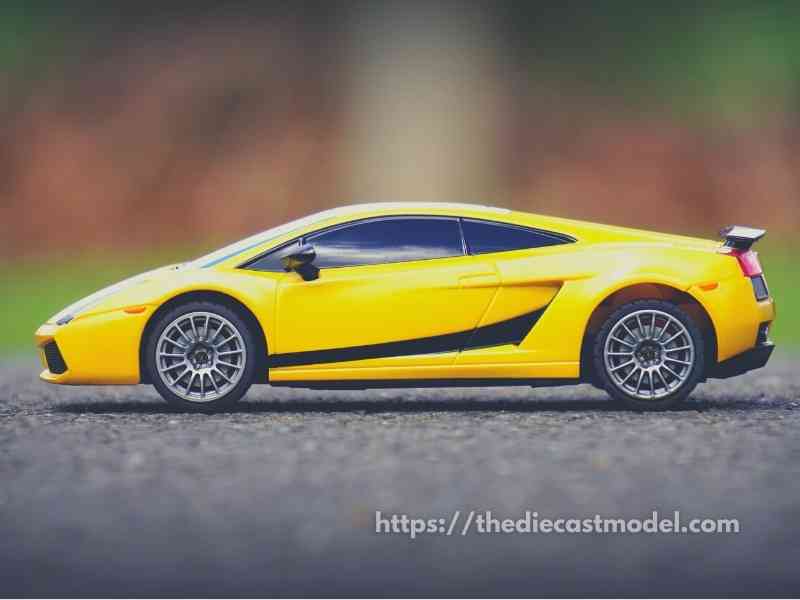 Which is Better Bburago or Maisto?
Maisto is better than Bburago when it comes to the interior of the models but both are still not up to the mark. Though Bburago worked on the details to some extent, it didn't care much about the materials. The inside of Maisto isn't detailed much, but the carpet and seats are made of carbon fiber.
Build quality and performance
Larger models of Bburago typically had detailed engines, spare tires in trunks, working steering, windshield wipers, and detailed instrument panels. Active suspension and removable wheels are also available in various models.
When it comes to the 1/43 model, the detail was excellent, as was the presentation, though the price is geared more toward kids. Bburago also has several 1/64 scale models available, but most of them lack opening features.
Maisto 1/18 scale vehicles typically have all features open, with nicely appointed engines and interiors. Models have nearly perfectly proportioned bodies and excellently researched detail.
However, paint applications may be too thick or uneven, and details that should be chrome are frequently painted silver.  Body panels may be uneven, lights may be unrealistic, and trim may be excessively thick and over-fancied.
Bloggers' review
While reviewing Bburago Ferrari Laferrari, Diecast Society pointed out that the paint is consistent and rich, the shut lines and panel gaps are surprisingly good, and the wheels are well-executed.
Still, Bburago lacks the realism a collector would like to see. The front and rear features are not well-built and honestly quite disappointing. Fitments aren't good, nor are the exhaust tips.
The motor, which is the best representation of the Ferrari power plant, looks cheap and plastic. The interior defines the various elements but lacks realism due to its toy-like appearance. While reviewing the Maisto Lamborghini Huracan Performante, they found it lacking the 'style pack.'
Those black Narvi wheels over black brake calipers are an utter disappointment, so is the Performante script and tricolor flag at the door.
When it comes to the interior, it's all black, except for the red start button. The racing seats are made of lightweight carbon fiber, other than everything is made of plastic.
The area of air vents, air intakes, and ALA ducts are covered and sealed. None of them has an open mesh, though it has an impression of a grill. The only thing they were impressed by is the engine.
The engine part is nicely detailed, and the gold finish looks fantastic.
HNK reviewed Maisto Lamborghini Gallardo Superleggera and Bburago Lamborghini Reventon. While reviewing Bburago, the first thing he notices is the panel gaps, which aren't proportionate. The paint quality isn't the best either.
On the other hand, Maisto has done an excellent job in paint, but the mesh grills are made of plastic with a fake mesh-like appearance. And, the sticker logo is terrible in both, but Bburago's is the worst.
When it comes to wheels, Bburago comes with a huge disappointment. Wheels are poorly done, and there's no caliper at all. However, Maisto has done a great job on the wheels. There's sufficient detailing on the rims and calipers with the Lamborghini logo.
This content was originally posted on thediecastmodel.com. If it appears on other websites, it is a violation of the copyright owned by thediecastmodel.com.
As always, Maisto marveled at the engine part. The engine is amazingly detailed. However, there's nothing much to see in Bburago.
But, the most interesting review is of Kids Nook, as he found Maisto models to be more durable and suitable to be kids' toys.
Is Bburago a Good brand?
Bburago is a good brand if we look at its price. The models are cheap and are very suitable for kids as a toy. However, when we look at the attention to detail, they're not as accurate as other brands. Overall, it lacks the realism which would a collector look out for.
BBurago is a diecast toy car brand, which has its origin in Italy. At its peak, Bburago's main competitors were Politoys and Maisto, the latter of which dominated the 1/18 market segment around the year 2000. Later, Bburago went under the Maisto brand due to bankruptcy in 2007.
Formerly known as Martoys, the company was renamed Bburago in 1976. One of the first BBurago lines was a series of 1/43 scale Fiat trucks, but these have disappeared by 1980. Later they produced a 1/24 scale that largely represented contemporary European sports and saloon cars. Most were well-detailed and had a lot of opening features. Then, a line of 1/18 vehicles came to the spot and became a regular part of Bburago.
Initially, the models were mostly 1930s cars, but later models from the 1950s and 1960s, such as the Jaguar XK-E roadster, were added. Finally, many modern high-performance automobiles, like the Lamborghini Diablo appeared and became the company's best-sellers.
Is Maisto a Good Brand?
Maisto is a good brand if we are looking for a cheaper price diecast model toy. Its quality and attention to detail are not the best but on the average level. In terms of the price to quality ratio, you will get what you paid for. Although, Maisto is really good at engine detailing.
Maisto International Inc. is a global toy brand owned by the May Cheong Group. The company later purchased the assets of the well-known brand Bburago in 2007. Maisto later acquired the Polistil brand, another notable Italian diecast model manufacturer that had gone bankrupt.
The May Cheong Group is based in Hong Kong, but their products are manufactured in China and Thailand, which produce 1/12, 1/18, 1/24, 1/25, 1/27, 1/43, 1/31, and 1/64 scale replicas. The majority of models have officially licensed replicas of famous car brands. On the other hand, others are fantastical rod and custom creations more similar to the Hot Wheels formula.
Maisto was famous around 1990, mainly competing in 1/18 scale with Italian Bburago, Polistil, and the more expensive and spotty Franklin Mint Precision Models. By the year 2000, plenty of other companies, including Yatming, Ertl, and even Mattel's Hot Wheels had joined the larger scale, 1/18 team. Except for Jada Toys, no other company has been able to compete with Maisto on a larger scale, especially since Bburago failed.
Conclusion and My Personal Recommendation
When it comes to building quality, both Bburago and Maisto are pretty similar. Still, Maisto is ahead of Bburago in performance and popularity. Maisto's greatest strength is that they have licenses for almost every manufacturer. If you're looking for a scale model of your car, chances are Maisto is making it for you. In fact, Maisto tops the position in bloggers' favorite list as well when compared with Bburago.
Overall, compared to Bburago, Maisto is a better investment.
Now, you might ask what is my recommendation. I would say that I would choose Maisto over Bburago. However, when talking about quality and attention to detail, I would prefer Matchbox cars or AutoArt.
I really like AutoArt when it comes to details. In fact, even the dashboard inside the models is very realistic with AutoArt.
I have articles discussing AutoArt and Matchbox. I suggest you also check it out if you really want a collection of worthy cars. Here are the links:
For plastic models, Tamiya is my favorite because their details are so extreme for a plastic model. I would make an article about Tamiya soon.

"Only the things I love"
thediecastmodel.com is reader-supported. When you buy through links on the site, I earn an affiliate commission.
So, here are the things I love when taking care of my Diecast Models.
Cleaning the Models
The first we are going to talk about is cleaning the models.
Removing Dust
Air Brush – For me, this is the best since it not just removes dust but you can use it in painting/clear coating.
Air Duster – This is a good alternative to Airbrush
Normal Brush – If you are short on budget, you can use a normal brush. However, make sure that the brush has soft bristles because there are some hard brushes than can cause scratches. That's why I recommended a good brush that can do the job properly.
Cleaning and Shining Hacks
Well, here are some of my cleaning hacks for removing scratches, oxidation, and so much more.
Removing Decal Adhesive – Use Goo Gone on those hard-to-remove decal adhesives. It works fast and works like charm!
Waxing and Polishing – Here is something a lot of people don't know. Waxing protects the clear coat and paint while polishing shines the model. Instead of buying it separately, use a 2 in 1 to save money. Get this instead.
Beginner Wax – The wax I recommended earlier is good and provides the best results based on my experience. But a beginner might have a problem especially if they're not good at applying wax. Solid wax reaching hard to reach surface can be hard to remove. You have two choices here. One is to use a qtips to reach those surfaces, another is to use a liquid wax I recommended.
Cleaning Wheels, Rubber, Plastic – Do not forget that rubber and plastic surface are quite different, especially in the cleaning process. Just wiping it down won't do the job. That's why I use Meguiar's Vinyl and Rubber Cleaner and Conditioner. Works like charm!
Make the Wheels Shine! – Making our models look good won't be complete without tiny details such as shiny wheels! Do not forget this because however small this is, the difference can be as big as night and day.
Remove Scratches Easily – Tiny scratches are not the end for your model. Here is a simple trick I've been using to make my models look scratch-free even without repainting. Use T-Cut.
Painting the Models
Painting Tools
Make sure when you paint models, have these ready.
Tape – A tape is important if you are painting a straight line. Furthermore, it will prevent your paint to scatter on other parts. I recommend Tamiya Tape since it is really made for models. Furthermore, they stick really well preventing paint splatters.
Brush (Beginner) – Find a good set of brushes to paint your models. Of course, you can opt for an airbrush but it's quite expensive.
Airbrush (Intermediate/Expert) – This will yield a significantly better result than an ordinary brush because you can easily spray the paint evenly. I recommend this if you know what you're doing.
Stand(Optional) – Stands are good because it can be hard to manually hold the models while painting. It is optional but in my opinion, the price is well worth it for the comfort it gives.
Drop Cloths – Drop Cloths will protect your surroundings from the paint.
Primer – The most common beginner mistake I see is painting models without any Primer. A primer will prevent imperfections such as bubbles or paint not sticking to your models. It is a small price to pay for quality results.
Clear Coat – A clear coat will protect the paint of your models. This will make the paint last longer. Also, it is the one responsible for making your models shine.
Paints
Of course, you can't do painting properly without paint. So here are the ones I recommend.
Acrylic Paint – Good for beginners because it dries quickly. However, it doesn't produce results as good as enamel paint.
Enamel Paint – Provides a good quality finish and longer-lasting paint. However, it takes longer to dry and requires expertise to use.
Model Maintenance
Model Storage
Simple Wood Cabinet – While it doesn't let you display your models, wooden cabinets are good storage for these models. For one, they are not heat conductors which means that the temperature inside will remain constant and remain cool. Furthermore, they prevent light from reaching the models which can cause oxidation.
Clear Cabinet with Lock – If you want to display your models, then I recommend this. It closes so dust won't easily get to your models. I also recommend you don't put more than 1 model in each compartment since metals are good conductors of heat.
Model Photography
So you want to show off your models to others? Well, I got you covered.
Here is my beginner-friendly model photography tutorial that teaches everything from taking pictures to the editing process.
You will also see me doing hands-on photography in that tutorial.
Here is the link: How to Take Pictures of a Diecast Model or Model Kit | Helpful Illustrated and Video Guide
Source (Check below for More Suggested Articles)
HNK's Model Car Collection Youtube Channel