Mantua Trains: Everything You Need to Know | History, Production, Value
Many old modelers would probably know about Mantua trains as they are one of the top-notch brands and the pioneer of the HO scale. Thus, Mantua's train has a long interesting story that I would like to share today. But in a nutshell, what are Mantua trains?
Mantua Trains is a model train producer that became famous for their HO scale trains. They are also known to produce high-quality steam train models. Mantua trains are now being made by Lionel, with the majority of their models being produced in Vietnam.
This post will talk about the history of Mantua Trains up to the present, where they are being made, the quality and the value of their models.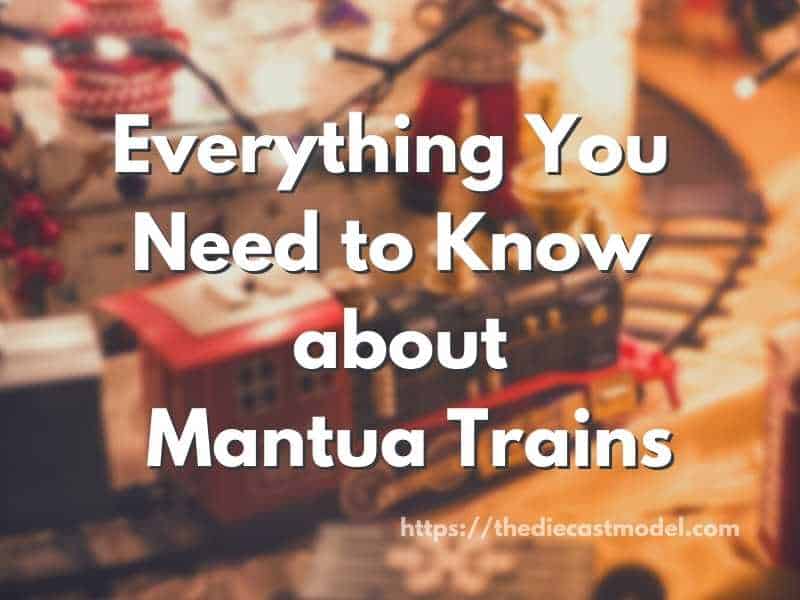 Who makes Mantua trains?
Mantua trains are now being made by Lionel due to the company purchasing the rights for the brand from Model Power in September of 2018. Thus, since 2019, Mantua has been made by Lionel using their manufacturing plant in Vietnam.
Mantua train has a fascinating history. They were one of the most popular brands for model trains.
You might have also seen many of their TV ads in the 70s or 80s.
They were one of the first to adopt the HO scale, which is now the most popular scale today.
Currently, Mantua trains are still in business and are still selling model trains. However, the company is now under Lionel since they bought it in 2018. In fact, Lionel released Mantua trains in their 2020 catalog featuring some of the known model trains from Mantua, such as Mantua Mikados.
However, before they became a part of Lionel, the company had a long and interesting history.
Mantua started in 1926 from a partnership of John Tyler and James Thomas. The company started as a manufacturer of sailboats.
However, James noticed an increasing interest in model trains, and when he informed John about this, they started to build model trains which became a success.
Mantua achieved success in the model railroading industry since they are the ones who solved the HO scale motor dilemma.
Since the O scale model trains have a big motor, they wouldn't fit an HO scale train. Thus, they designed and produced HO train engines, which were huge successes.
Their success even reached the point where people wouldn't buy HO scale motors except the ones from Mantua.
Their success leads them to be one of the leading manufacturers of HO scale model trains.
This content was originally posted on thediecastmodel.com. If it appears on other websites, it is a violation of the copyright owned by thediecastmodel.com.
Mantua is known for its quality, and they are active in TV ads making their products known to almost everyone in the USA.
Mantua is known for two things which are their HO scale trains and their steam locomotives.
In fact, the majority of Mantua trains are models of steam trains.
They are also known for their high-quality and durable trains. As a result, they were the ones who dominated the high-end HO scale market.
Sadly, in the 1960s, the entire model train industry is declining. That's why the sales of model trains started to dwindle.
Mantua's sales started decreasing with more people getting into hobbies such as model cars and spaceship models.
That's why Mantua started to shift away from model trains to pivot into the market. They tried producing other models such as blocks and car models.
Sadly, this move didn't save the company, and it officially went bankrupt in 2001.
However, that didn't mean that Mantua was entirely out of business. As one of the largest companies on the HO scale, people would always know or be familiar with the brand.
That familiarity is something other companies are willing to pay for.
That's why, in 2001, Mantua was bought by Model Power which continued the manufacturing of Mantua in their production plants in Hong Kong.
However, since the model train industry is still declining, Model Power also went bankrupt on April 22, 2014.
That's why Model Power's website is now down for many years.
However, you might be surprised to know that Mantua trains are still being sold. While Model Power ended, Mantua didn't end in 2014 because of Lionel.
We will continue the story in the next section.
Where are Mantua trains made?
Mantua trains are now being made in Vietnam since Lionel bought the company in 2018. Lionel started introducing Mantua trains in their catalog in 2020, and the company is now selling popular Mantua trains with more features such as accessories and DCC controls.
Mantua ceased production in 2014 and saddened the model railroading community. However, things changed in 2018 when Lionel announced that they bought the rights to Mantua.
In 2018, Lionel did business with ATI Model Products, which is doing business for Model Power, and bought the rights for Mantua trains.
This news became popular and made the model railroading community excited that Mantua trains would be back.
They even got more excited in 2020 when Lionel introduced some Mantua trains in their catalog, including the Mantua Mikados.
That's why you can now find new Mantua trains, but Lionel is now manufacturing them.
But I haven't answered where Mantua trains are now made.
Since Lionel bought them from Model Power, Mantua trains are now being made in Vietnam. However, before the company was bought by Model Power, the models were made in New Jersey.
When Mantua was owned by Model Power, their manufacturing was in Hong Kong.
In Vietnam, Lionel uses Mantua's old molds to remake their trains. That's why Lionel can accurately produce Mantua models with additional features such as DCC controls.
But you might wonder why Lionel bought Mantua. Well, it boils down to Lionel's problem in the Model Railroading industry.
Currently, the most popular scale for model trains is the HO scale, followed by the N scale, then the O scale.
HO scale accounts for 60 to 70% of model trains sold worldwide.
Lionel is famous for its O scale model trains, with 95% of its sales coming from O scale trains.
The problem is that the O scale model trains are in decline with people living in smaller spaces.
That's why to get into the HO scale market; they decided to get Mantua trains since it's already known for their HO scale trains.
That's why Lionel decided to buy and is now selling Mantua trains.
Recommended Read: Are you interested in knowing Lionel's manufacturing and why their models are produced in Vietnam instead of China? I discussed this in detail in this post: Where are Lionel trains made?
Are Mantua trains any good?
Mantua trains are known for their good quality and durable models. Mantua's train models are usually made with diecast metals, making them strong and durable. However, these models aren't good for collectors since they are slowly losing their popularity.
Sadly, the days when almost everyone knows Mantua trains because of their TV ads are over.
Mantua reached its peak for collectors in the 1990s with some of their high-end collector edition models that can go as high as $3,000.
However, those days are over.
Currently, new Mantua train cars are worth about $6 to $12, depending on their material quality.
Most rare Mantua trains can only be sold for hundreds due to fewer people knowing about the brand. As a result, their worth is not as much as they were once popular for collectors.
For example, the 1956 Mantua Talgo Passenger train set, a rare and vintage Mantua train set, was sold for only $184.
While they were once known for their high-quality and durable models, many modelers lost interest in the brand since they were only reintroduced in 2019.
Here are some examples of how much Mantua trains are now sold in auctions.
The Mantua Central Pacific 1860 4-4-0 is a vintage and a rare model that is sold in its red box. However, the model is in excellent condition, including all of their accessories and cars, including a mail car, 2 car and flat cars, and tracks.
This model also has its original paperwork.
Because of all of these factors, the model was sold for $270 in an auction.
Another example is the Mantua 1956 Talgo Passenger Train set, a vintage and rare Mantua train set that still includes its original box. This train set was sold for $184.
There is also a Mantua Vintage Super Bowl Express train set sold for $150. The model is still in excellent condition and sold in its original box.
As you can see, the only way for vintage Mantua trains to get back to their former value is to regain their popularity. Unfortunately, however, the trend isn't in their favor.
That's why rare and vintage Mantua models can only be sold for hundreds because fewer people collect their models.
What's next? Thomas the train is a very popular train cartoon show, and there are also rare Thomas the train model sets that have been sold for hundreds of dollars. If you're interested in the value of these trains, feel free to check this post: Are Thomas the Train Models Worth it?