Airplane Model Scales: Complete Guide & Facts
Your desire to make beautiful crafts has led you here, as a collector, when it comes to airplane models, what factors do you consider the most important? Is it the attention to detail, the model's backstory, or a recommendation from friends and family? It's fine to do whatever makes you happy but one of the most important ones is the scale. Thus, here, I will be giving you a fully in-depth article about aircraft model scales.
What scale are model planes? Generally speaking, model planes or aircrafts would usually have scales ranging for 1:18 up to 1:1250. However, there are some special model planes and aircrafts that are different such as the 1:3 RC stearman, and the 1:6 Concorde replica.
This blog will explain everything you need to know about aircraft scales. Make sure to read all the way to the bottom, so we can make this the most popular online hangout for modelers and collectors. We would not only explane scales, we would also discuss the most popular and the biggest scale for aircrafts. Happy reading!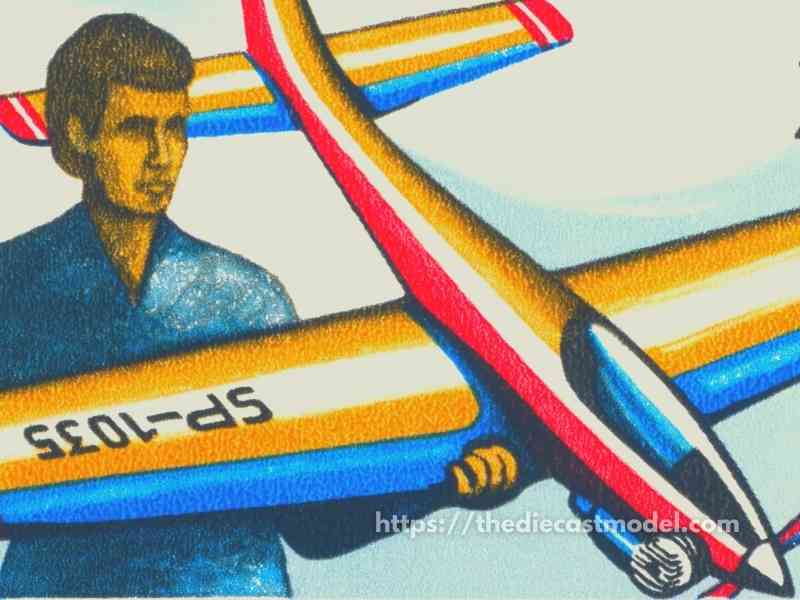 What Scale Are Model Planes? 
In general, you can find aircraft models ranging from 1:18 up until 1:1250 on regular stores. However, there are some exceptions and considered as special models. A perfect example is the largest aircraft model which is the Boeing 747 Virgin Atlantic which is a 1:13 scale model.
Scale Model Planes are small planes that are created to the same proportions as the actual thing. Flying and non-flying model aircraft are the two most common categories.
Static, display, and shelf models are all terms for non-flying models. Flying models range from tiny toy gliders to scale models driven by electricity.
Commercial static model aircraft are available in a number of scales, ranging from 1:18 to 1:1250. The most common scales for plastic model kits that require assembly and painting are 1:144, 1:72, 1:48, 1:32, and 1:24.
Does Aircraft Model Size Matter?
Not so much in all aspects of life, but in the case of model airplanes, it does.
When it comes to some of the most prevalent models on the market. There are several important advantages to having larger models, ranging from larger planes to larger parts.
The level of detail you can attain is significantly higher, such as customizing it with your embellishments. 
The only exception is when it comes to models made to be placed on a desktop, which must be small enough to not take up the entire space.
Furthermore, I would like to add that larger models are good when it comes to RC planes. The reason is it would have enough battery to sustain longer flights.
They might be heavier, but they also generally have larger batteries.
For plain models, the only thing you need to consider is their attention to detail and of course, where you would put it.
This article is for aircraft scales, for an Analysis of Diecast Model Scales such as cars, trucks and trains, you may check out this article: Diecast Model Scales Analysis
What Is The Most Popular Scale For Model Aircraft? 
The most common scale for model aircraft in the world is the 1/72 scale, which was the original size used for some of the earliest plastic assembly kits developed in England in the late 1930s. The 1/144 scale is the next most popular with wingspans of up to 30″ or more for bomber models.
Model airplanes are also available in different scales, such as 1/24 and a variety of smaller models.
The most common scale for automotive models is 1:24; for military models, 1:35 or 1:48; and for aircraft, 1:32, 1:48, or 1:72. We occasionally see 1:144 commercial aircraft, but this is uncommon with smaller planes. Because the originals are so enormous, ship models are one-of-a-kind.
How Scale Helps To Maintain Consistency
By allowing you to make the width, length, and height of your adjustments uniform, scale removes the guessing out of customizing your model.
You can easily keep the breadth, width, size, and shape of your new model uniform by using your present model as a point of reference.
The purpose of this scale is to make sure that the wings are relative to the size of the aircraft's body. These minute details are what makes models realistic.
This means you won't have to compromise the model's overall appearance by using pieces that aren't the right size.
Scales are very important for details. For example, metal or diecast models are very hard to detail considering that you're dealing with metals.
However, there is a new form of diecasting which uses resin. This makes sturdy and more detailed models. I really can't wait for the technology to be used on model planes.
I have made an article about resin diecast because it is very interesting. You can find it here: What is a Resin Diecast 
What Is The Biggest Airplane Model?
The current biggest replica model of an airplane is the 1:6 scale of Concorde which is has a size of 13 x 33 x 6.1 feet. This concorde model plane is so big that it weights 328 pounds. Another worth noting is the 1:13 Boeing 747 model which is 17.8 feet long and has a wingspan of 16.24 feet,
Although there is no official Guinness World Record for the largest RC plane, this amazing replica Concorde appears to be the world's largest. Steven and Matthew Bishop designed and built the model at a scale of 1:6.
It measures 13 feet (4 meters) in wingspan, 33 feet (10 meters) in length, and 6.1 feet (1.85 meters). The RC plane is powered by four JetCat P300 Pro engines and weighs 328 pounds (149 kilograms).
Actually, if I'm speaking for myself, I can't decide between the Concorde or the Boeing 747.
Granted that the concorde model is a 1:6 model, but the Boeing 747 is a larger plane so even if it is a 1:13 model, it can still compete when it comes to size.
There are quite a few more huge model aircrafts or airplanes that are also worth mentioning.
Here are a few of the more well-known examples (however there are few more out there)
1. World War II B-50 "Superfortress"
In the United Kingdom, an RC model of a World War II B-50 "Superfortress" grabbed headlines. The electric RC bomber, which cost over £8,000 (about $11,000) to construct, is so large (100lb/45kg) that it can only stay in the air for around eight minutes.
The RC plane has a wingspan of around 20 feet (6 meters), and the Civil Aviation Authority of the United Kingdom classifies it as a light aircraft.
2. H1 Racer
Aero Telemetry's half-scale H1 Racer is one of the world's largest RC planes. It is propelled by a 360cc two-stroke two-cylinder 30hp engine. The experts who worked on the project were required to design a special exhaust system and tweak the carburetor in order to increase the engine's power output. This 1:2 scale H1 Racer is really massive.
3. RC Stearman N2S-4
This 1:3 scale RC Stearman N2S-4 is one of the world's largest RC planes. YouTuber elimay421 developed and constructed it. The Seidel UMS ST 7-250B, which powers this RC plane, sounds as good as it looks. It's a biplane that was first used as a trainer airplane in the 1930s and 1940s, with over 10,000 built.
4. Boeing 747-400 model Virgin Atlantic
You can find more information of the Boeing 747-400 Virgin Atlantic in this article. It is about large RC planes. What Is The Largest Remote Control Airplane?
What Is The Biggest Model Scale For An Airplane
When it comes to Model Scale of a plane, the largest you can find in regular stores are the 1/32 scale. However, there are few stores that can offer up to 1/18 scale. When it comes to the biggest model scale, there is a 7/8 scale of the Pitts Python biplane. 7/8 means that it is almost the same size as the real-life version.
The biggest airplane model is the 1/32 scale. For hobbyist, this is a relatively new scale. With wingspans of up to 30" or more for bomber models, it is by far the largest of the four most common sizes.
However, there are some few stores that offer a 1/18 scale but it is rare.
When we talk about the most life-like scale of an airplane, well it is the 7/8 scale of the Pitts Python biplane. This airplane model is almost the same size as the real deal.
The 7/8 scale model was made by a man called Gregg Hayfield.
The attention to detail on these massive kits is incredible, and the modeler will have a fantastic time putting them together. The main disadvantage is that due to their large size, they are difficult to showcase.
Airplane Model Scales: How To Choose The Perfect Model Size For You
The choice to create your first scale model begins with a decision. A decision to clarify what matters to you.
Many start by looking through some selections to see which one appeals to them the most. They get recommendations from friends, the way it looks, or the fascinating narrative behind it are all elements that could influence your selection.
But what about proportions? What is the optimal scale for model construction, and what does model building scale even mean? Models are available in a variety of scales, with the most common being 1:4, 1:8, 1:12, 1:16, 1:18, 1:24, 1:48, and 1:72 being the most popular. The first big step toward mastering your model builds is deciding on a scale that works for you.
You can really show off your creative building once you understand the size you're working with.
Remember that the 1:4 is mostly found only for car models. While there is a 7/8 scale aircraft, it is almost impossible to buy one on regular stored.
When reading the scale, the number on the left side of the colon (typically 1) denotes the model, while the number on the right denotes how much larger the original thing is in contrast.
For instance, here is an existing item along with its scale, model sizes, and original sizes to help understand this concept:
Note: These are just samples and not real models
Sample 1:
ITEM: Hummer H1
SCALE: 1:8
MODEL LENGTH: 570mm
ACTUAL LENGTH: 4560mm
Sample 2:
ITEM: Millennium Falcon
SCALE: 1:1
MODEL LENGTH: 808mm
ACTUAL LENGTH: 808mm
Replica models, in this case, airplanes, are manufactured in a lesser proportion of the actual object, in which the model size can be handled. The Millennium Falcon, for example, is a 1:1 scale model. This replica, not the real Millennium Falcon, is the same size as the Star Wars movie prop.
Could you imagine making a 34.75-meter-long scale model of this legendary starship? A model of this magnitude will require a space as big as a football field to be displayed on.
Calculator For Converting Scales
When creating a model, one of the first things to consider is scale.
However, I know how annoying it could be to deal with math. So I actually found something interesting for you.
You can use this calculator to match any portion to practically any scale in inches and millimeters if you have the measurements of a full-size vessel or any section of it. That calculator allows you to compute the scale size precisely.
Conclusion
Scale models are usually smaller than the real-life object they depict unless you are transported into an alternate universe or you are extremely rich.
You can show off your creative building once you understand the size you're working with. The first big step toward mastering your model builds is deciding on a scale that works for you.
Scale removes guessing out of customizing your model by using your present model as a point of reference. The Calculator referenced allows you to compute the scale size precisely. You can use this calculator to match any portion to practically any scale in inches and millimeters if you have the measurements of a full-size vessel or any section of it.
But I want to impart a good information here. I want to answer who has the most collection of model planes as of now?
Shannon Airport in Ireland now features the world's largest collection of model airplanes on permanent display. Michael Kelly, 67, of Farranshone, Limerick, has amassed a collection of over 1,500 diecast models over the course of 50 years.
Thank you for reading to the end, now it's your turn to air your views.

"Only the things I love."
So, here are the things I personally love when taking care of my Diecast Models.
Cleaning the Models
The first we are going to talk about is cleaning the models.
Removing Dust
Air Brush – For me the is the best since it not just removes dust but you can use it in painting/clear coating.
Air Duster – This is a good alternative to Airbrush
Normal Brush – If you are short on budget, you can use a normal brush. However, make sure that the brush has soft bristles bacause there are some hard brush than can cause scratches. That's why I recommended a good brush that can do the job properly.
Cleaning and Shining Hacks
Well, here are some of my cleaning hacks for removing scratches, oxidation, and so much more.
Removing Decal Adhesive – Use Goo Gone on those hard to remove decal adhesives. It works fast and works like charm!
Waxing and Polishing – Here is the something a lot of people don't know. A wax protects the clear coat and paint while polishing shines the model. Instead of buying it separately, use a 2 in 1 to save money. Get this instead.
Beginner Wax – The wax I recommended earlier is good and provides the best results based on my experience. But a beginner might have a problem especially if they're not good at applying wax. Solid wax reaching hard to reach surface can he hard to remove. You have two choices here. One is to use a qtips to reach those surfaces, another is to use a liquid wax I recommended.
Cleaning Wheels, Rubber, Plastic – Do not forget that rubber and plastic surface are quite different especially on the cleaning process. Just wiping it down won't do the job. That's why I use the Meguiar's Vinyl and Rubber Cleaner and Conditioner. Works like charm!
Make the Wheels Shine! – Making our models look good won't be complete without tiny details such as shiny wheels! Do not forget this because however small this is, the difference can be as big as night and day.
Remove Scratches Easily – Tiny scratches are not the end for your model. Here is a simple trick I've been using to make my models look scratch free even without repainting. Use T-Cut.
Painting the Models
Painting Tools
Make sure when you paint models, have these ready.
Tape – A tape is important if you are painting a straight line. Furthermore, it will prevent you paint to scatter on other parts. I recommend Tamiya Tape since it is really made for models. Furthermore, they stick really well preventing paint splatters.
Brush (Beginner) – Find a good set of brush to paint your models. Of course you can opt for an airbrush but it's quite expensive.
Airbrush (Intermediate/Expert) – This will yield a significantly better result than ordinary brush because you can easily spray the paint evenly. I recommend this if you know what you're doing.
Stand(Optional) – Stands are good because it can be hard to manually hold the models while painting. It is optional but in my opinion, the price is well worth it for the comfort it gives.
Drop Cloths – Drop Cloths will protect your surroundings to the paint.
Primer – The most common beginner mistake I see is painting models without any Primer. A primer will prevent imperfections such as bubbles or paint not sticking to your models. It is a small price to pay for quality results.
Clear Coat – A clear coat will protect the paint of your models. This will make the paint last longer. Also, it is the one responsible for making your models shine.
Paints
Of course, you can't do painting properly without paint. So here are the ones I recommend.
Acrylic Paint – Good for beginners because it dries quickly. However, it doesn't produce results as good as enamel paint.
Enamel Paint – Provides good quality finish and longer lasting paint. However, it takes long to dry and requires expertise to use.
Model Maintenance
Model Storage
Simple Wood Cabinet – While it doesn't let you display your models, wooden cabinets are a good storage for these models. For one, they are not heat conductors which means that the temperature inside will remain constant and remail cool. Furthermore, they prevent light reaching the models which can cause oxidation.
Clear Cabinet with Lock – If you want to display your models, then I recommend this. It closes so dusts won't easily get to your models. I also recommend you to don't put more than 1 model in each compartment since metals are good conductors of heat.
Model Photography
So you want to show off your models to others? Well, I got you covered.
Here is my beginner-friendly model photography tutorial that teaches everything from taking pictures to the editing process.
You will also see me doing hands-on photography on that tutorial.
Here is the link: How to Take Pictures of a Diecast Model or Model Kit | Helpful Illustrated and Video Guide
Source(See Below for Recommende Articles)