Hot Wheels: What should I look for when Buying? | 8 Things to Check when Buying a Hot Wheel
When starting or expanding a collection, it is essential to take note of some things to make sure that you get the best out of your hard-earned money. Instead of giving the specific Hot Wheels to buy, I prefer giving you the things you need to check to ensure that you get the best deal. That way, you'll develop the most important skill of collectors, which is the skill of assessing models.
When looking at Hot Wheels, you should always check for their theme, unique series, colors, license, errors, and many more. These are essential factors to find out if the model you'll buy is valuable. Furthermore, it is important to check the model's condition since models outside the box are less valuable than those in mint condition.
This blog discusses those rules to help aspiring Hot Wheels collectors better channel their taste and individuality. Furthermore, this guide will also help you buy models that will most likely serve as investments in the future.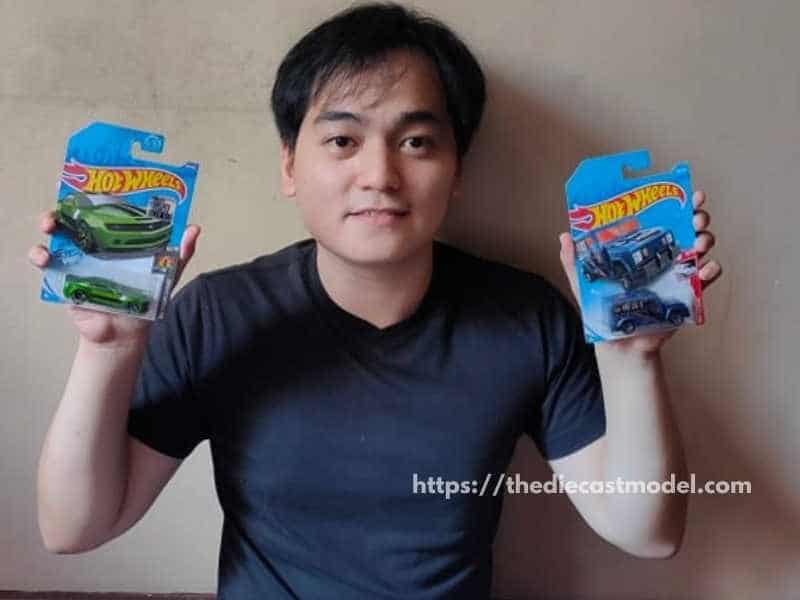 What should I look for in Hot Wheels?
If you're getting started as a collector, the first thing you should do is learn about Hot Wheels' history and evolution over the years.
It would be best if you learned about the various series, the cultural and historical periods they reflect, as well as Mattel's constant strive for innovation that drives every design.
To help, this website is here to give information on models. Feel free to browse more later.
Some of the historical characteristics of the designs, particularly those that turned out to be errors for some reason, results in the most sought-after Hot Wheels models today.
When it comes to something as diverse as Hot Wheels, devoted fans are bound to follow a specific set of unwritten rules.
Below are the things people should look for to help aspiring Hot Wheels collectors buy models worth their taste.
1. Check Hot Wheels Themes
With Hot Wheels' variety of styles and collectors' variety of personalities, collection themes can be nearly as numerous as the actual cars.
Themes are very important, especially if you plan to sell your models in the future.
Find models that are popular with a lot of collectors
2. Look at Hot Wheels Model Colors
This is probably the most basic yet quite good point to start.
Suppose you prefer a particular color, just as many people prefer a specific color of the car.
In that case, you can create not only a vibrant theme for your Hot Wheels collection but also an unusual decoration for your home.
3. Look for Unique Hot Wheels Series
Mattel has produced several series over the years.
Models from 1968 to 1977 were termed "Redlines" because their wheels had a red pinstripe on the side.
Now, Redlines make a comeback in special series models – in any case, they are super rare and expensive.
Hot Wheels has a Red Line Club, an annual premium membership that grants access to special deals and features.
The Treasure Hunt era, which began in 1995 and continues today, is the remarkable era of Hot Wheels.
So, nowadays, there are approximately 250 models (365 in 2017) available as Mainlines (basic series).
The twist is that some mainline cars are harder to find because they were produced in smaller quantities and are referred to as Treasure Hunts.
Treasure Hunts are usually easy to locate since all of these have a logo (flame in a circle) on the door or the spoiler.
Here is the logo you should see to identify a treasure hunt.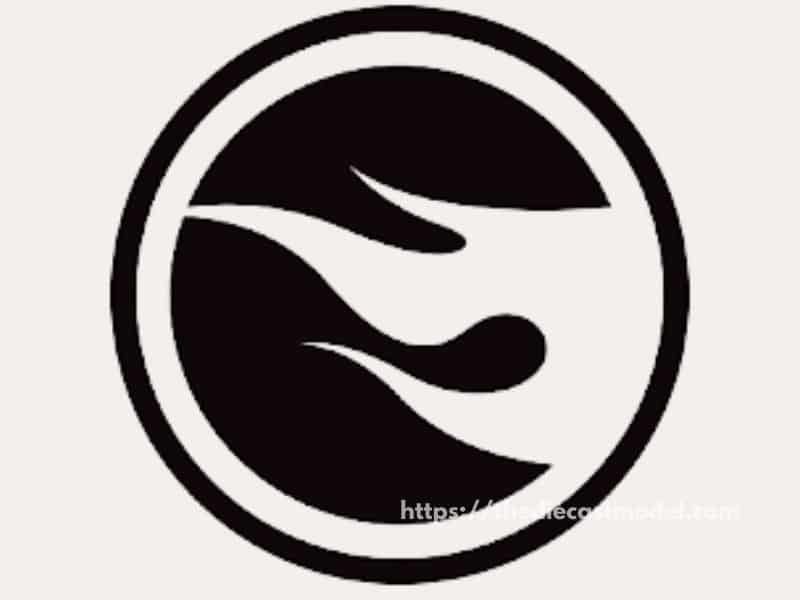 However, the logo can also be hidden inside some colorful graffiti art or a stripy decal.
You can also find the logo on the blister box.
Here are the photos of my Treasure Hunts and the logo you should find.
The Super Treasure Hunt Series is another venture. These Hot Wheels cars have even fewer production numbers and can be identified by the letters "TH" somewhere on their bodies.
The Super Treasure Hunt Series have frequently offered tuned versions of the basic cars or series, with better paint jobs, more eye-catching artwork, and Real Riders (rubber wheels instead of plastic).
Here is a sample photo of the super treasure hunt logo.
Here is a close-up view of my Super Treasure Hunt Hot Wheels so you will know where to find the logo.
However, the series does not end there.
There is also the Formula One series, which was created due to Mattel's collaboration with five Formula One teams.
There's the funky Beatles series, Japanese Historics, Planet Micro, and many more.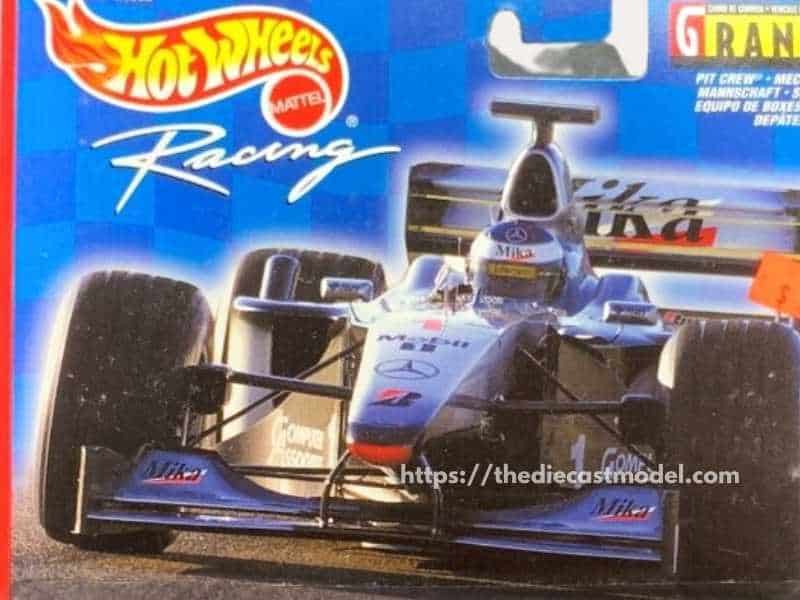 But honestly, The Treasure Hunt series, in the spirit of their name, are harder to find and thus more valuable.
4. Look for Licensed Model Cars
In this case, everyone loves Mustangs, Chargers, and Corvettes, but not everyone may love a Volvo Square Wagon or an 80's Mazda, which is why Mattel gives popular car companies more space on their lineup every year.
That also means getting a Ford model is consistently more likely than getting a Mazda when you start looking on the toy aisle.
Value-wise, buying a licensed car is a smart move.
5. Look for Hot Wheels Original
Let's be honest, when you hear the words "Original Hot Wheels Design," you expect either an animal-shaped car or a super futuristic car with neon colors.
Long ago, this type of car meant something unique and wild, and it was a unique characteristic that distinguished Hot Wheels from the competition.
The Twin Mill, Deora, Rip Rod, and Bone Shaker have all become synonymous with the brand and are iconic cars in their own right.
However, most collectors overlook these cars when they come across them unless they're a Treasure Hunt, Super Treasure Hunt, or one of the cooler-looking ones, like the Twin Mill.
This content was originally posted on thediecastmodel.com. If it appears on other websites, it is a violation of the copyright owned by thediecastmodel.com.
6. Look for Hot Wheels Errors
Another theme that provides an invaluable opportunity is to celebrate mistakes. Errors, ironically, make for one of the most unique, engaging, and expensive collections.
Because Hot Wheels error models were naturally phased out of production as soon as designers realized their mistakes, they were rare and expensive.
I've made a separate article discussing Hot Wheels Error and which among them are worth collecting. You can find the blog post here: Are Hot Wheels Error Worth the Money?
7. Look for the Ones with Good Packaging
If you're collecting to sell it one day, keeping them in the package will almost certainly increase your profit.
Models outside the box lose about 20-25% of their value compared to models in mint condition.
If not, there is an incredible beauty in a collection, spread out somewhere in your house like your very own car platoon.
If you're not sure if you'll ever want to sell your car, it's a good idea to keep the box as pristine as possible to prove its origin.
To make sure that you preserve the most value in case you want to open your models, it is important to know how to open them without damaging anything. I've made a detailed guide to do that, both using a drill and without a drill. You can find the tutorial here: How do you open a Hot Wheels Car?
8. Look For Genuine Hot Wheels Shop
Even though most large stores, such as Walmart and Toys R Us, will always have a variety of Hot Wheels, you will always have a better chance of finding something unique at smaller and more exclusive stores.
Joining forums like hotwheelscollectors.com for news, tips, and trends is a good idea.
The joy of collecting is the sense of community it fosters, and there is no shame in being a novice.
Final Thoughts
Buy all the cars that most car enthusiasts want, Muscle cars, Supercars, and Cult Classics; all of them are guaranteed to attract any collector and, to some degree, a profit.
Rarer cars will draw more value, but hunting them down comes down to where you're buying them because not all supermarkets and stores are handling the same mix of cars simultaneously.
However, there is only one supreme rule—you are the boss. You can pursue specific brands, model years, muscle cars, sports cars, or anything else that feels right to you. Still, try to stick to a theme, whatever it is.
What's next? If you want to see the most valuable Hot Wheels such as the one which has a book value of $150,000 to $175,000, then check this blog post: Can you make money selling Hot Wheels?

"Only the things I love"
thediecastmodel.com is reader-supported. When you buy through links on the site, I earn an affiliate commission.
So, here are the things I love when taking care of my Diecast Models.
Cleaning the Models
The first we are going to talk about is cleaning the models.
Removing Dust
Air Brush – For me, this is the best since it not just removes dust but you can use it in painting/clear coating.
Air Duster – This is a good alternative to Airbrush
Normal Brush – If you are short on budget, you can use a normal brush. However, make sure that the brush has soft bristles because there are some hard brushes than can cause scratches. That's why I recommended a good brush that can do the job properly.
Cleaning and Shining Hacks
Well, here are some of my cleaning hacks for removing scratches, oxidation, and so much more.
Removing Decal Adhesive – Use Goo Gone on those hard-to-remove decal adhesives. It works fast and works like charm!
Waxing and Polishing – Here is something a lot of people don't know. Waxing protects the clear coat and paint while polishing shines the model. Instead of buying it separately, use a 2 in 1 to save money. Get this instead.
Beginner Wax – The wax I recommended earlier is good and provides the best results based on my experience. But a beginner might have a problem especially if they're not good at applying wax. Solid wax reaching hard to reach surface can be hard to remove. You have two choices here. One is to use a qtips to reach those surfaces, another is to use a liquid wax I recommended.
Cleaning Wheels, Rubber, Plastic – Do not forget that rubber and plastic surface are quite different, especially in the cleaning process. Just wiping it down won't do the job. That's why I use Meguiar's Vinyl and Rubber Cleaner and Conditioner. Works like charm!
Make the Wheels Shine! – Making our models look good won't be complete without tiny details such as shiny wheels! Do not forget this because however small this is, the difference can be as big as night and day.
Remove Scratches Easily – Tiny scratches are not the end for your model. Here is a simple trick I've been using to make my models look scratch-free even without repainting. Use T-Cut.
Painting the Models
Painting Tools
Make sure when you paint models, have these ready.
Tape – A tape is important if you are painting a straight line. Furthermore, it will prevent your paint to scatter on other parts. I recommend Tamiya Tape since it is really made for models. Furthermore, they stick really well preventing paint splatters.
Brush (Beginner) – Find a good set of brushes to paint your models. Of course, you can opt for an airbrush but it's quite expensive.
Airbrush (Intermediate/Expert) – This will yield a significantly better result than an ordinary brush because you can easily spray the paint evenly. I recommend this if you know what you're doing.
Stand(Optional) – Stands are good because it can be hard to manually hold the models while painting. It is optional but in my opinion, the price is well worth it for the comfort it gives.
Drop Cloths – Drop Cloths will protect your surroundings from the paint.
Primer – The most common beginner mistake I see is painting models without any Primer. A primer will prevent imperfections such as bubbles or paint not sticking to your models. It is a small price to pay for quality results.
Clear Coat – A clear coat will protect the paint of your models. This will make the paint last longer. Also, it is the one responsible for making your models shine.
Paints
Of course, you can't do painting properly without paint. So here are the ones I recommend.
Acrylic Paint – Good for beginners because it dries quickly. However, it doesn't produce results as good as enamel paint.
Enamel Paint – Provides a good quality finish and longer-lasting paint. However, it takes longer to dry and requires expertise to use.
Model Maintenance
Model Storage
Simple Wood Cabinet – While it doesn't let you display your models, wooden cabinets are good storage for these models. For one, they are not heat conductors which means that the temperature inside will remain constant and remain cool. Furthermore, they prevent light from reaching the models which can cause oxidation.
Clear Cabinet with Lock – If you want to display your models, then I recommend this. It closes so dust won't easily get to your models. I also recommend you don't put more than 1 model in each compartment since metals are good conductors of heat.
Model Photography
So you want to show off your models to others? Well, I got you covered.
Here is my beginner-friendly model photography tutorial that teaches everything from taking pictures to the editing process.
You will also see me doing hands-on photography in that tutorial.
Here is the link: How to Take Pictures of a Diecast Model or Model Kit | Helpful Illustrated and Video Guide
Source
https://blog.wheelsbywovka.com/ultimate-hot-wheels-collectors-guide-beginners-2016-edition/