Who Makes The Best Aircraft Models? | Airplane Model Companies Analysis
When it comes to aircraft models, the best are those that are made of diecast metal. Diecast airplane models are available in a variety of sizes, quality, and detail levels, as well as pricing. Choosing the proper brand is difficult, despite the fact that there are a few well-known and established brands. We'll go over the most popular manufacturers, scales, brands, quality standards, and costs. Plus, we'll also cover plastic models in this article.
As a general rule, the best brands for aircraft diecast models are Herpa Wings, GeminiJets, and Skymarks. You can begin here without breaking the bank if you want to own or gift an aviation enthusiast a nice-looking airplane model. Amounts ranging from $10 to $70 should be expected.
However, models made of plastic, particularly those from well-known manufacturers, can also look fantastic. This article will cover everything you need to know about some of the manufacturers of model airplanes you love and a little of how to get the most out of your purchase, whether you're a detail-oriented enthusiast, just looking to put a cool aircraft on your desk, or getting one as a gift.
If you are interested in the best commercial airplane models, feel free to check out this article: Best Commercial Plane Models.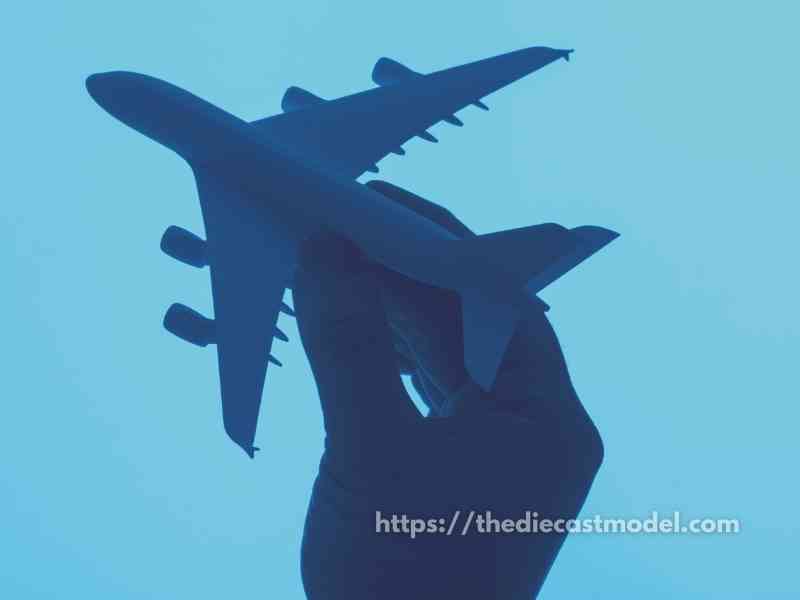 Companies That Make Model Airplanes 
There are many companies that make model airplanes or aircraft. Some of these are Guillow's, Factory Direct Models, Academy Plastic Models, Berkeley Models Inc., Herpa Wings, Gemini Jets, Dragon Models Limited, Inflight 200, and Pheonix Models. Each of them has different strengths and weaknesses which a collector might prefer over the other.
There are hundreds of brands out there under the categories mentioned above, so we will discuss the most popular and important ones in this section.
Guilow's
Guilow's is in the sub-category of "Almost Ready-to-fly" under the "Flying" Model. It was founded by Paul K. Guillow.
He created Paul K. Guillow, Inc. which is an American maker of balsa wood model aircraft kits.
The company was initially known as NuCraft Toys and was started by Paul K. Guillow in Wakefield, Massachusetts in 1926. The company makes Almost Ready-to-Fly model airplanes, which have the airframe constructed but no engine or other equipment installed.
Hundreds of affordable slide-together balsa gliders and rubber band-powered airplanes, as well as hundreds of more intricate stick-and-tissue scale model airplanes, are among their offerings.
Factory Direct Models
This manufacturer is in the sub-category of "To scale" under the "Static" Model. For over 25 years, (FDM) has provided profitable business solutions to the world's most distinguished aircraft manufacturers and industry experts.
Currently, they supply over 50 different aircraft manufacturers in 68 nations with the greatest custom-made military and civilian aircraft models. Each highly detailed scale model is handcrafted and engineered to exact requirements.
The corporation is unrestricted in its ability to produce any model in any fashion. What sets FDM apart from other model makers is their award-winning customer service staff, experienced quality control team, dedication, and an unwavering pursuit of perfection.
Academy Plastic Model
Academy Plastic Model Co., Ltd. (Hangul:아카데미과학주식회사) is plastic modeling, chemical, as well as toy manufacturer based in Korea.
This maker is in the sub-category of "Plastic" under the "Scale kits" Model. It was founded on September 1, 1969, and is headquartered in Uijeongbu-Si, Gyeonggi-do, Korea. Seoul, Korea; Gelsenkirchen, Germany; and Rosario, Cavite, Philippines are its three headquarters.
Academy has created and sold over 500 goods to over 60 nations around the world, and the company has earned numerous Model des Jahres accolades for product excellence from 1989.
Plastic model kits, radio-controlled cars, battery- and solar-powered educational models, sailboat models, acrylic and enamel model paints, airsoft pistols, and other modeling tools and supplies are all produced by Academy.
Berkeley Models, Inc.
Berkeley Models, Inc. had been an American model-airplane kit manufacturer that helped pioneer firsts like the nation's original gas model airplane kit and went on to become one of the industry's top companies.
From 1933 to 1962, it was situated in the Brooklyn borough of New York City, New York, and afterward in West Hempstead, New York.
In 1986, Bill Effinger, the company's founder, was inducted into the Academy of Model Aeronautics Hall of Fame. However, this company is categorized under an unknown format perhaps because their record seems to suggest that they are no more.
Which Company Makes The Best Model Airplanes?
As a general rule, Tamiya and Academy are the best brands when it comes to details on airplane models. However, Revell, Gemini Jets, and Herpa wings are also very good and sturdy. It also depends on the collector's preference since some model aircraft are exclusive to certain companies.
Due to varying preferences, viewpoints, and needs, various people like different things, although Tamiya and Academy are arguably the most popular brands in the hobby.
However, many older kits such as Revell, ARII, Gemini Jets, Herpa Wings, and others are still popular.
It all depends on the topic at hand. Some subjects are exclusively made by a few firms. Other older Tamiya kits have been superseded by newer kits from other companies that cover the same subject.
Here, I've discussed the other companies not covered in the last section.
Herpa Wings
Herpa Wings are Herpa of Germany's die-cast miniature airplanes. 250 airlines are represented in a 1:200 scale by 17 different aircraft manufacturers.
Many multinational airlines, including Singapore Airlines, Cathay Pacific, and others, have commissioned Herpa Wings to create model airplanes.
These model planes are then offered exclusively onboard by the airlines and are not available for purchase in conventional retail stores.
GeminiJets
GeminiJets was started by Elliott Epstein, as a diecast model airplane manufacturer based in Las Vegas, Nevada, in December 1998.
A Virgin Atlantic Boeing 747-400 is Gemini's first model. GeminiJets is the brand name for the product line, but ADI (Airliners Distributing Inc.) is the corporation that started it all and has the production rights from airlines and aircraft manufacturers.
Dragon Models Limited (DML)
Dragon Models Limited (DML) is a Hong Kong-based company that produces plastic model kits, diecast models, and military action figures.
In Europe, the company has distribution agreements with Revell/Monogram, Revell Germany, and Italeri, and in Japan, it has distribution agreements with Hasegawa and GSI.
The Hasegawa Corporation
The Hasegawa Corporation is situated in Shizuoka, Japan, and produces plastic model kits of a wide range of vehicles, their models including airplanes,  ships, cars, armor, science fiction, and spacecraft.
The list of companies that produce airplanes is not limited to the above but we hope that you get the idea.
Many children, as well as adults, like creating and collecting plastic model airplanes in their leisure time. In local hobby shops or on the internet, you can easily discover a broad selection of model airplane kits for sale. The listings in this guide are far from exhaustive or comprehensive, but they might assist you in selecting the best model kit for your needs.
Who makes the best plastic model kit planes?
In general, Tamiya makes the best plastic model kits of both car and plane models. They are good together nicely and with great attention to detail. Although their prices are generally quite high. Plus, they are easy to assemble. You also won't go wrong if you chose a Revell kit.
The Most Cost-effective Airplane Model Brands
If you're looking for perfect scale replicas that are also cost-effective, JC Wings, Phoenix Models, Gemini Jets, Inflight200, or Aeroclassics are the manufacturers to look for. Choosing between these brands may will depend on how detail-oriented you are.
To help you understand, here are detailed explanations of each of these companies.
Aeroclassics
Aeroclassics specializes in retro airliners (but not only) and 1/400 scale models. They do have a limited amount of 1/200 models available, with a wide range of liveries for DC-8s and 707s, with prices starting at roughly $80.
However, 1/400 is their main business. They have a huge offering at that scale, with anything from the current Air Canada A320 robber mask livery to Emirates A343s, NWA DC-10s, and Icelandair DC-6s.
The majority of their narrow bodies cost $35, with 747s costing roughly $50. Their molds are beautiful, and their 747 is exceptionally nicely constructed.
Gemini Jets
Gemini Jets is best renowned for their 1/200 scale models, as they have a superb eye for scale and, as a well-established brand, provide excellent quality.
In addition, they have a sizable 1/400 scale lineup. Their 1/400 models cost between 35 and 50 dollars for narrow bodies and 40 to 50 dollars for wide bodies.
Phoenix Models
Phoenix Models specializes in 1/400 scale models and provides extremely accurate scale aesthetics, especially when compared to other brands that appear to be less concerned with shape and details.
They make 1/200 scale models as well, and they're a little less expensive than Gemini models.
JC Wings
JC Wings is another well-known metal diecast manufacturer that uses the same molds as Gemini Jets.
They have great-looking models and aren't afraid to branch out into less-popular liveries.
JC Wings, according to the diecast flyer, made significant progress in 2017 and is now one of the leading contenders. Their 1/400 scale models typically cost between $40 and $50 for narrow-body planes and $50 for wide-body planes.
Inflight 200
Inflight 200 is a significant producer with a lot of releases, specializing in 1/200 scale models (obviously).
They have excellent accuracy molds and have recently created some awesome liveries, such as the American Airlines polished metal 747Sp!
The majority of diecast metal 1/400 scale models from prominent manufacturers cost between $25 and $50 for narrow-body models and $35 to $50 for wide-body models.
Narrowbodies in 1/200 scale normally cost 50-80 dollars, while widebodies cost 70-130 dollars, with smaller volume releases costing more, often around 170-250 dollars.
The major brands mentioned above are almost impossible to go wrong with. There are also lesser-known brands to explore, such as NG Model, HYJAL wings, and Panda models.
Where Can I Buy Diecast Models?
The major stores in the United States have the most choice of new releases and good prices. eBay is a place where you should expect to pay a premium, particularly for rarer models, although the marketplace usually takes care of pricing.
In addition, there are numerous specialty stores in major cities and airports, as well as smaller internet merchants. Among all of these, a specific model can typically be found at a fair price.
If you're passing through Amsterdam, don't miss the Luchtvaart Hobby Shop, which has been open since 1989 and is located near Schiphol Airport.
In New Zealand, you can get a decent range of 200, 400, and 500 scale models at Aircraft Models. Scale Model Store, Aviation Retail Direct (big selection of brands), and Air Spotters are all good options if you're from the UK.
What Model Aircraft The Best Gift?
In general, The best model aircraft to gift is a model the Airbus A320. The reason for this is that it is the most common plane no everyone would easily recognize the model. However, gifting also depends on the person as some are more into rare model planes.
Here is a Revell Model of Airbus 320, as you know, it is one of the best companies that make detailed aircraft. I've found it on Amazon. Here is the link: Airbus 320 Model Aircraft
For my article on the best aircraft model, here is a link: Best Aircraft Models, Best Airplane Models
If you're wondering about the difference between aircraft and airplanes, aircraft include helicopters, jets, planes, and Everything manmade that flies. All airplanes are aircraft but not all aircraft are airplanes.
But why is model aircraft a good gift?
The world of aviation is shrouded in mystery and adventure. It symbolizes freedom, and a model brings back memories of first flights as a child, as well as the awe that came with stepping inside a flying vehicle for the first time.
Consider getting a model of the plane your friend or family member once flew on.
If they can't remember the sort of flight, at least the airline they traveled on. Because let's face it, everybody loves a gift, and the most likely scenario is that you will be welcomed with gratitude and be remember for good for been thoughtful towards your gift recipient.
What companies make aircraft plastic models?
Some big names are Tamiya, Hasegawa, Academy, Italeri, Trumpeter, Heller, Airfix, Revell, Bronco, Lindberg, Polystyrene, Academy Plastic Model (Korea), Accurate Miniatures (USA), Ace (Ukraine), Ace Corporation (Korea), Admiral (Czech Republic), AFV Club (Taiwan), Aim Fan Model (Ukraine).
There are still many other well-known manufacturers out there, with each having a unique strength and specialties. this is why not all plastic model ships are created equal.
Conclusion
So, who makes the best diecast aircraft models? 
In this article, I have made an attempt to do it justice to the title but in case you care for a recap. 
Hogan wings, Herpa, and Skymarks are some of the best brands for diecast airplane models you can buy without breaking the bank. Even if you want to offer them as a gift to an aviation enthusiast, any aircraft model is always ideal for a gift.
If you're looking for the type of plane, then I suggest Airbus A320.
I've gone over the most popular manufacturers, skills, brand, quality, standard, and cost.
I hope this article is helpful to you.

"Only the things I love"
thediecastmodel.com is reader-supported. When you buy through links on the site, I earn an affiliate commission.
So, here are the things I love when taking care of my Diecast Models.
Cleaning the Models
The first we are going to talk about is cleaning the models.
Removing Dust
Air Brush – For me, this is the best since it not just removes dust but you can use it in painting/clear coating.
Air Duster – This is a good alternative to Airbrush
Normal Brush – If you are short on budget, you can use a normal brush. However, make sure that the brush has soft bristles because there are some hard brushes than can cause scratches. That's why I recommended a good brush that can do the job properly.
Cleaning and Shining Hacks
Well, here are some of my cleaning hacks for removing scratches, oxidation, and so much more.
Removing Decal Adhesive – Use Goo Gone on those hard-to-remove decal adhesives. It works fast and works like charm!
Waxing and Polishing – Here is something a lot of people don't know. Waxing protects the clear coat and paint while polishing shines the model. Instead of buying it separately, use a 2 in 1 to save money. Get this instead.
Beginner Wax – The wax I recommended earlier is good and provides the best results based on my experience. But a beginner might have a problem especially if they're not good at applying wax. Solid wax reaching hard to reach surface can be hard to remove. You have two choices here. One is to use a qtips to reach those surfaces, another is to use a liquid wax I recommended.
Cleaning Wheels, Rubber, Plastic – Do not forget that rubber and plastic surface are quite different, especially in the cleaning process. Just wiping it down won't do the job. That's why I use Meguiar's Vinyl and Rubber Cleaner and Conditioner. Works like charm!
Make the Wheels Shine! – Making our models look good won't be complete without tiny details such as shiny wheels! Do not forget this because however small this is, the difference can be as big as night and day.
Remove Scratches Easily – Tiny scratches are not the end for your model. Here is a simple trick I've been using to make my models look scratch-free even without repainting. Use T-Cut.
Painting the Models
Painting Tools
Make sure when you paint models, have these ready.
Tape – A tape is important if you are painting a straight line. Furthermore, it will prevent your paint to scatter on other parts. I recommend Tamiya Tape since it is really made for models. Furthermore, they stick really well preventing paint splatters.
Brush (Beginner) – Find a good set of brushes to paint your models. Of course, you can opt for an airbrush but it's quite expensive.
Airbrush (Intermediate/Expert) – This will yield a significantly better result than an ordinary brush because you can easily spray the paint evenly. I recommend this if you know what you're doing.
Stand(Optional) – Stands are good because it can be hard to manually hold the models while painting. It is optional but in my opinion, the price is well worth it for the comfort it gives.
Drop Cloths – Drop Cloths will protect your surroundings from the paint.
Primer – The most common beginner mistake I see is painting models without any Primer. A primer will prevent imperfections such as bubbles or paint not sticking to your models. It is a small price to pay for quality results.
Clear Coat – A clear coat will protect the paint of your models. This will make the paint last longer. Also, it is the one responsible for making your models shine.
Paints
Of course, you can't do painting properly without paint. So here are the ones I recommend.
Acrylic Paint – Good for beginners because it dries quickly. However, it doesn't produce results as good as enamel paint.
Enamel Paint – Provides a good quality finish and longer-lasting paint. However, it takes longer to dry and requires expertise to use.
Model Maintenance
Model Storage
Simple Wood Cabinet – While it doesn't let you display your models, wooden cabinets are good storage for these models. For one, they are not heat conductors which means that the temperature inside will remain constant and remain cool. Furthermore, they prevent light from reaching the models which can cause oxidation.
Clear Cabinet with Lock – If you want to display your models, then I recommend this. It closes so dust won't easily get to your models. I also recommend you don't put more than 1 model in each compartment since metals are good conductors of heat.
Model Photography
So you want to show off your models to others? Well, I got you covered.
Here is my beginner-friendly model photography tutorial that teaches everything from taking pictures to the editing process.
You will also see me doing hands-on photography in that tutorial.
Here is the link: How to Take Pictures of a Diecast Model or Model Kit | Helpful Illustrated and Video Guide
Sources: