Market for Diecast Models: A Helpful Guide for Buying and Selling
Collectors from all over the world are fascinated by diecast models. These small replicas have been faithfully reproduced down to the tiniest detail. The diecast model market is large; you'll get everything, whether you want a single model or an entire collection. But are there reputable marketplaces for diecast models around?
There is a market for diecast models both offline and online such as eBay, Quality Diecast Toys, Online Selling, Trade Shows, Conventions, Charity shops, and Pawnshops. Each of these marketplaces has its own pros and cons and choosing which one to use is based on the person's preference.
The miniature diecast models can be used as toys or carefully curated by experts who have years of knowledge about the origin and value of their most prized models. Thus, this article will give a brief guide on where you can buy and sell these models and some tips in order for you to fetch a high price on your models. Let's start.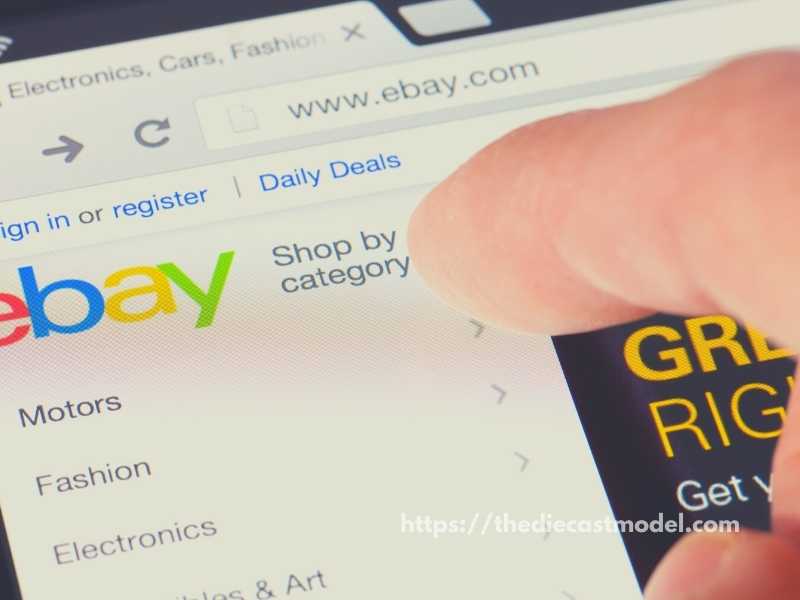 This post may contain affiliate links, which means that I may receive a commission if you make a purchase using these links. As an Amazon Associate, I earn from qualifying purchases.
Is there a market for diecast models?
There are a variety of reasons why sellers want to let go of their model cars. Sometimes inheritances are to be converted into cash, and other times a collector has simply changed his hobby.
Due to the popularity of online shops, toy shops are rapidly disappearing from the high street, and it's really tough to find a shop that sells a good selection of high-quality collectible vehicles.
So, where can you find the best diecast model cars?
This is the list of genuine places where you can buy and sell your diecast models.
1. eBay
An auction is one of the oldest methods of selling valuable property.
In this day, what better way to reach a global audience than through the world's largest online auction platform, "eBay?" eBay is an online marketplace where sellers can set up their own online store and sell items to potential buyers.
And, buyers can find a vast range of second-hand diecast cars at affordable prices.
Check eBay Here: eBay Website
2. QDT – Quality Diecast Toys
QDT is a professional diecast toy buying and selling company that has been in business since 1984 and has a total annual revenue of £1,000,000 from all of its collections.
When you are a seller, you can sell your collection through them, where you can likely get 77.5% after the successful sale of your collection; or you can sell to them, and if your collection meets their standard, they'll send you a reply within 24 hours to show their interest.
Check QDT Here: QDT Website
3. Conventions and trade shows
Trade shows are excellent places to meet people who are as enthusiastic about collecting as you are.
Your best effort for making the most of your buying-selling venture is to attend the Annual Hot Wheels Collectors Convention or the Matchbox Collectors International Gathering of Friends.
4. Online resellers
If you intend to buy diecast model cars and sell them for profit, consider buying from a reseller. You'll be able to select your preferred scale, and the new models will have excellent detail and electrostatic paint.
If you're looking for sports cars, classic cars, service vehicles, or construction lines, you'll have no trouble finding them, often at very reasonable prices.
5. Jumble sales, car boot sales, charity shops
If you're an expert on vintage model cars, you might get lucky and find a good deal at car boot sales, jumble sales, and charity shops.
People occasionally donate old models without knowing their worth, though this is becoming less common due to Google.
6. Pawnshops
Of course, pawnshops are a good option to sell your collection. It is a good way to earn some quick cash.
However, I recommend you check my post before doing as to make sure that you will sell your models for a higher price. Here is the blog post: Do pawnshops buy diecast models?
For more information on where to sell your models, I recommend this blog post I've made where I also list what you need to know to avoid scams. Here is the blog post: Where to sell your collection
Tips for buying and selling diecast models
Collecting diecast model cars is a rewarding hobby and a good investment indeed. Many people are naturally drawn to anything related to collectibles regardless of price.
Sometimes, you need to sell your collections to make room for newer ones or some other reasons. And, as an enthusiast, you should know the value of these tiny wonders.
You know what should be in your collection and what you can let go of for a huge chunk of money.
Here are the tips for buying diecast models:
1. Choose the right scale or size
The scale of diecast model cars can range from 1:4 to 1:72. This scale denotes the proportion of the model car in comparison to the original version. The smaller the vehicle, the higher the denominator.
2. Buy the models that you love and know
Like any other hobby, collecting model cars will be much more enjoyable if you collect vehicles that you adore.
Collectors frequently choose to collect cars from the same brand, such as Ferrari, or they may incline to a specific type of vehicle, such as SUVs or sports cars.
3. Find a reputable manufacturer
The diecast manufacturers determine whether the car is likely to be a worthwhile investment. Read online reviews and feedback on car collecting forums if you are unsure about the company.
You can also check my brand reviews on this website. Basically, you can find most of the popular model reviews on this site. You can find the list of blog posts here: Car Model Brand Info
4. Keep the packaging
If you intend to keep diecast model cars as an investment, you must carefully preserve all the packaging and the receipt.
If you plan to sell it later, you will need this. The value of your diecast model car will decrease if the packaging is lost.
In general, diecast models lose 20-25% of their value when out of the box. You can find this blog post I've made here where I discuss more on the topic: Value of models: with vs without the package
I talked about Hot Wheels in that blog post but it generally applies to all diecast models.
And, as a seller, you must remember to:
Avoid these mistakes
If you want to sell a model car, you should first determine whether it is genuine or fake. You could get in trouble if you pass off a fake as an original.
Keep it away from solar radiation. Heat and light cause the colors to fade and the plastic parts to deform. And preserve the original packaging for a greater value.
5. Recognize the real value of your models
Valuable model cars have some distinguishing characteristics.
Models from before 1970 are top-rated. Every historic car has a story to tell, and as a result, some collectors are particularly interested in them.
Besides, the better the condition, the higher the price. A diecast model car in mint condition and still in its original packaging is likely to fetch more than a car in mint condition only.
6. Rare model cars
The value of a car increases if it is produced in limited quantities. This is because there are fewer cars on the market, which increases their potential value.
When it comes to highly sought-after brands, models, drivers, and sponsors, the difficulty of obtaining them can also add to their value.
7. Clean your Models
One of the best ways to increase the price of your model is to make sure that they are in good condition.
The first thing anyone will do if you show them your model for sale is to check its appearance.
Clean and shiny models will generally sell more than dusty and old ones.
Thus, it is important to know how to clean your models properly. It can't be done as easily as wiping it down with a piece of cloth.
You need to make sure that it is not just clean but in top shape. If you can make it very shiny, then that is a huge plus.
Here are some blog posts I've made that can help you with that.
8. Repaint your Models
If the models can't look good with regular cleaning such as when its paint is already off, then it is wise to repaint.
Painting is not that hard unlike what others say. You just need to know what to do.
Plus, the increase in price you'll get is well worth the cost of the paint.
Here is a guide I've made on how to paint properly: Painting your models
9. Take Good Pictures
The best trick in order to increase the price of your model especially if you sell online is to show good pictures.
I am not kidding with this.
Good photos can inflate the price since they just look good.
The good thing is with a few simple edits and lighting, you can make model car photos look very professional.
And since they are pleasing to the eyes, they will surely fetch a higher price than normal.
Here is my guide on how to take photos of your model: How to Take Pictures of a Diecast Model or Model Kit
Final word
No matter what method or platform you decide to use, make sure they are authentic before entrusting them with your buying/selling venture and follow the tips to wring out a higher profit.

"Only the things I love"
thediecastmodel.com is reader-supported. When you buy through links on the site, I earn an affiliate commission.
So, here are the things I love when taking care of my Diecast Models.
Cleaning the Models
The first we are going to talk about is cleaning the models.
Removing Dust
Air Brush – For me, this is the best since it not just removes dust but you can use it in painting/clear coating.
Air Duster – This is a good alternative to Airbrush
Normal Brush – If you are short on budget, you can use a normal brush. However, make sure that the brush has soft bristles because there are some hard brushes than can cause scratches. That's why I recommended a good brush that can do the job properly.
Cleaning and Shining Hacks
Well, here are some of my cleaning hacks for removing scratches, oxidation, and so much more.
Removing Decal Adhesive – Use Goo Gone on those hard-to-remove decal adhesives. It works fast and works like charm!
Waxing and Polishing – Here is something a lot of people don't know. Waxing protects the clear coat and paint while polishing shines the model. Instead of buying it separately, use a 2 in 1 to save money. Get this instead.
Beginner Wax – The wax I recommended earlier is good and provides the best results based on my experience. But a beginner might have a problem especially if they're not good at applying wax. Solid wax reaching hard to reach surface can be hard to remove. You have two choices here. One is to use a qtips to reach those surfaces, another is to use a liquid wax I recommended.
Cleaning Wheels, Rubber, Plastic – Do not forget that rubber and plastic surface are quite different, especially in the cleaning process. Just wiping it down won't do the job. That's why I use Meguiar's Vinyl and Rubber Cleaner and Conditioner. Works like charm!
Make the Wheels Shine! – Making our models look good won't be complete without tiny details such as shiny wheels! Do not forget this because however small this is, the difference can be as big as night and day.
Remove Scratches Easily – Tiny scratches are not the end for your model. Here is a simple trick I've been using to make my models look scratch-free even without repainting. Use T-Cut.
Painting the Models
Painting Tools
Make sure when you paint models, have these ready.
Tape – A tape is important if you are painting a straight line. Furthermore, it will prevent your paint to scatter on other parts. I recommend Tamiya Tape since it is really made for models. Furthermore, they stick really well preventing paint splatters.
Brush (Beginner) – Find a good set of brushes to paint your models. Of course, you can opt for an airbrush but it's quite expensive.
Airbrush (Intermediate/Expert) – This will yield a significantly better result than an ordinary brush because you can easily spray the paint evenly. I recommend this if you know what you're doing.
Stand(Optional) – Stands are good because it can be hard to manually hold the models while painting. It is optional but in my opinion, the price is well worth it for the comfort it gives.
Drop Cloths – Drop Cloths will protect your surroundings from the paint.
Primer – The most common beginner mistake I see is painting models without any Primer. A primer will prevent imperfections such as bubbles or paint not sticking to your models. It is a small price to pay for quality results.
Clear Coat – A clear coat will protect the paint of your models. This will make the paint last longer. Also, it is the one responsible for making your models shine.
Paints
Of course, you can't do painting properly without paint. So here are the ones I recommend.
Acrylic Paint – Good for beginners because it dries quickly. However, it doesn't produce results as good as enamel paint.
Enamel Paint – Provides a good quality finish and longer-lasting paint. However, it takes longer to dry and requires expertise to use.
Model Maintenance
Model Storage
Simple Wood Cabinet – While it doesn't let you display your models, wooden cabinets are good storage for these models. For one, they are not heat conductors which means that the temperature inside will remain constant and remain cool. Furthermore, they prevent light from reaching the models which can cause oxidation.
Clear Cabinet with Lock – If you want to display your models, then I recommend this. It closes so dust won't easily get to your models. I also recommend you don't put more than 1 model in each compartment since metals are good conductors of heat.
Model Photography
So you want to show off your models to others? Well, I got you covered.
Here is my beginner-friendly model photography tutorial that teaches everything from taking pictures to the editing process.
You will also see me doing hands-on photography in that tutorial.
Here is the link: How to Take Pictures of a Diecast Model or Model Kit | Helpful Illustrated and Video Guide
Source