What To Do With Completed Models? | A Guide on Things You Can Do to Finished Model Kits
I know the feeling of void after finishing a model kit which might have taken you days, weeks, or months to complete depending on the difficulty and how experienced you are in building them. Thus, I decided to give some tips on what to do after finishing your model kit.
There are many things you can do to complete models such as displaying your finished model, building a new one, starting model photography, redesigning your model, donating to charity, and gifting your model. The things you can do after finishing a model depends on your preference and personality.
In this blog post, I will give some things you can do to complete models. I also know that many are excited to sell their models, so I made a guide on how to trade and package these model kits.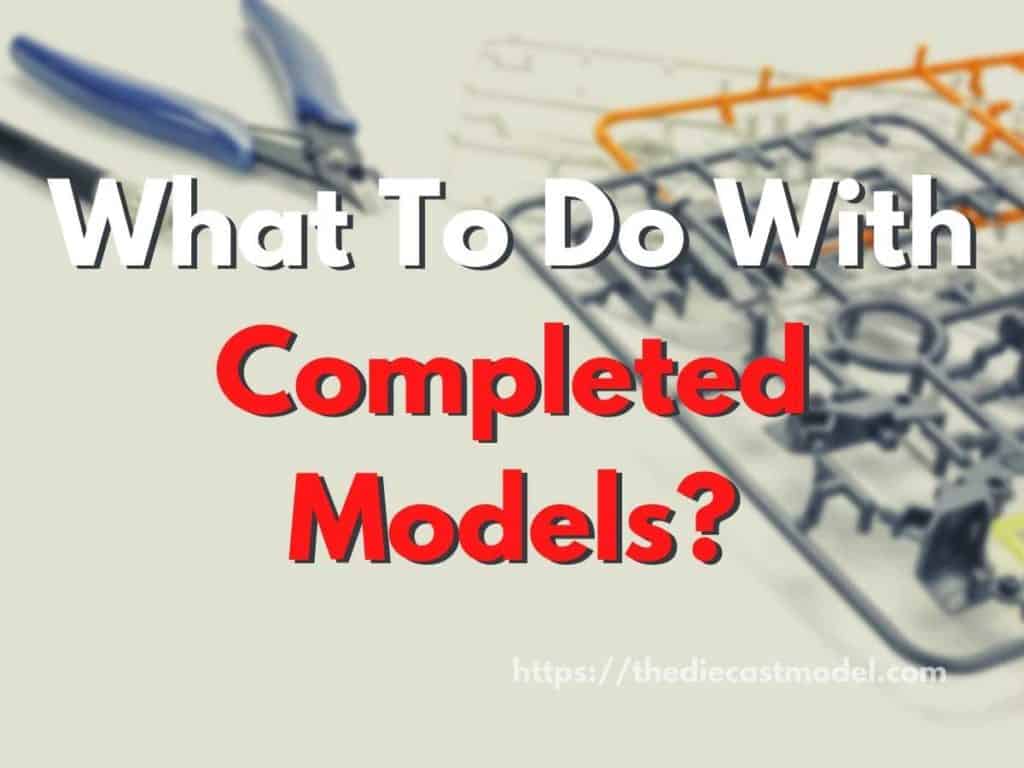 This post may contain affiliate links, which means that I may receive a commission if you make a purchase using these links. As an Amazon Associate, I earn from qualifying purchases.
1. Building a New Model
The most common thing to do after completing your model kit is to make a new one.
Furthermore, since model kits have an indicated difficulty level, you can try building more complex kits.
You can buy these new model kits on listings or any hobby stores nearby.
By doing this, you can expand your model-building skills and help you become a better modeler in the future.
For example, Tamiya has difficulty levels. You can try more challenging levels upon finishing their easier ones. For a guide on Tamiya ability levels, check this blog post: Are Tamiya models hard to build?
While this is the most common thing to do, there are times where we don't want to start another model kit.
Don't worry since I have a lot more things to suggest.
2. Displaying the Finished Model
You can display the finished model if you prefer showing off your modeling skills. You can easily do this by putting your models in a display cabinet. Furthermore, you can also keep the model in a shoebox if you currently don't have a space to keep them.
After finishing a model, almost all of us experience a sense of pride. Likewise, there is a good feeling we experience when building something from scratch.
That feeling makes us want to show these models to others.
You can try putting these models in a display cabinet. Furthermore, it is good to put models in a sealed display cabinet where the storage will protect them from dirt and dust.
You can also put it on your office table as a display.
You do not need an expensive cabinet to keep your models. If you have no place to display your models but plan to show them soon, you can put your models in a shoebox to preserve them.
Shoeboxes are an excellent way to preserve your models. They maintain the temperature, and they usually come with dehumidifier beads that preserve the humidity.
Thus, keeping your model kits or diecast models can be done cheaply with shoe boxes.
3. Start Model Photography
Starting model photography after finishing your model kit is a great way to express your achievement. Furthermore, we can begin to post these photos on social media to brag about our accomplishments. Generally speaking, a good model photographer can also sell their models at a higher price.
The more technology increases, it becomes apparent that model photography is essential.
Getting better pictures of your model kits can get more likes from social media, and they usually sell for more online.
The good news is getting into model photography is simple. I also made a guide on the basics you can do today to help you start from the basics of taking pictures to photo editing. Here is my complete guide to model photography.
4. Donate the Finished Model to Charity
You can donate your finished models to charity since many children would appreciate built model kits as toys. In addition, various models such as planes, cars, trucks, and helicopters are a good source of entertainment for children.
These kits can serve as toys and build a child's imagination through play.
So if you don't know where to put your finished models, maybe you can donate them to a local charity nearby.
It also gives a sense of satisfaction as you can see children's smiles while playing with the models you've built.
5. Gift the Model to Your Friends
Finished model kits are good gifts to your friends. In addition, some people appreciate gifts that came from your efforts and not just store-bought.
Giving something you built is an excellent way to build friendship and trust.
You can do this along with giving some model kits to charity.
6. Redesign your Model
Redesigning our models can be an excellent way to put some personality into our kits. We can customize the color and prints to make our version of the model.
Furthermore, sometimes, things don't go as we plan. Sometimes we make a model, and It doesn't turn out the way we expected it to.
By redesigning, we might fix our past errors. For example, it is common to commit mistakes when trying to build models. In fact, we learn fast via errors.
Of course, we can also sell our completed models, and I've made a detailed guide below because this option is popular among modelers.
7. Selling the Model
Completed models are worth selling, and other collectors would buy them, especially if the kit is in limited edition. However, as a general rule, build model kits tend to sell less than unopened kits since most modelers prefer building models themselves.
However, as time goes on, specific older models that haven't been made in years can become desirable collectibles.
A completed model of Plymouth Roadrunner can fetch around $400.
This kit could be sitting in a box in a basement or storage, collecting dust and mold.
The most valuable kit is the 1970 Jaguar XK-E, which might be valued at $1,100. But, unfortunately, the majority of kits are barely worth $10 to $50.
A highly detailed or unique model, such as a 1955 Revell model of a United Airlines 707 airplane, might fetch up to $900.
For a complete guide on what plastic model kits are worth it, feel free to check this blog post: Are Plastic Model Kits Worth it?
Where can I sell my plastic models?
You can sell your plastic models on various sites such as eBay, Etsy, Facebook groups, Craigslist, Amazon, or by creating your online store. Furthermore, you can also sell your plastic models offline by attending conventions or opening a garage store.
eBay will always be the famous spot to sell because it receives the highest traffic comparable to other buying-selling sites.
Check eBay here: eBay.
You don't have to be bothered about whether others will notice your model.
As an alternative to eBay, you can sell your products on Etsy, in various Facebook pages and groups, on Craigslist, on Amazon, or by creating your online store using Shopify.
To get going, you must find a place where your product is already being sold or purchased.
This shows a market for your completed models, and people are willing to buy them.
It's easy to find and exchange finished models and parts on various online forums dedicated to model building.
Etsy, a slew of Facebook groups, Craigslist, Amazon, and even starting your online store using a platform like Shopify are all viable options for selling your products.
Opening your store will be a hit if you have many models to offer and can also profit from selling modeling supplies.
You can also look for model kit conventions and events where people can sell their stuff.
In the same way, you could see some cars at a car show with sale signs or a space reserved solely for people who wish to sell.
As you can see, with the internet, listings are a good platform for selling your models. Thus, it is an excellent idea to have some knowledge of the basics of listings.
The Basics of Listings
A good place to start is determining the model's monetary value to you.
How much time and resources do you have? No one will be interested in buying it if it's a standard model that's easy to get and even easier to create.
The price can be significantly higher if the model is rare or difficult to make, such as a ship or airplane with hundreds of parts.
You should look on the internet to see if there have been any sales comparable to yours in the recent few years.
Remember to describe your model in terms that are as accurate as possible.
Selling the product's features is the primary goal of the listing description.
But don't exaggerate your description. In my opinion, "professionally built" or "museum-quality" should be avoided.
Let them know if there are any paint smudges or other issues. It's always a good idea to include images from all angles so potential buyers can see exactly what they're getting into.
In other words, concentrate on selling the model in your listing. Consistent sales and positive feedback will help you market yourself over time.
The main points to remember:
Be objective and truthful in your writing.
Focus your attention on the model's features and fascinating aspects.
Make sure to use high-quality, well-lit images that show every perspective, feature, and even defect.
Let's say you've already made a sale. Knowing how to properly pack your models to reach the buyer in the best condition is a good idea. Don't worry because I will provide some tips in the section below.
How to ship finished models?
The best way to ship your models is to fill them halfway in a brand new box, then fill it with fiberfill. New boxes tend to be stronger than used ones, and fiberfill prevents any damage that can come along with transport. Furthermore, fiberfill protects the model by avoiding a sudden temperature change.
Properly packing the model to ensure its safety during transit should be your highest priority.
Fill a bag halfway with fiberfill, place the model, and then complete filling with fiberfill.
Put the bag in the shipping box and fill in any empty spaces with extra fiberfill.
The model will be more stable, and any broken or shaken-off parts will be contained in the bag.
Another important aspect of packaging is to use new boxes.
A new box has more stiffness and structural soundness than a used one.
Almost every used box has a crease or weak point, which is always a source of failure when shipping.
The new packaging also portrays a feeling of care that the model arrives in one piece to the consumer, which is always appreciated.
Always use tracking. This can protect you from accusations of "it never arrived," and it also informs the buyer of when the model will come and where it is in the process at any given time.
It doesn't even have to be the "sign for" form of tracking. Most buyers are satisfied simply by the fact that the parcel was delivered to their front door.
What's next? How about knowing the safe profile of these model kits? You can find it in this blog post: Are Toy Cars Safe?

"Only the things I love"
thediecastmodel.com is reader-supported. When you buy through links on the site, I earn an affiliate commission.
So, here are the things I love when taking care of my Diecast Models.
Cleaning the Models
The first we are going to talk about is cleaning the models.
Removing Dust
Air Brush – For me, this is the best since it not just removes dust but you can use it in painting/clear coating.
Air Duster – This is a good alternative to Airbrush
Normal Brush – If you are short on budget, you can use a normal brush. However, make sure that the brush has soft bristles because there are some hard brushes than can cause scratches. That's why I recommended a good brush that can do the job properly.
Cleaning and Shining Hacks
Well, here are some of my cleaning hacks for removing scratches, oxidation, and so much more.
Removing Decal Adhesive – Use Goo Gone on those hard-to-remove decal adhesives. It works fast and works like charm!
Waxing and Polishing – Here is something a lot of people don't know. Waxing protects the clear coat and paint while polishing shines the model. Instead of buying it separately, use a 2 in 1 to save money. Get this instead.
Beginner Wax – The wax I recommended earlier is good and provides the best results based on my experience. But a beginner might have a problem especially if they're not good at applying wax. Solid wax reaching hard to reach surface can be hard to remove. You have two choices here. One is to use a qtips to reach those surfaces, another is to use a liquid wax I recommended.
Cleaning Wheels, Rubber, Plastic – Do not forget that rubber and plastic surface are quite different, especially in the cleaning process. Just wiping it down won't do the job. That's why I use Meguiar's Vinyl and Rubber Cleaner and Conditioner. Works like charm!
Make the Wheels Shine! – Making our models look good won't be complete without tiny details such as shiny wheels! Do not forget this because however small this is, the difference can be as big as night and day.
Remove Scratches Easily – Tiny scratches are not the end for your model. Here is a simple trick I've been using to make my models look scratch-free even without repainting. Use T-Cut.
Painting the Models
Painting Tools
Make sure when you paint models, have these ready.
Tape – A tape is important if you are painting a straight line. Furthermore, it will prevent your paint to scatter on other parts. I recommend Tamiya Tape since it is really made for models. Furthermore, they stick really well preventing paint splatters.
Brush (Beginner) – Find a good set of brushes to paint your models. Of course, you can opt for an airbrush but it's quite expensive.
Airbrush (Intermediate/Expert) – This will yield a significantly better result than an ordinary brush because you can easily spray the paint evenly. I recommend this if you know what you're doing.
Stand(Optional) – Stands are good because it can be hard to manually hold the models while painting. It is optional but in my opinion, the price is well worth it for the comfort it gives.
Drop Cloths – Drop Cloths will protect your surroundings from the paint.
Primer – The most common beginner mistake I see is painting models without any Primer. A primer will prevent imperfections such as bubbles or paint not sticking to your models. It is a small price to pay for quality results.
Clear Coat – A clear coat will protect the paint of your models. This will make the paint last longer. Also, it is the one responsible for making your models shine.
Paints
Of course, you can't do painting properly without paint. So here are the ones I recommend.
Acrylic Paint – Good for beginners because it dries quickly. However, it doesn't produce results as good as enamel paint.
Enamel Paint – Provides a good quality finish and longer-lasting paint. However, it takes longer to dry and requires expertise to use.
Model Maintenance
Model Storage
Simple Wood Cabinet – While it doesn't let you display your models, wooden cabinets are good storage for these models. For one, they are not heat conductors which means that the temperature inside will remain constant and remain cool. Furthermore, they prevent light from reaching the models which can cause oxidation.
Clear Cabinet with Lock – If you want to display your models, then I recommend this. It closes so dust won't easily get to your models. I also recommend you don't put more than 1 model in each compartment since metals are good conductors of heat.
Model Photography
So you want to show off your models to others? Well, I got you covered.
Here is my beginner-friendly model photography tutorial that teaches everything from taking pictures to the editing process.
You will also see me doing hands-on photography in that tutorial.
Here is the link: How to Take Pictures of a Diecast Model or Model Kit | Helpful Illustrated and Video Guide