Are Plastic Model Kits Worth it | The Cost and Marketplaces for Plastic Model Kits
I've always talked about diecast models and how it can be worth it for modelers. However, I also know that plastic model kits, especially the old ones, are becoming expensive. Thus, I decided to write this blog post to show why plastic model kits are worth it.
Plastic model kits are worth it both as a hobby and time investment. Model kits building is a good way in spending some time both alone and with friends to think and concentrate. Furthermore, plastic model kits can be sold for a higher price in the future, depending on their condition and rarity.
In this blog post, we will talk about a brief history of model kits. Then, we will see how time has made some model kits expensive. We will also see if model kit building is a costly hobby and where you can sell your model kits.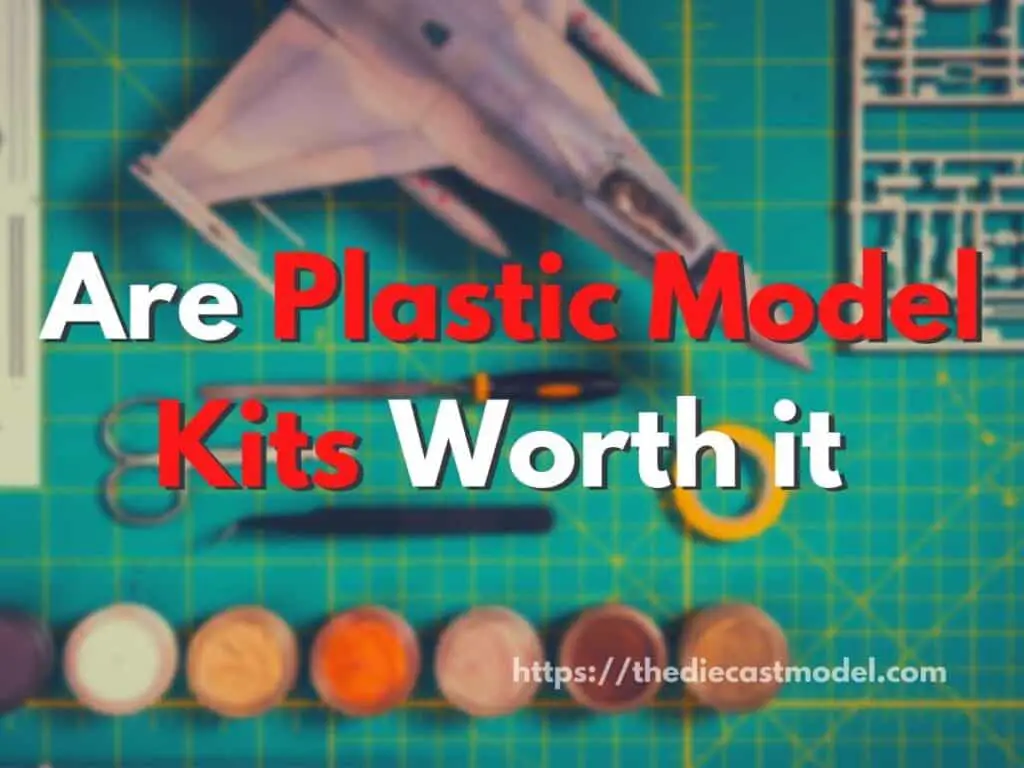 Are old plastic model kits worth anything?
Old plastic model kits are with a lot. Some old model kits like the 1970 Januar XK-E now have a book value of $1,100. Another is the 1966 Aurora Monsters, now having a book value of $1,000. The main reasons for their increase in worth are because of their rarity and interest by fellow modelers.
Here are some of the Expensive Old Model Kits:
| | |
| --- | --- |
| Model | Book Value |
| 1970 Jaguar XK-E  | $1,100 |
| 1966 Aurora Monsters | $1,000 |
| 1955 United Airlines Jet | $900 |
| 1935 SS Normandie Ocean Liner | $700 |
| 1969 Aoshima Volskwagen Beetle 1303S | $450 |
It is worth noting that most model kits start at $10 to $35.
As cars became more commonplace in urban areas in the 1930s, model-car kits appeared on store shelves.
These simple wooden models demanded a lot of effort from the modeler and were progressively replaced by more sophisticated plastic equivalents in the 1940s.
For decades, modelers purchased detailed plans, balsa wood, glue, and paint to build their masterpieces.
Then they would spend a week meticulously cutting, pinning, bending, stretching, and gluing on the kitchen table.
And if they were good enough, they would end up with a model plane.
Companies started offering pre-cut, solid wood models in the late 1940s to the delight of the less skilled.
However, the models would only take a few hours to assemble rather than days.
It wasn't until roughly 45 years ago that the first plastic versions were released.
Big Mo, one of the most renowned kits of all time, could be purchased for less than a buck. Big Mo is a modeler's fantasy, with 70 pieces, decals, and flags included.
Toy stores were soon flooded with inexpensive, realistic planes, trains, automobiles, and warships, as well as a wide variety of other items.
The 1966 Aurora Monsters on Wheels series, which may be worth up to $1,000, is one of the most highly prized kits.
Most kits are only worth $10 to $50. However, a few more detailed or rare models, such as a 1955 Revell model of a United Airlines 707 jet, may fetch up to $900.
For ship models, the 1935 SS Normandie Ocean Liner has a book value of $700.
Most collectors of vintage model-car, ship, or plane kits hunt for old, unassembled kits that are still in their original boxes and have as little wear and tear as possible.
Some are more inclined to big names like Tamiya, AMT, Entex, Hubley, Jo-Han, Lindberg, MPC, Monogram, Pocher, and Revell.
While some collectors would never open a kit wrapped in its original wrapper, others prefer to build them.
Finally, a subset of collectors is passionate about finished model cars.
However, fewer individuals generally collect finished model cars because the assembly process is half the enjoyment.
Here are some of the things you can do to preserve and increase the price of your models:
If possible, do not open the box. Model kits that aren't assembled tend to cost more than assembled kits.
If assembled, make sure to maintain the model. Make sure that they have as little wear and tear as possible.
Clean the model. If possible, make then shiny so they will look good on picture.
Check for similar models you want to sell online to get an estimation of their book value.
Are model kits an expensive hobby?
Model kits can be an expensive hobby if you consider the things you need to build a model, such as a car kit, glue, paint, and tools. In general, it may cost around $57 to $159, including the kit, glue, paint, and tools if you want to start building model kits.
It is also worth noting that considering inflation, the cost of model kit building has not increased since the 1980s.
Furthermore, the quality of model kits has been growing year by year.
Here is a simple breakdown of how much does it cost to start a model kit building.
| | |
| --- | --- |
| Materials | Price Range |
| Model Kits | $20 – $35 |
| Model Kit Glue | $4 – $10 |
| Model Kit Paint | $18 -$35 |
| Model Kit Tool Set | $15 – $40 |
| Total | $57 – $159 |
Building model kits, as a hobby, may appear pricey to some.
To build a model car, you'll need a $20-$45 car kit, $4 -$10 for glue, $18 – $35 for model kit paints, and $15 -$40 for a set of tools.
Is building model kits more expensive than other pastimes? Model kit building is not costly if you look at the big scenario.
In the 1960s and 1970s, modelers were able to purchase model kits for a few dollars.
At fifty to sixty cents a pop, glue was practically free. You could have purchased a few small bottles of paint, and a spray can work for less than a dollar.
Still, if you didn't mind painting several models the same color, the total cost was less than five dollars.
Since we're talking about model car kits, now identical items will set you back between $50 and $60.
So, model-related items have seen a significant price increase.
Let's see how these price increases stack up against other types of pricing increases we see regularly.
When $30 for a kit was regarded pricey, the CEO of Accurate Miniatures responded to inquiries about the model building process, and there were a few arguments for why kits were growing more expensive:
"The more parts, the more cost there is to the kit."
"…the goal is to limit the number of trees in order to reduce the cost of the kit."
"Depending on the complexity of the kit, there maybe 2 or 3 "test shots" made before the actual mass pressing of the plastic parts"
"Unfortunately, the whole process is very cost-intensive. That is why the average cost of a model kit is $30.00 or higher. The mold for a new release runs between $150,000 to $200,000. We use a more expensive type of mold, made of copper barilium, in order to enhance the details and improve the quality and fit of our part."
"Our average run of kits for a new release is around 5,000"
In summary, the price of model kits come with a lot of factors such as:
Number of parts
Complexity of parts
Material Cost
Cost of Molds
Number of Runs
When you consider the manufacture of a model kit, the distribution system it passes through, and the final store destination, each step adds to the consumer's cost.
Again, Prices in 2021 are 250% more than they were in 1987, according to one of the Consumer Price Indexes available online.
For the sake of comparison, $20 in 1987 is equal to $50. Thus, the $3 cover price of the 1987 FSM is now worth $7.5 today's money.
Based on the inflation, models today are priced relatively close to what they were in 1987.
You should also compare the quality of a kit from the 1960s, 1970s, or 1980s to that of today.
All elements of the kits have been enhanced, and so has the price.
Did you know that there are cheap model glues that do a good job when it comes to quality? To see a list of model glue, feel free to see this blog post: Do Model Kits have and require glue?
Where can I sell built models?
You can see built models online through eBay, Etsy, Craigslist, Amazon, Shopify, and Facebook groups. You can also try to sell offline by trying garage sales or going to model kit conventions. Choosing where to sell your models depends on your preferences.
eBay will always be the most popular marketplace to sell, as they generate the most traffic.
You never have to be worried about whether or not people will view your model.
Aside from online marketplaces like Etsy or Facebook groups, you can also sell on Craigslist, Amazon, or through a site like Shopify.com.
First, you must locate a site that is already selling or buying what you have to sell.
This implies a solid potential to sell your models and customers who are eager to buy.
There are numerous model forums where people can purchase, sell, or exchange model parts or entire finished models.
Organizers will also set up spaces at model kit conferences and events for those who want to sell their items.
Deans Hobby Stop is another fantastic site to sell. You may check out his site if you're looking to sell some of your own.
In my opinion, eBay and Etsy are also good places to sell. These platforms made their name in the industry because it is easy to sell on their platform.
What's next? For a complete guide on Marketplaces for models, feel free to check my other blog post here: Model Marketplaces. Note that the blog post is focused on diecast models, but it also works on model kits.

"Only the things I love"
thediecastmodel.com is reader-supported. When you buy through links on the site, I earn an affiliate commission.
So, here are the things I love when taking care of my Diecast Models.
Cleaning the Models
The first we are going to talk about is cleaning the models.
Removing Dust
Air Brush – For me, this is the best since it not just removes dust but you can use it in painting/clear coating.
Air Duster – This is a good alternative to Airbrush
Normal Brush – If you are short on budget, you can use a normal brush. However, make sure that the brush has soft bristles because there are some hard brushes than can cause scratches. That's why I recommended a good brush that can do the job properly.
Cleaning and Shining Hacks
Well, here are some of my cleaning hacks for removing scratches, oxidation, and so much more.
Removing Decal Adhesive – Use Goo Gone on those hard-to-remove decal adhesives. It works fast and works like charm!
Waxing and Polishing – Here is something a lot of people don't know. Waxing protects the clear coat and paint while polishing shines the model. Instead of buying it separately, use a 2 in 1 to save money. Get this instead.
Beginner Wax – The wax I recommended earlier is good and provides the best results based on my experience. But a beginner might have a problem especially if they're not good at applying wax. Solid wax reaching hard to reach surface can be hard to remove. You have two choices here. One is to use a qtips to reach those surfaces, another is to use a liquid wax I recommended.
Cleaning Wheels, Rubber, Plastic – Do not forget that rubber and plastic surface are quite different, especially in the cleaning process. Just wiping it down won't do the job. That's why I use Meguiar's Vinyl and Rubber Cleaner and Conditioner. Works like charm!
Make the Wheels Shine! – Making our models look good won't be complete without tiny details such as shiny wheels! Do not forget this because however small this is, the difference can be as big as night and day.
Remove Scratches Easily – Tiny scratches are not the end for your model. Here is a simple trick I've been using to make my models look scratch-free even without repainting. Use T-Cut.
Painting the Models
Painting Tools
Make sure when you paint models, have these ready.
Tape – A tape is important if you are painting a straight line. Furthermore, it will prevent your paint to scatter on other parts. I recommend Tamiya Tape since it is really made for models. Furthermore, they stick really well preventing paint splatters.
Brush (Beginner) – Find a good set of brushes to paint your models. Of course, you can opt for an airbrush but it's quite expensive.
Airbrush (Intermediate/Expert) – This will yield a significantly better result than an ordinary brush because you can easily spray the paint evenly. I recommend this if you know what you're doing.
Stand(Optional) – Stands are good because it can be hard to manually hold the models while painting. It is optional but in my opinion, the price is well worth it for the comfort it gives.
Drop Cloths – Drop Cloths will protect your surroundings from the paint.
Primer – The most common beginner mistake I see is painting models without any Primer. A primer will prevent imperfections such as bubbles or paint not sticking to your models. It is a small price to pay for quality results.
Clear Coat – A clear coat will protect the paint of your models. This will make the paint last longer. Also, it is the one responsible for making your models shine.
Paints
Of course, you can't do painting properly without paint. So here are the ones I recommend.
Acrylic Paint – Good for beginners because it dries quickly. However, it doesn't produce results as good as enamel paint.
Enamel Paint – Provides a good quality finish and longer-lasting paint. However, it takes longer to dry and requires expertise to use.
Model Maintenance
Model Storage
Simple Wood Cabinet – While it doesn't let you display your models, wooden cabinets are good storage for these models. For one, they are not heat conductors which means that the temperature inside will remain constant and remain cool. Furthermore, they prevent light from reaching the models which can cause oxidation.
Clear Cabinet with Lock – If you want to display your models, then I recommend this. It closes so dust won't easily get to your models. I also recommend you don't put more than 1 model in each compartment since metals are good conductors of heat.
Model Photography
So you want to show off your models to others? Well, I got you covered.
Here is my beginner-friendly model photography tutorial that teaches everything from taking pictures to the editing process.
You will also see me doing hands-on photography in that tutorial.
Here is the link: How to Take Pictures of a Diecast Model or Model Kit | Helpful Illustrated and Video Guide