What To Do With Old Model Trains? Things You Can Do to Your Model Train Collection
Chances are, you have some old model trains lying in your basement, or you might already have a lot of train collection that you need to declutter. The good news is that there are many things you can do to your model trains, some of which can be beneficial to your wallet and the environment. Rather than throwing these models, how about finding out what you can do to your model trains?
There are many things you can do to your old model trains, such as selling them in a marketplace, donating them to charity, reusing them for display purposes, starting train photography, gifting it to friends, and using it for practicing model painting.
This post will elaborate on everything you can do to your model trains instead of throwing them in the garbage bin. I've received emails from people who have one lying around from their relatives, and they don't know what to do. If you have the same problem, then this post is for you.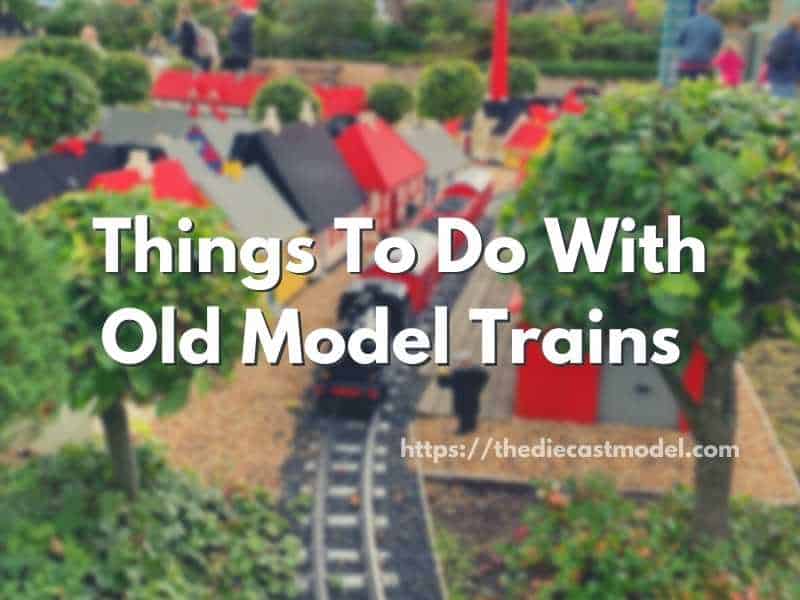 1. Sell the Models on Marketplaces
Perhaps the most common choice for people looking for things to do with their old models is to sell them.
Selling your model trains can be an excellent way to get rid of these models and acquire some extra cash.
This is especially true if your models are vintage and rare.
For example, the 1937 Hornby Princess Elizabeth train was sold for $4,000 in an auction.
Another example is the 1957 Lionel 1587S Girl's train set, a unique train set made by Lionel. This train set is a product of Lionel's effort to attract females to the hobby.
While this didn't succeed and its production stopped, it made this model extremely rare, which was eventually sold for $2,550.
Recommended Read: For more examples of old model trains that were sold for lots of money, feel free to check this post: Worth of Old Model Trains.
You can also sell accessories such as tracks, buildings, and cars.
A good example is the Lionel Tubular track which was phased out in 2015, but people are still looking for that track and are willing to pay a premium price per piece.
For example, a 36″ straight Lionel O gauge Tubular track can be sold for about $6-$10 each. A Lionel O27 curved track can be sold for about $8 each, while the O31 curved track can be sold for around $11.
Imagine you have 20 of these tracks lying around, then you can expect hundreds of dollars just by selling the track.
One common question you might ask is how would you know the value of your models? Well, the easiest way is to check popular auction sites such as eBay.
Here are the steps you can do to find the approximate value of your model train.
Go to eBay
Search for Your Train Model
Look for Similar Conditions
Check the Condition of the Item listed
You won't be seeing the exact model you are selling 60% of the time. However, if there are similar models to yours, such as their age and rarity, then you will have a good estimate.
Furthermore, don't forget to check the model's condition being sold.
For example, if the ones you've seen are in mint condition and yours are not, expect a 20 to 25% drop in price even if their condition is excellent.
Furthermore, check the materials used for your model. For example, if your model is made with plastics, we can't expect a high value from them.
Generally speaking, the most expensive ones are made with brass, then diecast, then plastics.
Wooden train models could also be worth more than those made with metals, especially if it is well maintained.
This content was originally posted on thediecastmodel.com. If it appears on other websites, it is a violation of the copyright owned by thediecastmodel.com.
Recommended Read: Do you know all the places where you can buy and sell model trains? For a complete guide, feel free to check this post: Where to buy and sell model trains?
2. Donate the Trains to Charity
You can donate your used model trains to charity, which children could use as toys.
In fact, it is a great way to feel great about helping people in need.
Who knows? Maybe your generosity could make someone love collecting model trains in the future?
For example, I became a fan of model railroading when I received a toy train set when I was a child. Even if I'm a millennial, I like model trains to the point where I decided to write about it.
Since model railroading is declining, getting more people interested in model trains by gifting is a great way to help the hobby's future.
Plus, you made children smile as they enjoyed their new toy.
You can donate your model trains to many non-profit organizations such as Toys for Tots, Ronald McDonald House, Public Schools, and Daycare Centers.
3. Use as a Display
Old model trains can be an excellent display in homes and offices. In fact, more establishments are now putting train models on display in offices and coffee shops since it gives a good ambiance to the environment.
Aren't you curious why model trains are often placed under a Christmas tree? This is because model trains were once marketed that way to boost sales.
In the early 20th century, Lionel's marketing efforts made a model train a partner for the Christmas tree. The effort is a success, and we can usually see model trains under a Christmas tree on TV.
But what people didn't expect is that since model trains have been associated with special events such as Christmas, they usually make people feel good whenever they see a model train.
That's why some local coffee shops started to put some model train displays on their store counter or coffee tables since they want people to enjoy their time in their shop.
This is also true when we see businesses buying a complete train layout to add some designs to their office.
In fact, some experienced train modelers earn money by building layouts and then selling them for a profit.
Still not convinced? Then let's have some examples.
In 2022, a tabletop 24″ by 48″ N scale model train layout complete with train, tracks, mountain range, buildings, and trees was sold in an auction for $1,200.
Please note that nothing in that layout is made from vintage or rare models. Instead, the seller bought an N-scale train and accessories and built the layout.
Another example in 2022 is a well-built N-scale Kato layout which is beautifully made and has scenery from the 1960s. The layout was eventually sold for $995.
As you can see, model trains are becoming a good choice for display, and even antique shops sell model trains for display purposes.
Thus, displaying your model trains is an excellent way of reusing them.
Plus, you recycled it instead of throwing it in the trash.
4. Start Train Photography
Many model trains are a fan of photography. Thus, you can see people chasing trains just to take some pictures.
These people are called train photographers.
Taking pictures of your old model train is a great way to get into photography and share your layout online.
Furthermore, there are many online model train communities where you can share your pictures, and it feels nice to share things with people who are also into model railroading.
Recommended Read: I made a simple and easy-to-follow model photography guide in another post. I also included some tips for perfect lighting and editing your photos. Here is the link: Model Photography Tutorial (With Video Lesson).
5. Gift it to Friends
Earlier, I discussed how we could donate some of our models to charity.
However, you can also give some to your friends.
If you have a friend interested in model trains, you can give your models as a gift.
This is also why model railroading forums are also important, as you can interact with fellow model railroaders and have some new friends.
6. Use for Practice
I said earlier that building and selling layouts could be a great way to earn some cash. However, you wouldn't get better at making layouts by just looking at tutorials.
The best way to learn how to make a train layout is to practice, and practicing on your old models can be a great way to get into model railroading with as little money as possible.
Thus, you can practice painting, polishing, and weathering your old train models.
However, make sure that what you are practicing is not a rare model train, as destroying it can be a waste.
You can check that by using the 4-step guide you've read earlier.
Starting this hobby can get expensive, and finding ways to reduce the cost, such as using your old models, is a great way to get started.
Recommended Read: Do you know the approximate cost of getting into model railroading? I made a post on the estimated cost of getting into model trains and how to save money in this post: How much does it cost to start model railroading?
What's next? Are you familiar with the model train scales? If you are, you might be interested in knowing how long is a mile or kilometer on each scale. Well, I made a summary of all the train scales with their corresponding length per mile. You can find the post here: How Long is a Mile and Kilometer in All Model Train Scales?