Greenlight Collectibles: Everything you need to know
One of the brands you will hear when you start collecting diecast models is the Greenlight collectibles. Greenlight has been around for quite some time and has been making a name in a specific niche in the car modeling industry. But what exactly are green light cars?
Greenlight car is a popular brand in manufacturing diecast models. They are good at providing attention to detail on their products. Plus, they are also known for producing replicas of several vehicles that were showcased in TV programs which separate them from other brands.
In this article, we are going to talk about the company as a whole, its production, its founder, and where do these cars come from.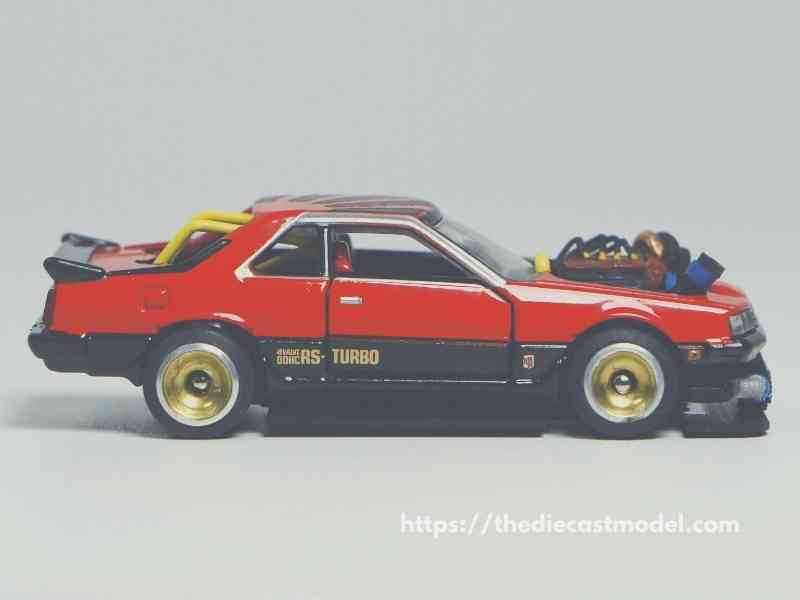 What are Greenlight cars?
Greenlight collectibles are one of the brands that manufacture diecast model cars. They are a company established in 2002 in Indianapolis, USA. What separates Greenlight from its competitors is their focus in producing model cars in TV programs rather than actual car replicas.
Greenlight Collectibles or Greenlight is a popular name in manufacturing diecast car models.
The company is a privately held organization, based in Indianapolis, United States of America.
Greenlight Collectibles was established in the year 2002 and it primarily produced various diecast models of different vehicles such as cars and trucks.
Greenlight cars have several well-maintained characteristics. Out of which some are outlined as follows.
Greenlight Collectibles aka. Greenlight cars are focused on providing detailed oriented diecast models to produce them for model collectors and sports enthusiasts.
There is a wide range of diecast models being manufactures at Greenlight Collectibles.
Several top-selling models include the replicas of several vehicles which were showcased in TV programs and specially featured in prominent movies.
The movies which were pinpointed to produce specific models include Gone in 60 seconds, The Fast and Furious (Complete Series), and Supernatural.
Other than producing these top-selling diecast model cars, Greenlight Collectibles also manufactures some limited-edition products or also known as a limited line of model cars.
This limited line has been termed as Green Machine at Greenlight Collectibles and it is only a small percentage of the total production run of the company i.e., only 3 percent.
Interestingly, Greenlight Collectibles' 80% of the buyers are more than 18 years while the rest of the 20 percent buyer population is younger kids whose ages are below 18.
Another important fact with regards to Greenlight Collectibles' demographics is that their buyers are more than 88 percent males which means that this model collection hobby is much popular among male buyers.
Whereas the total distribution of Greenlight Collectibles sales if we consider, its 30 percent of the revenues come from the international market while 70 percent of its revenues are domestic.
In international markets, Greenlight Collectibles sell with the help of local retailers and has been successful in selling to more than 40 countries till now and expanding its horizons.
Greenlight cars were earlier produced its diecast models in scales 1:18, 1:24, 1:43, and 1:64 but last year i.e., in the year 2020, Greenlight Collectibles started its new production line in scale 1:12.
For a more detailed article about diecast scales, feel free to check this article: Diecast scales: A Complete analysis
Therefore, now the 1:64 scale is the biggest scale size at Greenlight Collectibles whereas the 1:12 scale is the smallest size of Greenlight cars.
You can find Greenlight models in numerous diecast marketplaces and of course, Amazon.
Where are Greenlight cars made?
Greenlight cars are specifically produced in Greenlight Collectibles Indianapolis, USA manufacturing facility.
It is where Greenlight has acquired significant expert manpower and equipped brilliant production machinery.
Undoubtedly, Greenlight Collectibles is one of the leading diecast model manufacturers and is acclaimed for providing authentic replicas of different automotive, dioramas, figures, and accessories.
Not just that, Greenlight Collectibles is also engaged in marketing officially licensed authentic diecast models.
Greenlight models are made in different scales such as 1:12, 1:18, 1:24, 1:43, and 1:64.
Greenlight cars are produced for several world's most recognizable brands under several themes including Ford Motors, Airstream, General Motors, Fiat Chrysler, Volkswagen, Navistar, Mack Trucks, Shelby American Inc, MOPAR, and Nissan.
Greenlight Collectibles saw an enormous demand for its diecast models.
Considering the upsurge in production costs, it outsourced the manufacturing to China due to its expertise in diecast model production and low cost.
Greenlight is an American brand but it subcontracted its production due to the benefits as most of the other manufacturers are enjoying in the industry such as Revell and Spark.
Greenlight Collectibles is a marvel when it comes to providing the coolest diecast models which are certainly gems of its kinds though being the smallest of the league.
If you're interested in Revell and Spark models, I've made an article about them in a separate article. Here they are
Who made Greenlight diecast cars?
Greenlight diecast cars or Greenlight collectibles were founded in 2002 by Kevin Davey. He is a former IMS licensing executive and started the Greenlight with the idea of selling IndyCar replicas and sports-related goods. He then expanded his business to produce diecast model cars.
Kevin Davey, the founder of Greenlight diecast cars, made the first Greenlight cars in the year 2002 by establishing its company, Greenlight Collectibles.
Kevin Davey was a former IMS licensing executive who was brilliant in their work. But Greenlight Collectibles was not the first company of Kevin Davey.
Originating from two sporting goods companies i.e., Davey Sports Management Inc. and Radius Group Inc. which he established almost a decade ago in the 1990s.
Greenlight Collectibles was an outgrowth of his earlier entrepreneurial spirit.
Initially, Greenlight Collectibles only sold IndyCar replicas and sports-related goods.
However, it changed its strategy and later on produced and sold replicas and diecast model cars.
In the year 2013, Greenlight Collectibles was acquired by Fred Lo, Tom Van Der Scheun, and Russell Hughes.
This acquisition was not new to the diecast model industry and many of the manufacturers had seen these mergers and acquisitions in the past.
Since Greenlight Collectibles had a legacy of producing diecast models for several TV programs, Russell Hughes tried his best to obtain licenses from TV shows and some movies once again to hit the nip in the bud.
This was meaningful to produce specific vehicle models which will be associated with specific TV shows and movies later on.
And this was coming from an earlier experience where the brand ran successful Ford Mustang replicas selling which was featured in Bullitt film in the year 2010.
Russell Hughes's adventure proved to be a fantastic venture for Greenlight Collectibles and it really grew the numbers.
The sales figures skyrocketed by reaching $12.5 million in the year 2015 which was a substantial threefold incline compared to the sales of the year 2013.
In the past 20 years or so, the toys and collectibles markets have changed quite a lot.
The Great Recession, acquisitions and mergers, companies quitting, and advanced companies emerging in addition to a swiftly evolving Chinese manufacturing landscape.
Greenlight started its journey as a startup and initially produced race cars and pace cars replicas for the Indianapolis Motor Speedway
But Greenlight evolved over the years to a firm focused on acquiring the licenses from the best in the entertainment industry on dynamic growth for utilizing an opportunity.
The objective was always clear i.e., to produce authentic and highly detailed replicas that would find their way into the homes of model car collectors and model car enthusiasts by catching their eyes throughout the world.

"Only the things I love"
thediecastmodel.com is reader-supported. When you buy through links on the site, I earn an affiliate commission.
So, here are the things I love when taking care of my Diecast Models.
Cleaning the Models
The first we are going to talk about is cleaning the models.
Removing Dust
Air Brush – For me, this is the best since it not just removes dust but you can use it in painting/clear coating.
Air Duster – This is a good alternative to Airbrush
Normal Brush – If you are short on budget, you can use a normal brush. However, make sure that the brush has soft bristles because there are some hard brushes than can cause scratches. That's why I recommended a good brush that can do the job properly.
Cleaning and Shining Hacks
Well, here are some of my cleaning hacks for removing scratches, oxidation, and so much more.
Removing Decal Adhesive – Use Goo Gone on those hard-to-remove decal adhesives. It works fast and works like charm!
Waxing and Polishing – Here is something a lot of people don't know. Waxing protects the clear coat and paint while polishing shines the model. Instead of buying it separately, use a 2 in 1 to save money. Get this instead.
Beginner Wax – The wax I recommended earlier is good and provides the best results based on my experience. But a beginner might have a problem especially if they're not good at applying wax. Solid wax reaching hard to reach surface can be hard to remove. You have two choices here. One is to use a qtips to reach those surfaces, another is to use a liquid wax I recommended.
Cleaning Wheels, Rubber, Plastic – Do not forget that rubber and plastic surface are quite different, especially in the cleaning process. Just wiping it down won't do the job. That's why I use Meguiar's Vinyl and Rubber Cleaner and Conditioner. Works like charm!
Make the Wheels Shine! – Making our models look good won't be complete without tiny details such as shiny wheels! Do not forget this because however small this is, the difference can be as big as night and day.
Remove Scratches Easily – Tiny scratches are not the end for your model. Here is a simple trick I've been using to make my models look scratch-free even without repainting. Use T-Cut.
Painting the Models
Painting Tools
Make sure when you paint models, have these ready.
Tape – A tape is important if you are painting a straight line. Furthermore, it will prevent your paint to scatter on other parts. I recommend Tamiya Tape since it is really made for models. Furthermore, they stick really well preventing paint splatters.
Brush (Beginner) – Find a good set of brushes to paint your models. Of course, you can opt for an airbrush but it's quite expensive.
Airbrush (Intermediate/Expert) – This will yield a significantly better result than an ordinary brush because you can easily spray the paint evenly. I recommend this if you know what you're doing.
Stand(Optional) – Stands are good because it can be hard to manually hold the models while painting. It is optional but in my opinion, the price is well worth it for the comfort it gives.
Drop Cloths – Drop Cloths will protect your surroundings from the paint.
Primer – The most common beginner mistake I see is painting models without any Primer. A primer will prevent imperfections such as bubbles or paint not sticking to your models. It is a small price to pay for quality results.
Clear Coat – A clear coat will protect the paint of your models. This will make the paint last longer. Also, it is the one responsible for making your models shine.
Paints
Of course, you can't do painting properly without paint. So here are the ones I recommend.
Acrylic Paint – Good for beginners because it dries quickly. However, it doesn't produce results as good as enamel paint.
Enamel Paint – Provides a good quality finish and longer-lasting paint. However, it takes longer to dry and requires expertise to use.
Model Maintenance
Model Storage
Simple Wood Cabinet – While it doesn't let you display your models, wooden cabinets are good storage for these models. For one, they are not heat conductors which means that the temperature inside will remain constant and remain cool. Furthermore, they prevent light from reaching the models which can cause oxidation.
Clear Cabinet with Lock – If you want to display your models, then I recommend this. It closes so dust won't easily get to your models. I also recommend you don't put more than 1 model in each compartment since metals are good conductors of heat.
Model Photography
So you want to show off your models to others? Well, I got you covered.
Here is my beginner-friendly model photography tutorial that teaches everything from taking pictures to the editing process.
You will also see me doing hands-on photography in that tutorial.
Here is the link: How to Take Pictures of a Diecast Model or Model Kit | Helpful Illustrated and Video Guide
Sources: