Old Toy Cars: Are they worth it?
There are fantastic car collections worldwide, many of which have individual vehicles worth millions of dollars. However, there is a thriving market for very different types of car collections or toy cars. The question is are these old toy cars we have in our garage worth it?
Old toy cars particularly the limited edition ones are definitely worth it. They are also more expensive if you've successfully kept them in mint condition or in their original box. What makes these old toy cars worth it is their popularity and rarity.
In this article, I am going to talk more about the topic. Furthermore, I will give some examples of expensive toy cars. Who knows? Maybe you have something like my examples just chilling in your garage. I will also give a guide on where you can sell these models.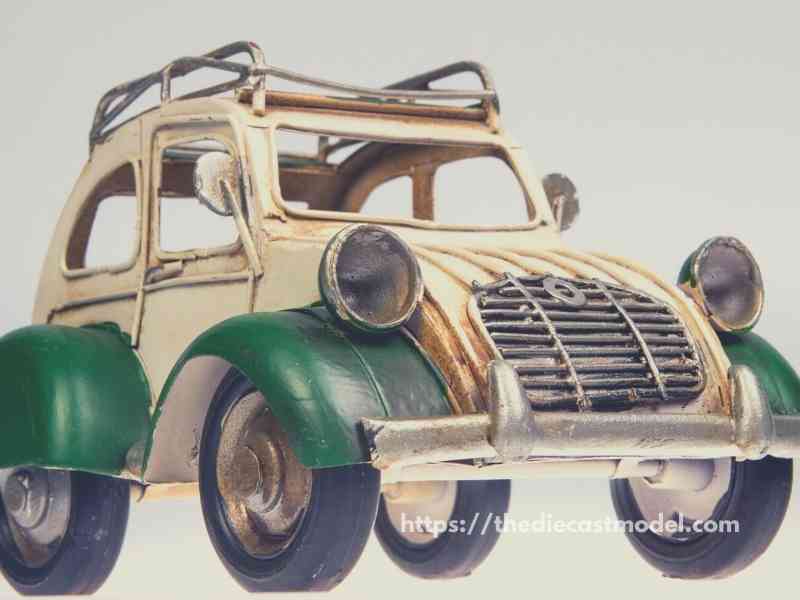 Are old toy cars worth money?
Old toy cars are worth the money especially if they are in limited edition or their production has now halted. Some of these models can fetch thousands of dollars depending on how rare and how great their demand is. Some might even reach as much as 700 times their original price.
At an auction, these old toy cars or miniature replicas can fetch thousands of dollars.
Some are valuable antique toys because of their rarity, while others are modern "toys" made from expensive materials with collectors in mind.
Toy cars, like any collectible, are always more valuable if they have been kept in mint condition.
If you still have the original box, you can add another zero to the end of that estimate. That means you could be sitting on a goldmine if you have a box of old toy cars stashed away in your attic.
A collection of toy cars was an essential part of most budding car enthusiasts' childhood.
While many of us crashed, bashed, and smashed our model motors, those who took better care of them may be going to hit the jackpot.
Some old Matchbox and Hot Wheels models, which were once sold for a few pennies each, are now worth thousands of dollars.
In fact, many of them outperform real-life classics in terms of resale value, with some fetching more than 700 times their original price.
GoCompare, an insurance comparison website, has created a list of collectible toy cars that could be worth a lot of money if you're willing to part with them.
The collectibles are mostly from the 1960s, 1970s, and 1980s and were made by Hot Wheels and Matchbox.
They range in price from $141.75 to a whopping $11,277.74. The latter figure is for a rare 1961 prototype of Matchbox's Magirus-Deutz Truck, of which only two are thought to exist. (It was initially worth less than a dollar.)
The key to their value is their rarity, and most of the money is paid for unusual colors or less popular models.
As with any used item, the better the condition, the higher the value.
Hardcore collectors value antique models in their original packaging, especially if the packaging is still in good condition.
It is difficult to determine how much if any the value of these rare toy cars.
An opened box may reduce the value, as some models would grab far more than others.
That being said, a Hot Wheels Redline Olds 442 would demand a significant premium if sold in a good package, whereas a Beatnik Bandit still in the box would not be worth nearly as much.
Are toy cars collectible?
Toy cars are collectible and the demand for these cars is steadily increasing globally. The people who collect these old toy cars are called model collectors. The increase in the number of car model enthusiasts and collectors will increase the demand. This would definitely increase the value of these rare toy cars.
The growing popularity of automobiles has led to an increase in the demand for miniature car models.
Cars are now almost ubiquitous, and their popularity will increase even in the future. The toy car market is also rapidly expanding neck to neck.
Many collectors have loving memories of playing with Hot Wheels and Matchbox as kids and picking them up again as an adult can frequently bring back the nostalgia.
Many of the collectors do not have their original diecast cars, so they work hard to find them again after many years have passed.
Toy car models appreciate in value and make excellent collectibles because they are not only made of durable materials, but they also become limited editions over time.
Collectors are constantly on the lookout for limited edition cars, which become scarce over time.
What kind of toy cars are worth money?
Here is the kind of toy cars that are worth a lot of money.
1960s Hot Wheels
Aurora A/FX Slot Cars
Mego Dukes of Hazzard General Lee
Evel Knievel Stunt Cycle
Knight Rider Knight 2000 Voice Car
I know it can be a hassle on finding where to sell your models, I made an article talking about various places both offline and online where you can sell your toy cars here: Where to Sell your diecast collection?
1960s Hot Wheels
Because there are so many Hot Wheels available, the price is determined by condition and rarity.
One car may be worth ten dollars in the most common paint scheme but more than $300 in a rare color sold outside the United States.
Early cars with redline tires are among the most valuable and the most desirable ones can fetch thousands of dollars.
One of the most valuable is a 1969 prototype VW "Beach Bomb" worth more than $70,000.
There are several 1970s models with some resale value. For example, the 1977 "Staff Car" was only available in a military-themed set and is estimated to be worth around $800.
Similarly, a rare Porsche 911 in "Gold Chrome" paint from 1975, 1976, or 1977 could fetch a lucrative grand.
I recommend you to read my other article about the value of Hot Wheels so you" get more examples of these expensive models. Here is the article: Are Hot Wheels Worth collecting?
Aurora A/FX Slot Cars
Slot car racing tracks were trendy in the 1960s and 1970s.
The 1:64 scale slot cars and the tracks provided hours of entertainment for car-fanatic kids at home.
An entire AFX slot car set, complete with two or more cars, was available for less than $40 in the mid-1970s.
Many cars nowadays cost that much if the bodies are in good condition.
Rare models can sell for more than $100, while complete track sets can sell for close to $300.
On eBay, a '57 Chevy Nomad-bodied AFX car in its original packaging had a Buy-It-Now price of nearly $850.
Mego Dukes of Hazzard General Lee
The Dukes of Hazzard was among the first TV shows to launch a full-fledged toy marketing campaign.
In the 1970s, toy companies produced an astounding number of branded products.
These Mego General Lees, complete with original packaging and excellent condition, appear to be priced between $400 and $600.
The eBay listings for Mego-produced Boss Hogg Cadillac are insane.
An opened, used Cadillac can cost less than $500, and two perfect ones in their boxes can cost $2,999 and $4,000.
Evel Knievel Stunt Cycle
When Ideal launched a series of Evel Knievel toys between 1972 and 1977, they were huge sellers, with the Stunt Cycle being the most popular and valuable.
The Stunt Cycle was so popular that it was re-released in the 1990s and early 2000s.
However, it is the original 1970s merchandise that brings in the cash.
The Silver High Jumper from 1977 is the most valuable and rare Stunt Cycle.
Its Buy-It-Now prices range from $1,000 to nearly $3,000, in perfect condition on eBay.
If it's still sealed in the box and has never been opened–you can't even imagine.
Knight Rider Knight 2000 Voice Car
Knight Rider toys appear to be very collectible.
In good to fair condition, the Voice Car, with some scratches on the exterior, will be available on eBay with Buy-It-Now prices ranging from $50 to $60.
Cars that are complete with the box and in good condition with only minor scratches are priced closer to $90. Intact in the box, they can cost hundreds of dollars, close to $900.

"Only the things I love"
thediecastmodel.com is reader-supported. When you buy through links on the site, I earn an affiliate commission.
So, here are the things I love when taking care of my Diecast Models.
Cleaning the Models
The first we are going to talk about is cleaning the models.
Removing Dust
Air Brush – For me, this is the best since it not just removes dust but you can use it in painting/clear coating.
Air Duster – This is a good alternative to Airbrush
Normal Brush – If you are short on budget, you can use a normal brush. However, make sure that the brush has soft bristles because there are some hard brushes than can cause scratches. That's why I recommended a good brush that can do the job properly.
Cleaning and Shining Hacks
Well, here are some of my cleaning hacks for removing scratches, oxidation, and so much more.
Removing Decal Adhesive – Use Goo Gone on those hard-to-remove decal adhesives. It works fast and works like charm!
Waxing and Polishing – Here is something a lot of people don't know. Waxing protects the clear coat and paint while polishing shines the model. Instead of buying it separately, use a 2 in 1 to save money. Get this instead.
Beginner Wax – The wax I recommended earlier is good and provides the best results based on my experience. But a beginner might have a problem especially if they're not good at applying wax. Solid wax reaching hard to reach surface can be hard to remove. You have two choices here. One is to use a qtips to reach those surfaces, another is to use a liquid wax I recommended.
Cleaning Wheels, Rubber, Plastic – Do not forget that rubber and plastic surface are quite different, especially in the cleaning process. Just wiping it down won't do the job. That's why I use Meguiar's Vinyl and Rubber Cleaner and Conditioner. Works like charm!
Make the Wheels Shine! – Making our models look good won't be complete without tiny details such as shiny wheels! Do not forget this because however small this is, the difference can be as big as night and day.
Remove Scratches Easily – Tiny scratches are not the end for your model. Here is a simple trick I've been using to make my models look scratch-free even without repainting. Use T-Cut.
Painting the Models
Painting Tools
Make sure when you paint models, have these ready.
Tape – A tape is important if you are painting a straight line. Furthermore, it will prevent your paint to scatter on other parts. I recommend Tamiya Tape since it is really made for models. Furthermore, they stick really well preventing paint splatters.
Brush (Beginner) – Find a good set of brushes to paint your models. Of course, you can opt for an airbrush but it's quite expensive.
Airbrush (Intermediate/Expert) – This will yield a significantly better result than an ordinary brush because you can easily spray the paint evenly. I recommend this if you know what you're doing.
Stand(Optional) – Stands are good because it can be hard to manually hold the models while painting. It is optional but in my opinion, the price is well worth it for the comfort it gives.
Drop Cloths – Drop Cloths will protect your surroundings from the paint.
Primer – The most common beginner mistake I see is painting models without any Primer. A primer will prevent imperfections such as bubbles or paint not sticking to your models. It is a small price to pay for quality results.
Clear Coat – A clear coat will protect the paint of your models. This will make the paint last longer. Also, it is the one responsible for making your models shine.
Paints
Of course, you can't do painting properly without paint. So here are the ones I recommend.
Acrylic Paint – Good for beginners because it dries quickly. However, it doesn't produce results as good as enamel paint.
Enamel Paint – Provides a good quality finish and longer-lasting paint. However, it takes longer to dry and requires expertise to use.
Model Maintenance
Model Storage
Simple Wood Cabinet – While it doesn't let you display your models, wooden cabinets are good storage for these models. For one, they are not heat conductors which means that the temperature inside will remain constant and remain cool. Furthermore, they prevent light from reaching the models which can cause oxidation.
Clear Cabinet with Lock – If you want to display your models, then I recommend this. It closes so dust won't easily get to your models. I also recommend you don't put more than 1 model in each compartment since metals are good conductors of heat.
Model Photography
So you want to show off your models to others? Well, I got you covered.
Here is my beginner-friendly model photography tutorial that teaches everything from taking pictures to the editing process.
You will also see me doing hands-on photography in that tutorial.
Here is the link: How to Take Pictures of a Diecast Model or Model Kit | Helpful Illustrated and Video Guide
Sources: