Matchbox Cars: How to tell if it is rare
One of the best brands when it comes to producing realistic design at a 1:64 scale are Matchbox cars. Furthermore, with their long brand history, most would have a matchbox car lying in their basement or room. Thus, one question you might have is if these Matchbox cars are valuable or rare. How exactly are you going to know?
The fastest way to know if your Matchbox car is rare is to check if it is a limited edition. These models tend to be rare since their production is limited. Another way is to check the age of your matchbox car since older models tend to be rarer. Lastly, you can check for variations such as different body paint or interior from other models.
I made sure to make this blog post as easy as possible that even someone with zero knowledge of model cars can understand. I will cover things to look for on your matchbox cars to know its worth to marketplaces where you can sell your collection. Whatever your purpose in checking this article, I got you covered.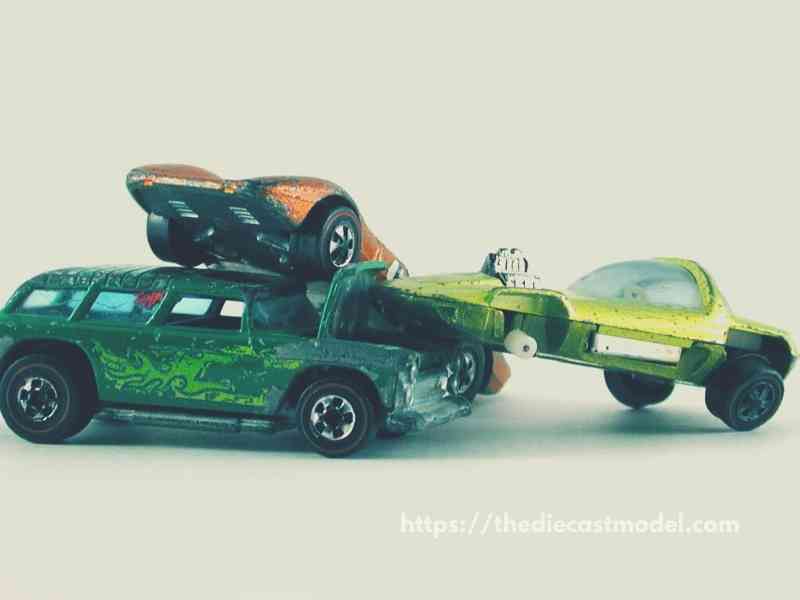 How can you tell if a Matchbox car is rare?
Let's start with a brief history of Matchbox cars.
Matchbox cars were originally made by Lesney Products.
Leslie and Rodney Smith founded Lensey Products shortly after World War II and were joined by Jack O'Dell, a tool and diecast maker.
The year 1947 witnessed the inception of the company's first diecast toy: a road roller. Jack O'Dell made a smaller version of this toy for his daughter to take to school, and it became the first Matchbox vehicle.
Previously, schools had a rule that only toys small enough to fit into a matchbox could be brought into school. The idea of marketing the small vehicles inside a box resembling a matchbox originated from there.
Collectors were captivated by the intricate details that went into creating the original Matchbox cars, which featured dashboards, real-looking wheels, and silver-painted headlamps.
Matchbox's Models of Yesteryear series, which debuted in 1956, was a fan favorite, particularly Matchbox models of yesteryears such as a 1925 Allchin tractor engine car,  a Leyland lorry, a red London double-decker bus, and a 1929 Le Mans Bentley race car.
That's where matchbox started and right now, it is still around but being made by Mattel.
But how do we know if a Matchbox Car is rare?
A Matchbox car's rarity is determined by a number of factors.
Limited edition
The number of automobiles manufactured in a specific year and model
A model was canceled after a limited first run due to technical manufacturing problems
Year of initial production
First and last runs of a model
Any existing variations, such as the use of different color paint on the body or interior
Any variations in the type of wheels or car body die used
Overall condition of the car
Condition, type, and style of the original box
One of the problems you might face is where you will sell your Matchbox car. Knowing that yours might be valuable is just one piece of the puzzle.
Basically, you have three choices on where to sell these collections
Pawnshops – A pawnshop can be a good way to sell your models for a quick buck. Here is a guide I made about how you can sell your models in a pawnshop for a higher price: Do pawnshops buy diecast models?
Online – There are numerous marketplaces where you can sell your models online. I have made a guide on what these websites are and what you should do in order to avoid scams: Where and How to sell your diecast collection?
Offline – Of course, you can join meet ups in order to sell your collection. I also covered this in the article I've recommended on where to sell your diecast collection.
I know how hard it can be to decide if your model is rare. Thus, I also included some very valuable matchbox cars here. If you have one of these ones, then consider yourself lucky.
Matchbox has produced a large number of diecast miniatures, which are now highly valued by collectors. Here's a quick overview of the most expensive, rare, and valuable Matchbox cars ever made.
1. 1953 Aveling Barford Road Roller
The 1953 Aveling Road Roller was launched as part of a three-model set; the other two are a dump truck and a cement mixer.
This 1953 model, though part of a three-model set, is widely regarded as the first and, unsurprisingly, one of the most collectible and valuable Matchbox vehicles ever.
2. 1967 Mercedes Benz 230SL
The 1967 Matchbox 27D Mercedes-Benz 230SL in apple green became one of the most valuable Matchbox cars ever sold when it fetched a whopping $6,765 at auction in 1999.
3. 1966 Opel Diplomat
The sea-green Matchbox car Opel Diplomat cost only 48 cents in 1966, now worth at least $9,000.
4. 1961 Magirus Deutz Crane
Collector Charlie Mack discovered a brown "No.30" crane truck at a neighbor's garage sale and purchased it for $10 before selling it three years later for $10,000.
Another collector, Jim Gallegos, who is the owner of more than 150,000 diecast miniature cars worth more than $1.4 million, was said to have paid $13,000 for a brown No.30 crane in 2004.
5. 1965 BP dodge Wrecker
The circa 1965 "reverse color" Dodge Wrecker, a diecast truck described as the "Holy Grail" of Matchbox collectibles, sold for $8,499 after a heated bidding war.
Take note: These are just examples. Make sure to use the factors I've given since there are lots of rare Matchbox cars for me to cover all.
How to know if my Matchbox cars are valuable?
The easiest way to know if your Matchbox car is valuable is to check its age. Old Matchbox cars especially the ones manufactured in the 1950s are especially valuable. As time goes by, most matchbox cars tend to increase in price. There are also other factors to know if your diecast is valuable such as rarity, variation, and popularity.
This content was originally posted on thediecastmodel.com. If it appears on other websites, it is a violation of the copyright owned by thediecastmodel.com.
There are six factors that decide if a Matchbox car is valuable:
Age
The age of the Matchbox toy cars is an important factor in determining their value. A model manufactured in standard quantities in the 1950s will be rarer and more valuable today than one produced in comparable amounts in the 1990s.
Rarity
Some Matchbox toys are intentionally produced only in limited quantities to achieve a high initial sales price and/or maintain a high value on the collectors market.
However, sometimes this was unintentional, for example, when a model became less popular for whatever reason.
Variation
Variations are changes in production models, such as changes in materials, dies, or color scheme.
For example, a specific model car may be fitted with different types of wheels, plastic or metal, throughout its series, and one wheel type may be more valuable than the others.
Molds or dies are occasionally changed due to flaws in the final diecast product or production difficulties caused by the die, resulting in fewer toys being produced.
As a collector, you must examine the color change of the model's entire body, the baseplate, interior, and windows when it comes to color changes.
Condition
The condition of a model determines its value – the better the condition, the higher the value. Typically, the conditions are described as mint, excellent, very good, good, fair, or poor.
Obviously, a Matchbox toy vehicle with chipped paint and broken parts is not more valuable than one in mint condition.
Packaging
Matchbox cars in their original boxes are always more valuable to every collector than those that do not have boxes.
In some cases, a mint-in-box model can be worth up to 100% more than a mint model without a box, assuming all other factors remain constant.
Again some of the boxes that were produced in smaller quantities were even more valuable.
For example, the first seven 1-75 valuable Matchbox cars were packaged in boxes labeled "A Moko Lesney Product," indicating the business relationship between Lesney and Moko, a company with which Lesney collaborated.
These boxes have become extremely valuable in recent years.
Popularity
The model's popularity also has an impact on its value.
For instance, if two models were produced in comparable quantities and one model is more famous than the other, the famous one would sell much better and have a much higher value.
However, this would imply that the less popular ones would be found in a mint condition more often than not, rather than the popular ones, which would most likely be played rigorously.
As a result, the value of the popular model would rise because it would be challenging to find one in mint condition on the market.

"Only the things I love"
thediecastmodel.com is reader-supported. When you buy through links on the site, I earn an affiliate commission.
So, here are the things I love when taking care of my Diecast Models.
Cleaning the Models
The first we are going to talk about is cleaning the models.
Removing Dust
Air Brush – For me, this is the best since it not just removes dust but you can use it in painting/clear coating.
Air Duster – This is a good alternative to Airbrush
Normal Brush – If you are short on budget, you can use a normal brush. However, make sure that the brush has soft bristles because there are some hard brushes than can cause scratches. That's why I recommended a good brush that can do the job properly.
Cleaning and Shining Hacks
Well, here are some of my cleaning hacks for removing scratches, oxidation, and so much more.
Removing Decal Adhesive – Use Goo Gone on those hard-to-remove decal adhesives. It works fast and works like charm!
Waxing and Polishing – Here is something a lot of people don't know. Waxing protects the clear coat and paint while polishing shines the model. Instead of buying it separately, use a 2 in 1 to save money. Get this instead.
Beginner Wax – The wax I recommended earlier is good and provides the best results based on my experience. But a beginner might have a problem especially if they're not good at applying wax. Solid wax reaching hard to reach surface can be hard to remove. You have two choices here. One is to use a qtips to reach those surfaces, another is to use a liquid wax I recommended.
Cleaning Wheels, Rubber, Plastic – Do not forget that rubber and plastic surface are quite different, especially in the cleaning process. Just wiping it down won't do the job. That's why I use Meguiar's Vinyl and Rubber Cleaner and Conditioner. Works like charm!
Make the Wheels Shine! – Making our models look good won't be complete without tiny details such as shiny wheels! Do not forget this because however small this is, the difference can be as big as night and day.
Remove Scratches Easily – Tiny scratches are not the end for your model. Here is a simple trick I've been using to make my models look scratch-free even without repainting. Use T-Cut.
Painting the Models
Painting Tools
Make sure when you paint models, have these ready.
Tape – A tape is important if you are painting a straight line. Furthermore, it will prevent your paint to scatter on other parts. I recommend Tamiya Tape since it is really made for models. Furthermore, they stick really well preventing paint splatters.
Brush (Beginner) – Find a good set of brushes to paint your models. Of course, you can opt for an airbrush but it's quite expensive.
Airbrush (Intermediate/Expert) – This will yield a significantly better result than an ordinary brush because you can easily spray the paint evenly. I recommend this if you know what you're doing.
Stand(Optional) – Stands are good because it can be hard to manually hold the models while painting. It is optional but in my opinion, the price is well worth it for the comfort it gives.
Drop Cloths – Drop Cloths will protect your surroundings from the paint.
Primer – The most common beginner mistake I see is painting models without any Primer. A primer will prevent imperfections such as bubbles or paint not sticking to your models. It is a small price to pay for quality results.
Clear Coat – A clear coat will protect the paint of your models. This will make the paint last longer. Also, it is the one responsible for making your models shine.
Paints
Of course, you can't do painting properly without paint. So here are the ones I recommend.
Acrylic Paint – Good for beginners because it dries quickly. However, it doesn't produce results as good as enamel paint.
Enamel Paint – Provides a good quality finish and longer-lasting paint. However, it takes longer to dry and requires expertise to use.
Model Maintenance
Model Storage
Simple Wood Cabinet – While it doesn't let you display your models, wooden cabinets are good storage for these models. For one, they are not heat conductors which means that the temperature inside will remain constant and remain cool. Furthermore, they prevent light from reaching the models which can cause oxidation.
Clear Cabinet with Lock – If you want to display your models, then I recommend this. It closes so dust won't easily get to your models. I also recommend you don't put more than 1 model in each compartment since metals are good conductors of heat.
Model Photography
So you want to show off your models to others? Well, I got you covered.
Here is my beginner-friendly model photography tutorial that teaches everything from taking pictures to the editing process.
You will also see me doing hands-on photography in that tutorial.
Here is the link: How to Take Pictures of a Diecast Model or Model Kit | Helpful Illustrated and Video Guide
Source