Are Lionel Trains Still Made? Lionel's Simplified History and Where are they now?
Lionel is one of the oldest model train companies, and it has provided model trains to cars to many people across generations. It has come a long way from selling fans to model trains. There are lots of interesting things about their history with a rich history. They were also once the most popular toy brand in America. But are they still being made today?
Lionel trains are still being made, and their main manufacturing plant is located in Vietnam. However, some of their lines, like the Lionscale product line, are still made in the USA. Thus, they outsource their production to other countries but still manufacture some selected products in the US.
This post will talk about Lionel's current situation, their history, and where their models are made. First, we will talk about their manufacturing and the places they moved. Then we will talk about their interesting history and the company that now owns Lionel.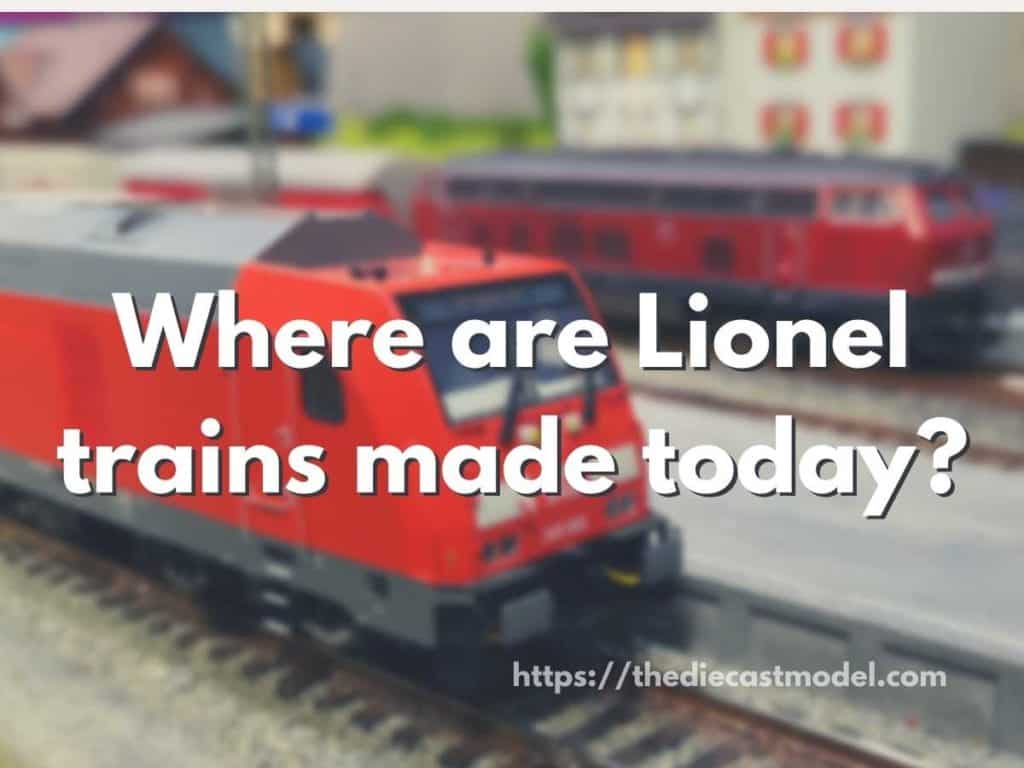 Where are Lionel trains made today?
Lionel train's Lionscale product line is made in Concord, North Carolina, USA. However, since 2021, most of their model train lines have been manufactured in Vietnam.
Most Lionel trains aren't made in the USA. Instead, most of their products are made in Vietnam.
However, the transition from exclusive manufacturing in the USA to outsourcing to other countries has been long. In fact, they started outsourcing their products outside the USA in the 1980s.
In addition, from 2001 to 2020, their products are made in China and Korea.
However, in 2021, they switched their main manufacturing plant to Vietnam. Even if most of their products are made overseas, their main headquarters are located in Concord, North Carolina, USA.
Because of their long history, Lionel's manufacturing plants went from different places.
In 1920, Lionel's main manufacturing plant was located in Irvington, New Jersey. However, they changed location in 1929 when they moved their main manufacturing plant to Hillside, New Jersey.
In the 1980s, Lionel changed their main manufacturing plant to Mexico. However, there was a lot of backlash on the issue since Lionel has been producing US-made trains for 50 years.
In 2001, they started to outsource their production to Korea and China due to cheaper labor and cost. This made their products competitive since most of their competitors also manufacture their models in China.
However, in 2021, they moved their main manufacturing plant to Vietnam.
Because of its long history, Lionel's main headquarters also changed.
Before 2017, Lionel's main headquarters is located in Michigan. Then, however, they transferred their main headquarters to Concorde, USA.
But what made Lionel switch to lots of places? What challenges did it experience along the way? How did it start selling model trains? Well, let's talk about that in the next section.
Who makes Lionel trains now?
Lionel trains are now being made by Lionel, LLC, which is owned by Martin Davis Investment Group, also known as Wellspring. This is because Richard Kughn sold the company to Wellspring in 1995. Their primary manufacturing plant is now located in Vietnam.
Before Wellspring bought Lionel, it started as one of the largest toy manufacturers in the world.
Lionel trains have been the early adopter of many modern train features, and as a model railroader, you will appreciate their creativity in the earlier model railroading days.
For one, Lionel is regarded as the first company to produce model trains that make steam and steam sounds.
Furthermore, they are the ones who made the O scale and 3-rail tracks popular.
Lastly, if you see model trains running below a Christmas tree, thanks to Lionel's intense marketing in its early days.
As you can see, Lionel's rich history influenced our present lives. Thus, it is fair to learn a bit of their history.
Lionel didn't start as a model train manufacturer. Instead, they are an electronics manufacturer.
Their first model train, the Electric Express, wasn't meant to be sold. Instead, it was made to attract buyers to their stores.
However, the interesting thing is that many visitors would want to buy the train instead of their products.
That's why they saw an opportunity to expand to model railroading.
Lionel's trains are big. They are bigger than the O scale trains which they are now known for.
Lionel introduced what they called the "Standard gauge" size train in 1906. This shouldn't be confused with the current HO standard gauge. Their standard gauge has a 2 and 7/8″ rail size, while the current HO standard gauge is 0.65″.
As you can see, the size difference is enormous, and Lionel has been known as the manufacturer of large-scale trains.
Due to their intensive marketing campaign, they started to drive more sales. In fact, their marketing campaigns have affected us to this date when we use model train tracks below a Christmas tree.
Lionel found ways for people to buy their model trains, and the practice of putting trains below the Christmas tree is still popular today.
While they were very successful, they started to be more successful when they released the O scale trains in 1946. While they introduced the scale in 1915, it became very popular in 1946, and it reached its peak sales in the 1950s.
However, their popularity started to go down in the 1960s for two main reasons.
One reason is that people aren't as interested in model trains as before, ever since the launch of space missions. This made people want other toys instead of model trains.
However, if it's only that, Lionel wouldn't suffer much loss since there are still others who like model trains.
Their huge blow was the increasing popularity of the HO scale which now encompasses 60 to 70% of modern model trains.
The HO scale became a popular choice for train modelers since it is small enough to make a layout on smaller spaces while still being detailed.
Right now, the HO scale is the most popular, followed by the N scale. The trend is shifting from large model trains to small model trains due to people living in smaller spaces.
I made a post talking about the smallest scales. You can find it here: What is the smallest train scale?
This change made a massive blow on Lionel, who makes 90% to 95% of their revenue on O scale trains.
Lionel tried to get into the HO scale market. However, their models didn't click.
Right now, Lionel is still popular for its O scale trains, S scale trains, and three rail tracks.
I made a post comparing the three-rail track to the standard two-rail track. If you are interested in its advantage and compatibility, you may check this post: What is the purpose of the 3rd rail?
That is why Lin 1969, Lionel was bought by General Mills, a cereal company.
They went on a series of changes and challenges to get back on track, but in 1986, Wellspring purchased it, which made Lionel trains, Inc. In 1995, it was renamed again to Lionel, LLC.
This is a brief history of Lionel. Lionel has been around for a hundred years, and going full details can make this post quite long. This post is meant to give you their highlights.
What's next? Now that you know where Lionel trains are made and their history, how about knowing some Vintage Lionel trains that were sold for thousands of dollars? I made a post about that topic which you can find here: Are model trains valuable?