Is Model Railroading Still Popular? Looking at the Trends and the Current State of Model Trains
When people ask me about my hobby, I sometimes answer how I like collecting model trains. What I get is people getting confused, especially I'm a millennial. Sometimes I'm being asked if that is still popular, and I always answer that it is. But why is the current generation not into model trains? What are the challenges the hobby is having? And how did model trains pivot towards getting more model train collectors?
Model railroading is still popular. However, it is currently in a state of decline because it is in direct competition against other types of models. Furthermore, its upfront cost is high compared to others because it requires not only the train models, but also the controllers, tracks, and designs.
This post will discuss the current state of the model railroading industry and why many people think it is declining. Furthermore, we will discuss why model trains are still popular despite these challenges.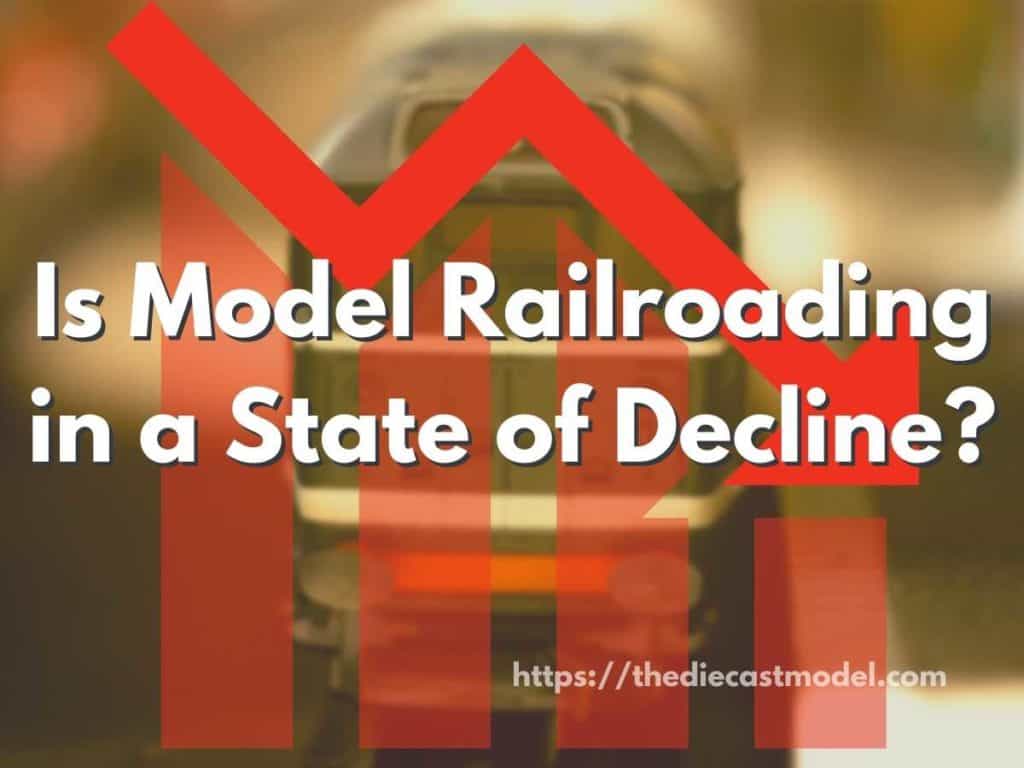 Is model railroading a dead hobby?
Model railroading is not a dead hobby. In fact, the younger generations are starting to get into the hobby with the rise of passenger trains worldwide. However, the model railroading industry has been declining for decades because it competed with other hobbies.
Model railroading was once the most popular hobby in the 20th century. However, it is now almost forgotten.
In the 20th century, trains were popular since many innovations in the railroad, from steam engines to diesel locomotives.
However, with the rise of other models such as spaceships, cars, motorcycles, and planes, people's options reduced the number of people in the hobby.
Furthermore, more popular collector items such as figurines are displacing model trains.
Right now, few millennials are into model trains, and most of my friends don't even know you can collect model trains.
But I don't blame them since model railroading is quite hard to start.
For one, you need technical knowledge of electronics to control your models properly. You need to build these beginner sets from scratch.
For some, time is a luxury that they can' spend a few hours learning and building layouts.
Furthermore, other hobbies don't require you to spend much time, such as collecting diecast cars and figurines.
Another reason why people are getting away from model trains is that model railroading has a very high upfront cost.
Collecting other models is cheaper compared to model trains. For example, you can get a Hot Wheel car for $7.
You can get Pop Funko for about $15.
However, when you talk about model railroading, you need at least $200 if you want to build a layout.
The $200 is if you are lucky to get some deals. Some might even spend up to $500 for a simple layout.
Model trains are expensive because you are not only buying a model, but you also buy the motors, track, controller, power supply, and designs.
These alone are enough to get people away from train modeling.
Recommended Read: Here are ways to save money while getting model trains. If you are interested, I made a guide to make it cheaper. If you're interested, here is the guide: How to save money on model trains?
However, the roadblocks don't stop there since one of the biggest problems on model railroading is space.
Space is becoming a luxury these days as cities get more crowded and fewer people live in large spaces. As a result, model railroading requires a tremendous amount of space compared to other models.
For example, the O scale model trains require at least 5 ft by 10 ft of space to make an oval layout. Unfortunately, not everyone has that large of a space for model trains, and because of that, model trains are in decline.
However, the train modeling industry is not idle in adjusting to the needs of train enthusiasts. While model railroading has seen a decline these past few decades, it is by no means dead since they are starting to change the industry's trend.
As long as trains are still around, model trains will not be a dead hobby.
I believe that model railroading will become more popular soon because of these changing trends.
Here is an example.
Combating traffic has been a challenge for this past decade. They have seen that highways are just a bandaid solution. Many countries are now building trains that are faster and cheaper than using a car.
More people will use trains in the future, and some would want to have a model for them.
The number of people in model railroading has increased these past few years. Even though the hobby is declining with many alternatives, people's lifestyle change affected model railroading for the better.
Many aren't going outside as it was decades or years ago. We've got used to staying at our homes and finding hobbies that we can do indoors. This allowed model railroading to be a great way to pass the time alone, with friends, or with family.
Model train manufacturers have reported an increase in sales these past few years due to this lifestyle change.
So, while many options made the hobby not as popular as below, the hobby still has a loyal following. Even if model trains aren't as popular as it was 50 years ago, they will still be around for generations to come.
The truth is there are many reasons model railroading is still popular, and this is just an introduction. The next section will list why model railroading is still popular.
Why is model railroading still popular?
Model railroading is still popular, and despite its competition with other hobbies, they still have a loyal following because more people are being introduced to trains. Furthermore, the hobby is significantly associated with the holidays, with their demand increasing every last quarter of the year.
While I gave some reasons why model trains won't be as popular as before, I don't believe model railroading is dying.
What I believe is that I think model trains are changing trends.
Many people say that the golden age of model trains was 50 to 70 years ago. I also believe that's the case. However, we can see that the hobby is changing.
But why do I believe that the hobby is changing and will still be popular?
Here are the reasons why model trains are still popular.
1. New Train Modelers
People are saying that there are more boomer train modelers than millennials like me. Well, I also believe that to be the case.
However, people are being introduced to trains again, and you can see that more parents are buying model trains for their children.
As long as trains will be around, train modelers will also be around.
The thing is that the trend is gearing towards more people in the hobby.
Traffic caused governments worldwide to build trains to make transportation fast and cheap. This allowed more train projects to flourish, and more people riding these trains meant more people would want to collect their models.
This is apparent since there is a rise of children going to model train stores with their parents.
Not only that, the trend is that more parents are getting concerned that their children are getting a lot of screentime and would want to have something to replace phone usage.
Model trains can solve their problem, especially if the child is into trains.
Thus, I believe that the next generation will have more train modelers than my generation.
2. Model Train's Association with the Holidays
If you've watched movies that involve Christmas, you will often see model trains below the Christmas tree.
Model trains are greatly associated with the holidays, and that is apparent when we see the rise of model trains sales during the holiday season.
People are buying these train sets as a gift or for decoration.
The reason why model trains are associated with the holidays is because of Lionel's marketing efforts in the 1900s.
Lionel was the top manufacturer of model trains in the early model railroading days because it was aggressive marketing efforts. They are the reason why model trains are greatly associated with the holidays.
They were also one of the first manufacturers to introduce puff smokes and sounds on trains.
Currently, they are the leading train manufacturer for the O scale.
But as long as people greatly associate model trains with the holidays, there will always be someone who will receive a model train set and love the hobby.
3. Changing Trends of Model Trains
Some people say that model trains are in a decline since the modeler demographics are aging. Well, that's true.
With age comes weaker eyesight, so most old train modelers are into the O scale.
However, despite this, the O scale market is in decline. Why? Well, that's because of the changing trends.
The O scale is in the 1:48 scale, which means that the actual train is 48 times larger than the replica.
Compare this to the HO scale, which is 1:87, and the N scale, which is 1:160.
Many old modelers are also used to the O scale since it was once the most popular scale.
However, the O scale is now the 3rd more popular train scale.
But why am I introducing these concepts? Well, because the HO scale is now the most popular, accounting for 60-70% of model trains, while the N scale is the second most popular, accounting for 20%.
The trend is going towards smaller model trains, and the O scale market is in decline.
This is also why Lionel can't compete with other brands that offer HO and OO scales.
Many new modelers start with the HO scale instead of the O scale. If we look at the amount of O scale sold, we can see that the hobby is in decline. The truth is, newer models are being sold at a different scale.
Why? This is because not everyone has an entire room to accommodate large model trains. Smaller scales allowed modelers to get into the hobby even if they were living in apartments.
This lifestyle change shifted the hobby from the O scale to the HO or N scale.
Furthermore, there is a rise in demand for newer train models. For example, bullet train models are starting to rise since children are beginning to ride newer train models.
While some stick to the steam or diesel engine trains, newer modelers are starting to get bullet train models.
Just because the sales for the steam and diesel engine model trains are in decline doesn't mean that the entire hobby is declining.
The train modeling industry is shifting as they adopt for other modelers who would want to make layouts for newer trains.
Changing trends means that the younger train modelers are getting other train models and scales compared to the previous generation.
4. Standardization
Thanks to the National Model Railroad Association or NMRA, getting into model railroading is very easy.
The NMRA standardized the size of the trains and tracks to make model railroading easier.
This means you can use whatever brand of trains to a track provided that they are on the same gauge.
This made getting into the hobby easier.
While standardization has been around for a long time, it is still important. Without standardization, model railroading will be confusing and brand-specific.
5. Helpful Model Train Community
This is also the reason why I got into model railroading.
I don't have any relatives who are into model trains, but I was able to join model railroading communities where we help each other because of the internet.
The model railroading community is very helpful and kind to beginners.
I remember when I was new, someone from the community helped me learn the basics by suggesting things to study.
This made it easier for me to get into model railroading.
The community also inspires others by sharing their layouts and how they built them.
Compared to other online groups, model railroading groups are friendly and close to one another. They give me a sense of belonging, and I am happy that this is the biggest reason I got into the hobby.
What's next? Do you know the fastest model train ever made? Do you know what scale speed is? If you are interested in knowing the fastest model trains that have ever existed, I made a post talking about that topic here: What is the fastest model train?