Which are the best company that makes model car kits?
As a model collector, there are times where I want some challenge in modeling or building a model from scratch. These model car kits are known for making these types of puzzle-like models. It's basically like a puzzle and the product is a 3D object. Thus, since I am having some free time, I had my research on the best companies that make model car kits.
One of the best companies when talking about model car kits is Tamiya. Their attention to detail is superb and their model kits are very easy to assemble with complete instructions. Revell, Fujimi, Aoshima, and Hasegawa are also great choices since they also make highly detailed models.
The reason for this article is, of course, we want to build a high-quality model, then we need the best model car kit brands out there. Well, there are hundreds of companies manufacturing model car kits, but not all kits are worth your attention. For you to build your favorite car, plane, or whatever it is, you need to choose a model car kit from the best manufacturer.
Whether you would like to build iconic cars like classic Volkswagen Beetle or Steve McQueen's Ford Mustang, it is possible to get the right model car kit. The best part is you can easily shop for model car kits, and they come at a reasonable price. Want to know the other best part, I already made the research for you.
I also recommend you to read another article which talks about which car model brands are the best. In this article, I am not only talking about plastic models but the whole model car industry which includes diecast or metal cars. here is the link: Which car model brand is the best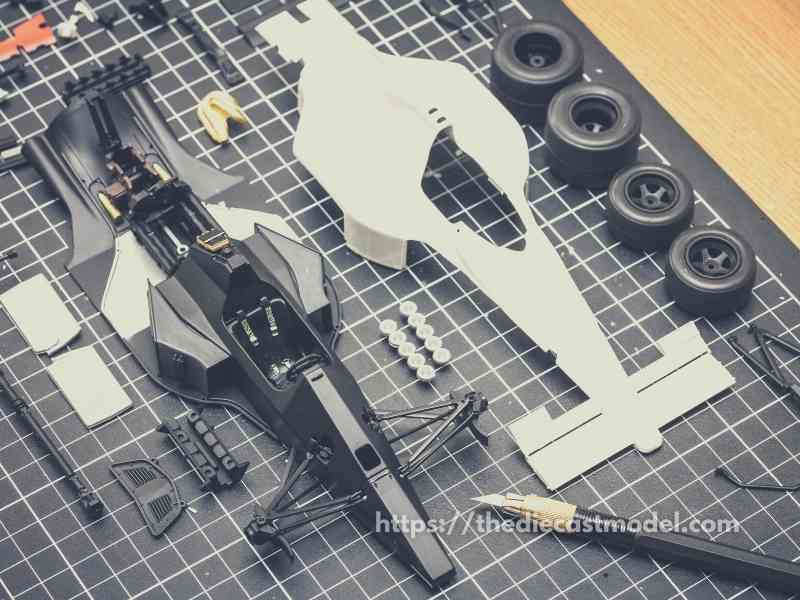 Tamiya
Tamiya is a Japanese model car kit manufacturer founded by Yoshio Tamiya in Shizuoka, Japan, in 1946. The manufacturer specializes in plastic model car kits.
Tamiya is the best model car kit you can find. Even most car model builders prefer to use the Tamiya car model kit, which comes at an affordable price. It is the best and high-quality model car kit, and it has incredible detail.
It is easy to start building your car with a Tamiya model car kit as it comes with instructions. Furthermore, the kits build themselves, and the car you get to produce doesn't have errors.
The Tamiya kit comes with engines which is not the case with other model kits. Below is an example of the best Tamiya car model in my opinion.
Tamiya 1/24 Volkswagen 1300 Beetle 1966 Plastic Model Kit
Volkswagen "Beetle, which was first produced in 1966, is one of the Tamiya many collectors would love to build. Even though the first Volkswagen "Beetle was manufactured in 19666, the original design was designed in the 1930s.
Hence this Tamiya car model is among those iconic diecasts you can get Tamiya model car kit and start to build.
There are over 20 million Volkswagen Beetle units, an indication this is an exceptional vehicle ever produced by Tamiya.
Moreover, this 1966 Volkswagen model is referred to as classic Beetle because despite being produced many years ago, still today you can model the car with the same traits. It is a car that has attracted collectors.
Revell USA
Revell USA is yet another company that manufactures model car kits. The company is specializing in plastic scale models, which are cheaper compared to other manufactures.
If you wanted to build muscle cars, the NASCAR Revell USA model kit is best suited. After you bought your kit and anything is missing, you can call for a replacement. Here is the best car you can model with the Revell USA model kit;
Revell Ford Bronco Plastic Model Car Kit
The Revell ford Bronco is among those model cars which led to the production of a real car, the first ford compact SUV. It is a popular car today but the model car dated back to the 1960s.
Still, you can acquire the Revel USA model car kit and model this classic ford bronco. Even though the car has undergone several modifications up to the 5th generation, you can model the original Revell Ford Bronco using the revel USA plastic model car kit.
Fujimi
Fujimi is a model car manufacturer based in Shizuoka Prefecture. The company specializes in the manufacturing of plastic model kits. You can model some of the popular Ferrari models using this kit; besides, you can design nice scale models through modification.
The Fujimi model cars are detailed. Sometimes, it can be challenging to model a car, but you can choose the one you are comfortable building following a selection of car models. The following is the iconic Fujimi car you can model;
Fujimi 1/24 Ferrari 458
The Ferrari 458 Italia, which debuted at the 2009 IAA Frankfurt Motor Show, is an eight-cylinder two-seater Berlinetta with a mid-rear positioned engine that marks a significant departure from Maranello's prior high-performance sports cars.
The 458 Italia extends the Ferrari legacy of putting the thrill back into driving due to track-derived technological breakthroughs. After buying the Fujimi, you can model this sports car. The model features technology and one of the detailed Fujimi cars.
Aoshima
Aoshima is yet another Japanese car brand that manufacturers plastic model kits of a variety of vehicles. With this kit, you can model Aoshima model cars and also diecast models.
Aoshima model car kit is ideal if you love JVMs. You can enjoy their reliable customer support if any part is missing or you have any inquiries.  Most of the Aoshima model cars are detailed. Thus you need to be well knowledgeable about Aoshima model cars.
Several Aoshima model cars you can build after purchasing the kit differ in terms of scale, mostly 1/24 or 1/32. Here are the Aoshima diecast model cars you can build for your collection;
Aoshima 1/24 Lamborghini Aventador LP700-4 w Engine Detail
With Aoshima car model kit you can model the Aoshima 1/24 Lamborghini Aventador LP700-4 w. It is an iconic model car you can model and add to your collection.
The Aoshima model car kit has everything you need to model this car. The kit entails unassembled and unpainted parts, glue, and other basic modeling tools. What is required is your knowledge to model the car.
Aoshima 1/24 Lamborghini Aventador LP700-4 w features an extensive engine, open trunk, and a wide array of optional parts. You can choose to model the car in white, clear with chrome, black vinyl tires, and water-release decals.
Hasegawa
Hasegawa is also a Japanese car model car kit manufacturer, and it produces plastic model kits that can use to model a variety of model cars.
There are limited Hasegawa model cars; thus, the Hasegawa cars' need to have know-how is modeled. But there are several models you can model among the Hasegawa 1:24 Scale VW Type 2 Pick-Up Truck.
Hasegawa 1:24 Scale VW Type 2 Pick-Up Truck
Hasegawa 1:24 Scale VW Type 2 Pick-Up Truck dated back in 1950, and it features a box-shaped body mounted. It is a classic model car you can build after purchasing the Hasegawa model car kit.
One of the Volkswagen Type 2 model cars with rich history and ranked as the second best-selling vehicle. Some confuse this model car with pick-up, but the high cargo bed which extended from behind distinguishes it for pick-up.
Final words
If you love to model diecast cars, these are the best manufacturing model car kits. At the top of the list and the best company is Tamiya. The price is on the high end but is worth it.
Even if you would like to gift your kind with a model car kit look, go for one manufactured by reputable car brands. If you are trying to search which company manufactures the best model kit, here we have details about the five iconic model car kit manufacturers of all time. Additionally, you get to learn the best car model manufactured by that model kit manufacturer to show you that they are worthy to shop for.
If you are a starter to car model, it is ideal you first familiarize yourself with the model car you would like to mode. Some of these model cars are detailed. Happy modeling!