Painting a Scale Model: Before and After Assembly | A Helpful Guide
For many model cars, enthusiastic nothing brings joy and then brings a classic model back to life through painting. It is one of the hobbies that model car lovers worldwide love to engage in their free time. Besides, today you can get to build model cars after buying the modeling kit, and one of the things you ought to do is to paint the model car you are building. It remains a question among many model car builders whether to paint the cat before or after assembly.
In general, it is good for beginners to paint after assembly because it is easier than painting small parts one by one. However, if you want better details, it is a good choice to start painting smaller parts right before assembly. In the end, it depends on the user's preference and the manual.
In this blog post, you'll get to learn if to paint the car before or after assembly and additionally, other things related to painting a model car, such as tolls you need, how to choose the right color, among other details.
What do you do first when painting a model car?
The first thing you need to do when painting a model car is to prepare your tools. You must always prepare a roll of tape, a set of brushes, a stand, drop cloths, and the paint you're going to use. However, a stand is just optional and is just helpful to provide you some comfort while painting.
Before addressing the question of whether to paint before or after assembling the model car, let look at what you need before you start thinking about painting the model car.
Tools required when painting Model Car.
These are key tools you need to have before you start to paint a model car. With the right tools, you get to have a smooth time and enjoy painting the model car. These tools include;
Tape
Tape is an important tool to have when painting your model car.
You will use the tape to mask off nearby surfaces, thus making it easier to have a straight line after painting your model car.
It will be hard to detail the paint without tape especially painting straight lines.
Brushes
You need to have more than one model car paintbrush.
You need to have wider brushes used to paint the larger areas and smaller brushes used to add small details and designs.
That's why my set is a recommendation.
Furthermore, I recommend not to use a single brush for 2 colors since the colors can mix which will yield a different finish or results.
Stand
The stand is not a must-have but is helpful. The stand will help avoid painting running into your fingers which takes time to remove.
Drop cloths
While assembling and painting your model car, it's a great idea to have a few drop cloths on hand.
It will assist protect the surrounding area from damage and spills, which is especially important when spray painting your model automobile. 
Paint
For the paint, I am going to offer you different choices later in this article.
But make sure to get paint that is compatible with plastic models if you are painting a plastic model. Don't worry since I have provided one for you later to prevent any errors.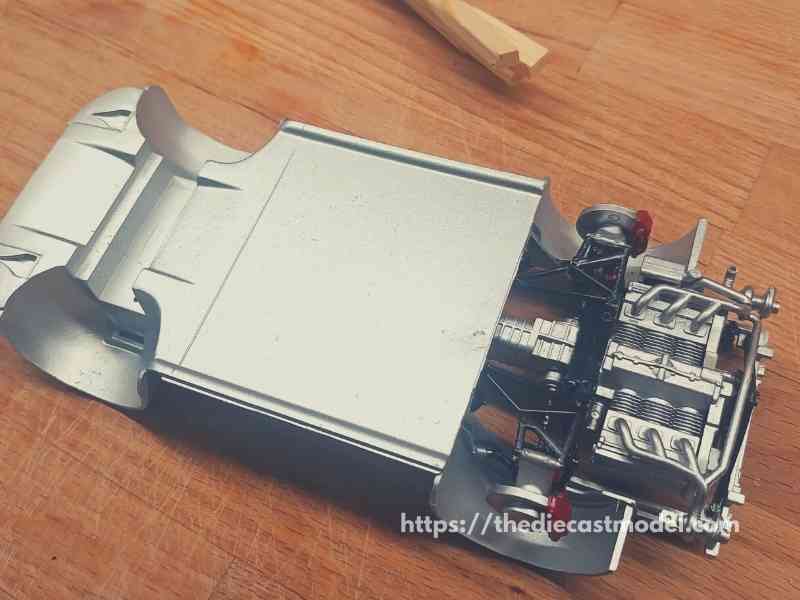 How to choose the Right Paint and Color for your Model
The right paint and color for the model depend on the preferences of the painter. If the painter wants to have a good quality finish and long-lasting paint, then Enamel paint would be a good choice. However, if the painter chooses comfort and quick drying time, then Acrylic paint would be better.
The next important thing to do before you even thinking about painting your model car is to choose the right paint color.
Sometimes you may get deceived by how bright the color is and forego looking at the various factors which affect the choice of color to paint your model color.
Generally, there are two types of paint to choose from either acrylic paint or enamel paint.
The following factors help you choose the right color right to use and paint your model car.
Solvent
A solvent is present in all paints, which absorbs the pigment, allowing it to be applied to various surfaces.
Enamel paint is oil-based, while acrylic paint is water-based.
There are several performance variables for each solvent that can assist you in deciding which one to utilize.
Quality vs. drying time
Acrylic lacquer paint is recommended if you desire a quick drying period. It should be dry to the touch within half an hour of application and should dry completely in one day.
Acrylic paint, on the other hand, tends to peel and is less resistant to human contact. Enamel paint takes one to three days to cure, but it can produce higher-quality longer-lasting effects.
Enamel paint can withstand human contact and retain its vibrant color for years. Read the labels on your paints for specific drying timeframes.
Cleanup
Since acrylic paint is water-based, all you'll need to clean your brushes and instruments is warm water or rubbing alcohol. Thus, acrylic is easier to clean but is also easy to remove.
Considering enamel paint is oil-based, cleaning up after a painting session will require mineral spirits or another paint thinning agent.
Thus, enamel paint lasts longer.
Fumes
Acrylic paint dries by evaporating water.
Because there will be no dangerous pollutants floating about in the air, you may keep your windows and doors closed when painting.
Enamel paint cures due to a chemical reaction between the oil in the paint and the oxygen in the air. This method does emit potentially dangerous vapors into the atmosphere.
To protect yourself, dear ones, and any pets, you'll need sufficient ventilation where you're painting.
Application methods
It doesn't matter the type of paint you chose. The application method is the same. You can choose to use spray cans, airbrushes, or paintbrushes.
I would also provide those later so you won't buy the wrong products.
Note that you will have to dilute your paint when you paint your model car with an airbrush.
Mineral spirits or any other thinner chemical are used for thin acrylic paint and enamel paint using water.
Color options
The color selections available to you may influence the sort of paint you choose.
Acrylic paint comes in a wide range of colors to keep you occupied and inspire you. Enamel paint provides fewer alternatives, but the gorgeous effects may compensate for the lack of variety.
Most importantly, make certain that all of your surfaces are free of dust and grease.
Because of the molding process, the plastic parts are frequently rather greasy—this oil aids in the separation of molded plastic pieces from the factory's metal mold.
The easiest way to accomplish this is to first wash the entire plastic spruce in lukewarm water with some dish detergent.
Is it better to paint a model before or after assembly?
If you are thinking of making better details, then it is recommended to paint before assembly. This makes sure that you paint even the hidden surface for a more beautiful finish. However, it can be hard for beginners to do. So, it is good for beginners to just start painting after assembly.
The answer to this question is yes and no.
First, it is yes because you can choose to assemble the whole model car and paint; on the other hand, you have to paint those small detailed parts before assembling them.
Besides, there is even a third option where you assemble the model cars but leave some parts.
You paint these small parts before adding them to the car and then paint the other unpainted parts.
I think this is a good choice for beginners for them to slowly build their skills up to start painting things before assembly.
Furthermore, whether to paint before or after assembly depends on the instructions from the model kit manufacturer.  It is important to read and follow the instruction.
If they require you to paint before assembling, then do so and vice versa.
Which Model Parts require being painted before assembly?
Every model kit comes with instructions on how to build the car up and how to paint the car.
Usually, there are those parts in a model car that are intended to be painted before assembling.
For instance, when you are modeling cars and have to add details like the seat, you have to paint them before assembling the cars.
It is not easy to assemble the car and try to paint the seats. It will not work out.  
It is simple logic you have to apply here, and even if you read the modeling kit, they have highlighted what needs to be painted before assembling.  
Again think about painting the car interior after assembling the car with windshield and mirrors attached. There is no logic being applied there. Even without instructions, you see, it will not work like that.
Is it necessary to mask the Model car?
If you plan to paint a pattern with more than one color, it is necessary to mask some parts to obtain clear lines, blended lines, or bolted lines. However, ensure that the mask is well bonded to the surface so it would prevent bleeding.
Besides, even if you will use different colors, it is required to mask the windows and any other part you would like the paint to get into.
Masking can be done with a self-adhesive cassette, frisk, or conventional paper, cut and held in front of the surface for disguise.
There are also other fluids for masking which can be browned and removed after painting.
Since paint tends to "bleed" or seep behind the mask, ensure the masking material is well bonded to the surface for sharp edges.
Remove the tape gently after the paint has dry to avoid chipping the paint edges.
Tamiya Masking Tape is one of the greatest masking tapes, and it can help you achieve very fine lines.
That's why it is my recommendation above.
A different strategy is required to achieve a "soft" edge.
If you're skilled enough, you can paint the camouflage freehand with the airbrush's finest needle.
Paint a plastic item such as a milk carton or a whip cream tub to develop your freehand airbrushing skills.
How to Paint the Model Parts
As I told you, this is a comprehensive blog covering painting a model car, and we cannot conclude the blog post without mentioning how to paint the model car parts.
When you would like to paint a model car, you can choose to use a brush, airbrush, or spray can and even combine both.
If you are going to paint some parts or the whole model car, consider buying a good paintbrush. Please don't go for the cheap brush as they will even waste your paint.
It is worth buying a quality brush thus achieve desired results after painting.
Don't worry, I will provide you with some recommendations later.
Tips to follow when painting a model car
Here I share with you tips when you are painting your model car. These tips will help you get the desired result after painting.
Swirl the paint for 1 minute before Dipping the Brush
To ensure consistent coloration as you paint, swirl the paint for at least one minute before dipping in the brush.
You may need a small amount of thinner to achieve the consistency of milk, which will help the paint lie down more smoothly.
Priming is Recommended to Achieve better Results
To have a nice paint job, you must first prime the surface. It is used to locate flaws, faulty seams, and rough regions that require additional sanding.
It can be quite useful to prime in a different color than the original plastic to make it easier to spot flaws.
Priming also improves the connection between the paint and the plastic.
If you are wondering what a primer is, then I recommend you to read my article here where I discussed the importance of priming your models first before painting. Here is the link:Is Priming Necessary before Painting?
Airbrush provides the best results
For skilled modelers, airbrushing is the favored procedure.
Airbrushing is comparable to spray painting; however, it is considerably more accurate and precise. The airbrush, a paint container, and an air supply make up the most basic airbrush setup.
A hose connects the airbrush to the supply of air.
It takes practice
With a little practice and a good airbrush, you can paint delicately, nearly pencil-thin lines as well as large, smooth areas.
You can spray all kinds of paint patterns and effects that aerosol cans and paintbrushes can't match.
That's why I recommend starting painting after assembly to improve your skills. But if you want to do your best to paint the small parts even before assembly, then it is a good practice.
A compressor is the best air supply for an Airbrush
A compressor is the best option for air supply if you are using an airbrush to do the painting. 
Airbrushes can be used with almost any type of compressor as long as it has a pressure regulator.
To prevent moisture from damaging a perfectly beautiful paint job, always use a water catch filter at the beginning of the hose line.
The compressor can remove water and moisture
A compressor is the best source of air.
Airbrushes can be used with almost any type of compressor as long as it has a pressure regulator.
To prevent moisture from damaging a perfectly beautiful paint job, always use a water catch filter at the beginning of the hose line.
What paint should I use on a model car?
The paint you should use on your model car depends on your preference and the material used in making your model. If your model car is made out of plastic, then you should use a paint that is compatible with plastics or else, it could break your model.
It is not always to tell which paint is ideal to use when painting your model car.
But one factor to consider is the material used to build the model car.
For instance, if the model car is made up of plastic, then you should use paint designed for plastics.
There are many different types of paint, such as automotive paint, but most of them will react badly with plastic materials, melting or "eating" the plastic surface and destroying your model.
Enamel paints and acrylic paints are the two fundamental types of paint. Enamels are made with mineral spirits, while acrylics are made with water.
Below is a summary of the type of paint, why to use it and not, skill level, and where you can find it on Amazon. You will only need to choose one, for now, to paint your model car with that paint.

"Only the things I love."
So, here are the things I personally love when taking care of my Diecast Models.
Cleaning the Models
The first we are going to talk about is cleaning the models.
Removing Dust
Air Brush – For me the is the best since it not just removes dust but you can use it in painting/clear coating.
Air Duster – This is a good alternative to Airbrush
Normal Brush – If you are short on budget, you can use a normal brush. However, make sure that the brush has soft bristles bacause there are some hard brush than can cause scratches. That's why I recommended a good brush that can do the job properly.
Cleaning and Shining Hacks
Well, here are some of my cleaning hacks for removing scratches, oxidation, and so much more.
Removing Decal Adhesive – Use Goo Gone on those hard to remove decal adhesives. It works fast and works like charm!
Waxing and Polishing – Here is the something a lot of people don't know. A wax protects the clear coat and paint while polishing shines the model. Instead of buying it separately, use a 2 in 1 to save money. Get this instead.
Beginner Wax – The wax I recommended earlier is good and provides the best results based on my experience. But a beginner might have a problem especially if they're not good at applying wax. Solid wax reaching hard to reach surface can he hard to remove. You have two choices here. One is to use a qtips to reach those surfaces, another is to use a liquid wax I recommended.
Cleaning Wheels, Rubber, Plastic – Do not forget that rubber and plastic surface are quite different especially on the cleaning process. Just wiping it down won't do the job. That's why I use the Meguiar's Vinyl and Rubber Cleaner and Conditioner. Works like charm!
Make the Wheels Shine! – Making our models look good won't be complete without tiny details such as shiny wheels! Do not forget this because however small this is, the difference can be as big as night and day.
Remove Scratches Easily – Tiny scratches are not the end for your model. Here is a simple trick I've been using to make my models look scratch free even without repainting. Use T-Cut.
Painting the Models
Painting Tools
Make sure when you paint models, have these ready.
Tape – A tape is important if you are painting a straight line. Furthermore, it will prevent you paint to scatter on other parts. I recommend Tamiya Tape since it is really made for models. Furthermore, they stick really well preventing paint splatters.
Brush (Beginner) – Find a good set of brush to paint your models. Of course you can opt for an airbrush but it's quite expensive.
Airbrush (Intermediate/Expert) – This will yield a significantly better result than ordinary brush because you can easily spray the paint evenly. I recommend this if you know what you're doing.
Stand(Optional) – Stands are good because it can be hard to manually hold the models while painting. It is optional but in my opinion, the price is well worth it for the comfort it gives.
Drop Cloths – Drop Cloths will protect your surroundings to the paint.
Primer – The most common beginner mistake I see is painting models without any Primer. A primer will prevent imperfections such as bubbles or paint not sticking to your models. It is a small price to pay for quality results.
Clear Coat – A clear coat will protect the paint of your models. This will make the paint last longer. Also, it is the one responsible for making your models shine.
Paints
Of course, you can't do painting properly without paint. So here are the ones I recommend.
Acrylic Paint – Good for beginners because it dries quickly. However, it doesn't produce results as good as enamel paint.
Enamel Paint – Provides good quality finish and longer lasting paint. However, it takes long to dry and requires expertise to use.
Model Maintenance
Model Storage
Simple Wood Cabinet – While it doesn't let you display your models, wooden cabinets are a good storage for these models. For one, they are not heat conductors which means that the temperature inside will remain constant and remail cool. Furthermore, they prevent light reaching the models which can cause oxidation.
Clear Cabinet with Lock – If you want to display your models, then I recommend this. It closes so dusts won't easily get to your models. I also recommend you to don't put more than 1 model in each compartment since metals are good conductors of heat.
Model Photography
So you want to show off your models to others? Well, I got you covered.
Here is my beginner-friendly model photography tutorial that teaches everything from taking pictures to the editing process.
You will also see me doing hands-on photography on that tutorial.
Here is the link: How to Take Pictures of a Diecast Model or Model Kit | Helpful Illustrated and Video Guide
Sources