Is RG Gunpla Good for Beginners?
Generally speaking, RG Gunpla isn't good for beginners since they often require experience in building model kits. In addition, RG models usually have more small parts and details than their HG counterparts. However, since not all Gundam models are the same, some RG Gundam Models are easy enough for beginners to build.
This post will discuss why RG isn't that good for beginners, when you should start trying RG models, and what RG models are perfect for beginners at the get-go. Let's start.
This post may contain affiliate links, which means that I may receive a commission if you make a purchase using these links. As an Amazon Associate, I earn from qualifying purchases.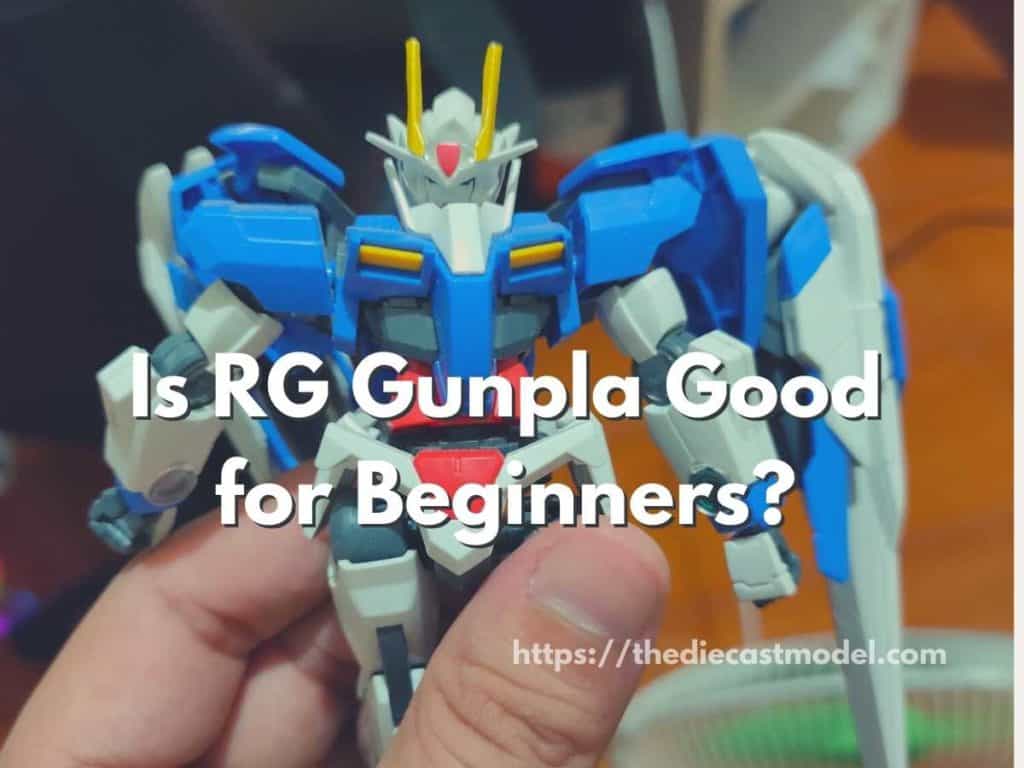 Is RG good for beginners?
As a general rule, RG isn't suitable for beginners simply because they provide more color variation, detail, and parts than beginner grades. However, there are some specific RG models that can be built by beginners from the get-go because they are simpler than other Gundams.
It can be tempting to start with RG as they offer better detail than, let's say, an HG Gundam.
However, there are many factors to consider before doing so.
One of which is price.
Generally speaking, RG is more expensive than HG kits. This is because RG has more parts and detail than HG.
Beginners often go with HG since it is cheaper and easier to build than RG.
It is common for beginner or even experienced modelers to make mistakes when building kits. The problem is mistakes can destroy your models.
Since HG models are cheaper, breaking HG Gundams isn't as costly as breaking an RG Gundam.
Furthermore, RG Gundams have more delicate and small parts than HG Gundams.
Thus, most people would say to start with HG, then move to RG.
However, remember that not all Gundams are the same.
Some Gundams are easier to build since they look simpler than others.
That's why while it is true that RG isn't recommended for beginners, there are RG Gunpla models that beginner modelers can build as they have fewer and less delicate parts than other models.
We'll talk about those in the next section.
Is Real Grade Gundam Hard?
Real Grade Gundam models aren't hard to build since all Gundam model kits have detailed instructions on building their models. Anyone can make RG Gundams as long as they have the right tools and can follow instructions from the manual.
While RG Gundam models are more challenging to build than HG, they aren't as complicated as many think.
The thing is that almost all Gundam model kits have detailed instructions on how to build their models.
As long as you can follow the instructions written in their manuals, you can surely build even a PG Gundam.
Proper tools can also help you build models. For example, almost all serious kit modelers would use a nipper in separating the parts from the sprue.
This simple tool will often remove nicks leading to smoother builds.
Modelers often prefer the Tamiya nipper, which you can find on Amazon using this link: Tamiya Nipper.
Another thing to further smoothen the surface is sandpaper which you can find in almost all hobby shops and hardware stores.
The paint which involves primers and topcoats can come later. But, as a beginner, a nipper and sandpaper are all you need to start building quality Gundam models.
Also, glue isn't necessary for Gundam models as most of their models often snap to fit.
Properly using the tools and carefully following instructions is all you need in building Gundam models. If you want to start with RG models since they look great, no one is preventing you from doing so.
In fact, I will give you some recommendations on the RG models you can build as a beginner.
Of course, experience is a significant factor when building model kits.
The more you build model kits, the better you become.
That's why most people say you should start with HG, then go with RG, then PG.
But how would you know if you're good enough to start building RG models?
Generally speaking, people who have already built 5 high-grade Gundam models can start building RG. Then, people who have already built 3 RG models can start building PG models.
However, many are up to the challenge of starting an RG right away or getting into PG after building an RG model.
If you're up to the challenge, then go for it. Building an RG or PG model as a beginner is something you can be proud of, especially in the Gunpla community.
Thus, if you're up to the challenge, then you should know what RG models you should start with. That's what we will discuss in the last section.
What Gunpla RG should you start with?
These RG Gundams are great for Beginners:
Gundam Wing Zero
Gundam Wing Astray
Gundam Qan[T]
Z'Gok
These RG Gundam models are relatively easier to build than others. Thus, beginners with zero model-building experience can build them.
But here is a warning when starting to build your RG models.
I find that the more recent RG models have tighter joints than earlier ones.
Gundam modelers call this the early RG syndrome, where the early RG model's joints are loose.
I also got familiar with this since my RG suffered from the same syndrome as my model has loose joints.
Check at how loose the joints are in this photo: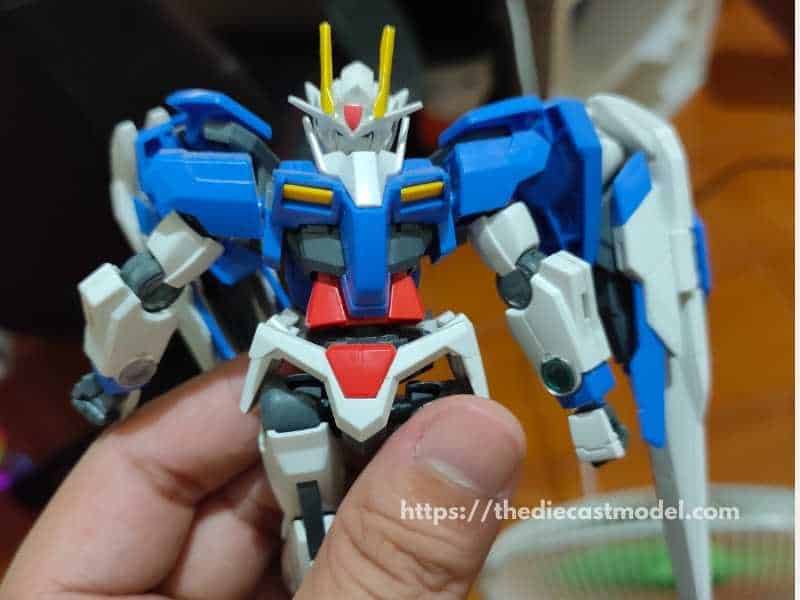 In my RG Qan[T], the leg joints are very loose, so it is hard to make the model stand.
So, how would you prevent buying this kind of model?
Generally speaking, get something that is released later than 2016 to avoid early RG syndrome. This is because my 2016 Gundam RG Qan[T] has a kind of loose joints.
This tip is based on my experience.
However, I should say that if you want an easy-to-build model, then the Gundam RG Qan[T] is very easy to build.
While it is in RG, the parts are easy to fit together and assemble. Furthermore, detailed instructions are always given so you won't have any problems while building them.
Gundam Wing Zero, Z'Gok, and Wing Astray are also easy to build.
Thus, I recommend those four for beginners.
I also believe that you won't have any problems building whatever RG Gunpla model you build, provided that you meticulously follow the instructions.
I would like to commend Bandai for always giving detailed instructions when building their models.
But here is my take.
While HG Gundams are easier and less detailed than RG, you can make them look better than RG if you are good at customizing.
For example, while generally speaking, RG is more detailed than HG, my HG Neo Zeong looks a lot better than RG models.
Take a look.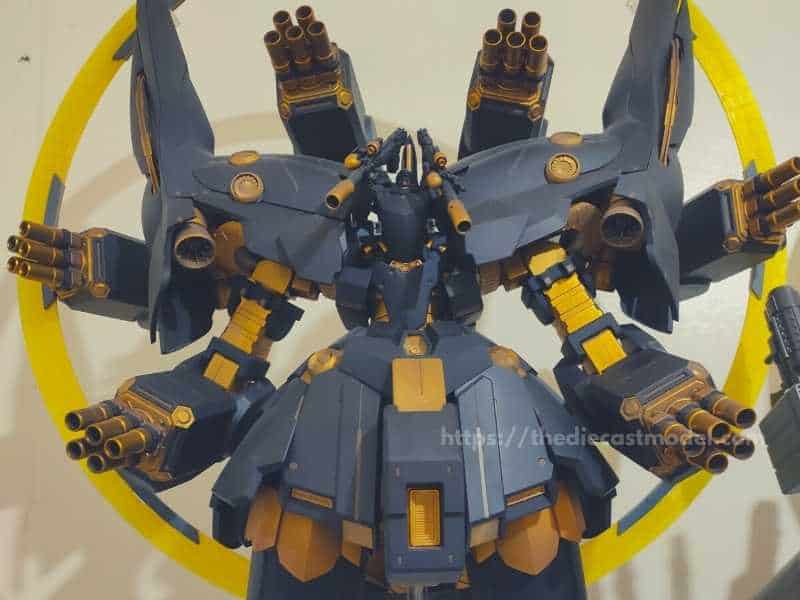 Proper customization, painting, and weathering can make an HG model better than even PG models.
While painting is not required when building Gundam models, learning how to paint from priming to clear coating is a huge bonus as you can make even the cheapest Gundam look better than Perfect grade ones.
So, if you ask me, start with HG as they are cheap, and you can use them to practice your painting, weathering, and polishing skills.
After learning the basic modeling skills, start saving some money to try more complex grades such as RG and PG.
That's what I'll do if I'm a beginner.
What's next? If you're starting with the Hobby, you might wonder if building Gundam models are still popular? I researched that topic by looking at data from Google and what might happen in the future for Gundam model building. You can find the post here: Is Gundam Still Popular? What is its future?