Hot Wheels: How Many Does an Average Collector Have?
There are some exciting questions a person might have in their mind and one of which is how many hot wheels does an average collector have. I also had these questions in mind, so I did what I had to do. I researched the topic. Are our number of collections on average? Do we think that our collection is too much? I gathered some data to find this out.
According to Mattel, Hot Wheels' manufacturer, an average serious Hot Wheels collector has about 1,550 cars. This is not surprising considering that Hot Wheels release about 250 different models every year, and they've been around for half a century. Furthermore, they also release exclusive models which are more expensive than the mainline.
In this blog post, we will talk more about the topic, such as how many Hot Wheels are being released yearly, what models are worth collecting, and if we make money by collecting Hot Wheels.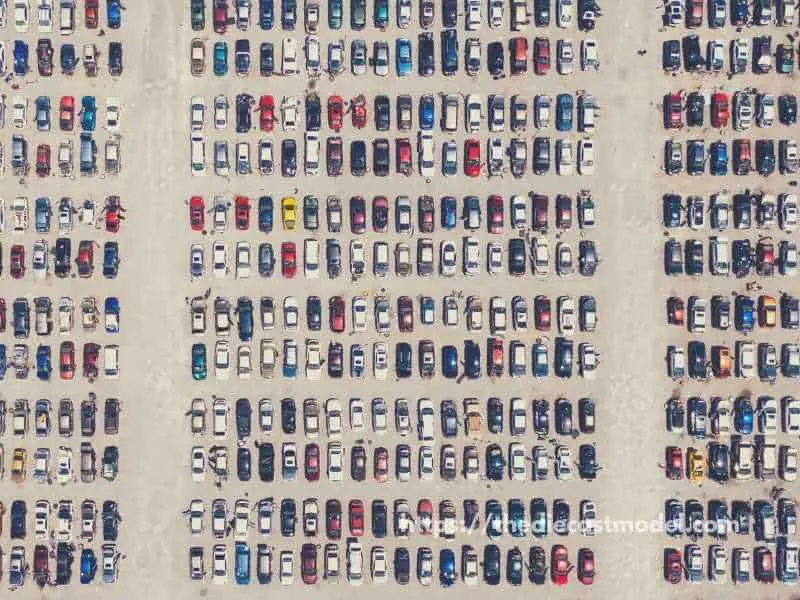 How many hot wheels does the average collector have?
Following the enormous success of the Barbie doll in 1959, Mattel founders Ruth and Elliot Handler saw a market opportunity for mini toy cars.
So they hired car designers from GM, Chrysler, and Ford and tasked them with designing custom-made, brightly colored hot rods.
On May 18th, 1968, the first set of Hot Wheels, dubbed the "Sweet 16," was released for $0.59 each.
Mattel sold 16 million of them that year.
Approximately 41 million children raced Hot Wheels cars down the signature bright orange tracks in the 1960s and 1970s.
As these kids grew older and began having their children, a market for adult Hot Wheels collectors started to evolve.
In the late 1980s, the first convention for serious adult hobbyists was organized by Mike Strauss, a traveling food salesman widely regarded as the "father of Hot Wheels collecting."
Then came newsletters, price guides, and Usenet trading groups.
This collector's market is still active today.
According to Mattel, there are approximately 15 million "avid collectors" who own an average of 1,550 cars.
Approximately 90% of these collectors seek out newer models, also known as "mainline."
The remaining 10%, almost entirely composed of men in their 50s and 60s, is obsessed with the "redline" cars produced between 1968 and 1977.
Mattel took advantage of this new demographic by launching its own paid membership club for collectors, eventually growing to 100,000 members.
In 1995, the company also debuted the "Treasure Hunt" series, which featured limited-edition cars randomly stocked on department store shelves across the country.
Grown men were soon barreling over children at JCPenney stores, competing over miniature T-birds, Camaros, and VW Bugs.
Those who could fetch one for a few dollars could sell it on the collector's market for $20-$80.
How many Hot Wheels cars are there to collect?
There are many Hot Wheels cars to collect as they usually release 250 models on their mainline every year. Furthermore, they have the red line club, an exclusive group, where Hot Wheels release extremely limited edition Hot Wheels such as the treasure hunt series.
When it comes to collecting Hot Wheels, a few years are significant for collectors, such as in 1968, when Hot Wheels was launched. 
Mattel made 16 castings in their first year, now known as The Original Sweet Sixteen, and cost a fortune.
Models from 1968 to 1977 were termed "Redlines" because their wheels had a red pinstripe on the side.
Now, Redlines made a comeback occasionally in special series models.
However, they are extremely rare and super pricey.
Hot Wheels also has a Red Line Club, an annual premium membership that offers exclusive deals and features.
The Treasure Hunt years, which started in 1995 and continues today, are the next significant era of Hot Wheels.
Nowadays, approximately 250 models (365 in 2017) are available as Mainlines (basic or primary series).
The twist is that some mainline cars are harder to find because they were produced in smaller quantities and are referred to as Treasure Hunts.
It gets a little more exciting! Along with basic models and Treasure Hunts, there are a few Super Treasure Hunt cars.
Those are even rarer, and collectors are especially interested in them.
What Hot Wheels are worth collecting?
Hot Wheels such as the Pink rear-loading Volkswagen Beach Bomb, "Cheetah" Base Python, "Mad Maverick" base Mighty Maverick, Red Baron with white interior, and the Custom Volkswagen without a sunroof are some of the famous Hot Wheels for collectors. For example, the Pink rear-loading Volkswagen Beach Bomb can fetch a price up to $175,000.
Trying to pick the best collectible Hot Wheels cars from the past 50 years is a nearly impossible job.
But, these are a few priceless possessions of Hot wheels I can mention.
1. Pink Rear-Loading Volkswagen Beach Bomb (1969)
This Pink rear-loading Beach Bomb is a pre-production model made in 1969 as the Volkswagen Beach Bomb.
The Beach bomb's surfboards are tucked into the vehicle through the open rear window rather than the production version, where the boards slide into a side pod.
People assumed that only one Pink rear-loading Beach Bomb was sold for $50,000 to collectors such as Bruce Pascal for many years.
Today, it could be worth far more than $150,000.
For a complete list of the 1960s Hot Wheels Collectibles, you may check my other blog post where I compared the 24 Hot Wheels Model of the 1969 series. You can find the blog post here: How much is a 1969 Hot Wheels | A Complete Breakdown
2. "Cheetah" Base Python (1968)
Python's first release in 1968 had the name "Cheetah" on its Hong Kong base.
The problem is that the Cheetah name was previously owned by GM executive Bill Thomas and his Corvette-powered "Cobra Killer" race car.
When it was discovered, the name on the metal base was filled in, and Mattel changed the car's name to Python.
Only six cars are known to have the Cheetah name on the base. The value of these cars is today over $10,000.
3. "Mad Maverick" base Mighty Maverick (1970)
The model was initially titled Mad Maverick.
The Topper Co., which produced Johnny Lightning Cars, a major competitor of Hot Wheels, had released its own "Mad Maverick."
So, Mattel quickly changed the car's name to Mighty Maverick.
Before the crossover was noticed, those early Mavericks already had "Mad Maverick" cast into the bare metal case.
In terms of rarity, the value of the car is immeasurable.
4. Red Baron (with white interior, 1970)
The Red Baron, a hot rod T-bucket inspired by the same-named World War I flying ace, was first offered in 1970.
People adorned the car with an iron cross motif mounted on the cowl of the design and a German helmet serving as the roof.
The Red Baron prototype has a white plastic interior, of which fewer than ten are known to exist.
The model is now at least $3,000 according to its book value.
Be careful with the Red Barons sold online, as there is some imitation of the 1969 Red Baron. Remember that these cars are sold for at least $3,000. If you find one that is cheap, better think twice before buying one.
For more guides on buying and selling model cars, feel free to check this blog post, where I also gave some tips for you to sell models for the highest price possible. Here is the link: Market for Diecast Models | A Helpful Guide to Buying and Selling
5. Custom Volkswagen (without a sunroof, 1968)
The first Custom Volkswagen made in Hong Kong didn't feature a sunroof and was only available in Europe.
These models are sold, with the majority of them being sold in Germany and the UK.
Also, the cars lacked plastic side windows and had a different interior than those that followed.
Most of these Volkswagens are blue, with a few aquae and some scarce cars in orange, red, green, copper, and green enamel.
These cars can now fetch more than $1500.
Will Hot Wheels cars go up in value?
Hot Wheels cars usually go up in value because of their rarity. Hot Wheels usually puts a stamp on when a model is manufactured. After its production ends, the models become limited edition and get expensive over time. Furthermore, there is a treasure hunt series that is popular for collectors.
Bruce Pascal is interviewed by almost every mainstream media outlet that covers Hot Wheels collectors.
The man is a legend, with a collection valued at $1.5 million.
The recent economic downfall (2020) has recently gotten Pascal thinking about mortality and the fate of his Hot Wheels.
He's spent the last six months meticulously tabulating each car's value in an Excel spreadsheet.
"There might only be ten people in the world who know the value of what I have, so if I drop dead without documenting everything, I'm screwed," he says.
Bob Young is a Hot Wheels broker specializing in finding vintage, one-owner collections that have been sitting in basements, attics, closets, garages, and storage units for decades.
In one recent deal, he made around $9,000 profit from his investments.
So, as a kid, collecting Hot Wheels is your childish hobby, and as an adult, your childish hobby can fetch you a lot of money.
If even the economic downfall did nothing to increase the price of old Hot Wheels, that means the increasing value of Hot Wheels will still be around for some time.

"Only the things I love"
thediecastmodel.com is reader-supported. When you buy through links on the site, I earn an affiliate commission.
So, here are the things I love when taking care of my Diecast Models.
Cleaning the Models
The first we are going to talk about is cleaning the models.
Removing Dust
Air Brush – For me, this is the best since it not just removes dust but you can use it in painting/clear coating.
Air Duster – This is a good alternative to Airbrush
Normal Brush – If you are short on budget, you can use a normal brush. However, make sure that the brush has soft bristles because there are some hard brushes than can cause scratches. That's why I recommended a good brush that can do the job properly.
Cleaning and Shining Hacks
Well, here are some of my cleaning hacks for removing scratches, oxidation, and so much more.
Removing Decal Adhesive – Use Goo Gone on those hard-to-remove decal adhesives. It works fast and works like charm!
Waxing and Polishing – Here is something a lot of people don't know. Waxing protects the clear coat and paint while polishing shines the model. Instead of buying it separately, use a 2 in 1 to save money. Get this instead.
Beginner Wax – The wax I recommended earlier is good and provides the best results based on my experience. But a beginner might have a problem especially if they're not good at applying wax. Solid wax reaching hard to reach surface can be hard to remove. You have two choices here. One is to use a qtips to reach those surfaces, another is to use a liquid wax I recommended.
Cleaning Wheels, Rubber, Plastic – Do not forget that rubber and plastic surface are quite different, especially in the cleaning process. Just wiping it down won't do the job. That's why I use Meguiar's Vinyl and Rubber Cleaner and Conditioner. Works like charm!
Make the Wheels Shine! – Making our models look good won't be complete without tiny details such as shiny wheels! Do not forget this because however small this is, the difference can be as big as night and day.
Remove Scratches Easily – Tiny scratches are not the end for your model. Here is a simple trick I've been using to make my models look scratch-free even without repainting. Use T-Cut.
Painting the Models
Painting Tools
Make sure when you paint models, have these ready.
Tape – A tape is important if you are painting a straight line. Furthermore, it will prevent your paint to scatter on other parts. I recommend Tamiya Tape since it is really made for models. Furthermore, they stick really well preventing paint splatters.
Brush (Beginner) – Find a good set of brushes to paint your models. Of course, you can opt for an airbrush but it's quite expensive.
Airbrush (Intermediate/Expert) – This will yield a significantly better result than an ordinary brush because you can easily spray the paint evenly. I recommend this if you know what you're doing.
Stand(Optional) – Stands are good because it can be hard to manually hold the models while painting. It is optional but in my opinion, the price is well worth it for the comfort it gives.
Drop Cloths – Drop Cloths will protect your surroundings from the paint.
Primer – The most common beginner mistake I see is painting models without any Primer. A primer will prevent imperfections such as bubbles or paint not sticking to your models. It is a small price to pay for quality results.
Clear Coat – A clear coat will protect the paint of your models. This will make the paint last longer. Also, it is the one responsible for making your models shine.
Paints
Of course, you can't do painting properly without paint. So here are the ones I recommend.
Acrylic Paint – Good for beginners because it dries quickly. However, it doesn't produce results as good as enamel paint.
Enamel Paint – Provides a good quality finish and longer-lasting paint. However, it takes longer to dry and requires expertise to use.
Model Maintenance
Model Storage
Simple Wood Cabinet – While it doesn't let you display your models, wooden cabinets are good storage for these models. For one, they are not heat conductors which means that the temperature inside will remain constant and remain cool. Furthermore, they prevent light from reaching the models which can cause oxidation.
Clear Cabinet with Lock – If you want to display your models, then I recommend this. It closes so dust won't easily get to your models. I also recommend you don't put more than 1 model in each compartment since metals are good conductors of heat.
Model Photography
So you want to show off your models to others? Well, I got you covered.
Here is my beginner-friendly model photography tutorial that teaches everything from taking pictures to the editing process.
You will also see me doing hands-on photography in that tutorial.
Here is the link: How to Take Pictures of a Diecast Model or Model Kit | Helpful Illustrated and Video Guide
Source