Do People Buy Diecast Cars? | An Introduction to Model Market and Reasons Why People Collect Model Cars
You might have some models lying in your basement and wondered if people buy them. As a collector, I believe that some models are worth buying for many reasons, which I'll discuss in this blog post.
People buy diecast cars because these models can be related to something significant in their past. Thus, these models relive their memories with a beloved car. Furthermore, some people buy diecast cars because the prices of these diecast cars are increasing due to limited supply and increasing demand.
In this blog post, we are going to talk about the market for these diecast cars. We will also explore why people buy these cars and what to look for when buying or selling these models.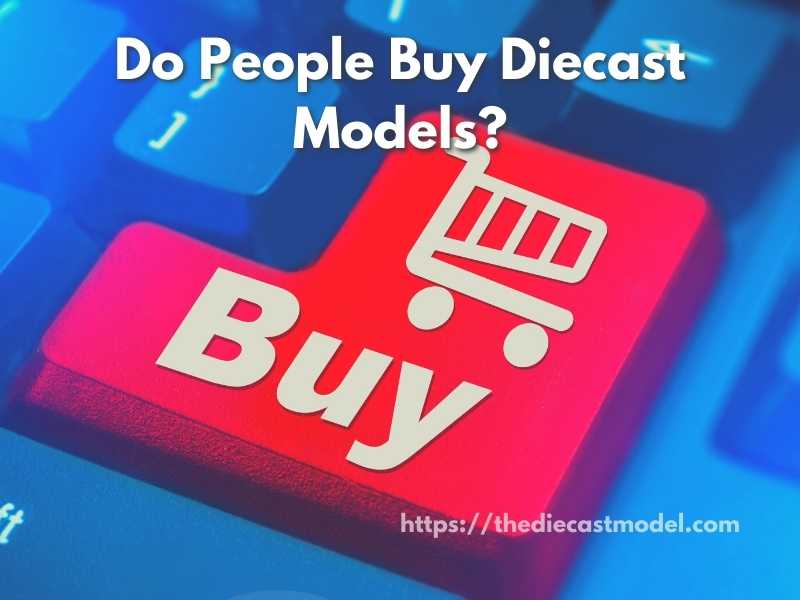 Is there a market for diecast cars?
There is a market for diecast cars such as eBay, Warwick and Warwick, QDT (Quality Diecast Toys), Vintage Cash Cow, DNR Collectibles, Pawnshops, Facebook Marketplace, and Trade Shows. Choosing which one to market your models depends on your taste and preference.
If one is interested in miniature cars, diecast cars will undoubtedly be on their radar.
NASCAR diecast cars, in particular, are highly sought after by collectors.
However, for the beginner collector, the cost of amassing a NASCAR diecast collection can be ridiculously expensive.
Some collectors argue that devoting a portion of their life savings to the upkeep of their collection deprives them of entertainment.
One option for these collectors is to look for bargains on eBay.
Check eBay here: eBay
While some sellers may raise their prices to make a significant profit on the gigantic internet trading website, others are simply interested in collecting.
As a result, one has a good chance of finding diecast models at reasonable prices, allowing them to satisfy their desire to own a collection.
So, how does a novice collector tell the difference between a good deal and a rip-off?
The 1/64 scale is a fantastic way to collect diecast cars because it is inexpensive and easy to store. However, the 1/43 scale is also a good choice since it is popular with collectors.
It is also recommended to start buying in a lot which is an excellent way to get started.
This way, you can collect many cars for a reasonable price, and you can then showcase them in a case or on shelves without looking bare.
If you are on the other end of the collector spectrum and are thinking about selling some/all of your cars, selling in bulk lots is also an excellent option.
eBay is an excellent place to start buying and selling lots; remember to include plenty of pictures and detailed descriptions to attract the most bidders.
There are options for more avid collectors who want to build a more advanced collection.
1/24 and 1/8 scale models are more costly than 1/64 scale cars, but they are larger and often have movable hoods and doors, adding realism.
There are several types of 1/24 cars, including the Sprint, Nextel, and Craftsman series.
These series feature high-quality detail, but the Craftsman series is more difficult to find due to lower demand than the other series.
When it comes to model series, don't forget the Hot Wheels treasure hunt series or set, which has a book value of $3,600.
Furthermore, the 1/8 scale cars are the most expensive and the largest of the scales.
For this range of diecast cars, auctions are the best option.
Such an online platform is Warwick & Warwick, where they sell all shapes, sizes, and styles of models.
Thousands of diecast cars and models are available in their regular toy auctions, which are held six times a year.
While some of these items are worth a few pounds, some diecast model collections can fetch hundreds of dollars.
If you're looking to sell diecast models, their team of experts will gladly provide free, confidential advice on any aspects of a private treaty or auction sale.
There is also the option of receiving a free valuation with no obligation to sell.
In case you want to buy diecast cars, each sale they hold includes a detailed listing of individual diecast models from most of the more popular manufacturers, such as Dinky toys, Matchbox toys, Corgi toys, and many more.
Among other notable marketplaces for buying and selling diecast cars are QDT (Quality Diecast Toys), Vintage Cash Cow, DNR Collectibles, and Conventions and Trade Shows.
Here's the guide I wrote on these selling platforms: Where and How to Sell Your Diecast Collection
However, while evaluating diecast cars, consider these important factors: size, manufacturer, availability, trends, and condition.
Why do people buy diecast cars?
People buy diecast cars for two reasons: they see it as their hobby or as an investment. First, due to the rising popularity of diecast models, the price of rare models is increasing over time. Second, for some, collecting replica models is a hobby to show appreciation for the actual models.
This is a frequently asked question, why do people buy diecast cars?
For some people, a hobby is worth a million. And it is evident from the collection of Bruce Pascal, a real estate executive in the profession.
Bruce Pascal's collections are worth millions of dollars, and he is the proud owner of the 1969 version of Hot Wheels "Beach Bomb": Volkswagen, which is worth $150,000.
Another important reason is that diecast models appreciate in value and make excellent collectibles because they are made of durable materials and become limited editions over time.
Limited edition cars become increasingly rare over time, and collectors are constantly on the lookout for them.
Diecast model cars appreciate, particularly if they are of high quality, accuracy, and durability.
As mentioned earlier, diecast cars are made from metals that make them long-lasting.
The longer time passes, the rarer and more expensive they become.
That is why limited editions make an excellent investment.
However, current edition models can also be an excellent investment, as these can also appreciate in value if taken care of well.
Adults enjoy collecting toy cars as a time-honored pastime.
Some people collect cars because they are car enthusiasts interested in a specific car model or era of car design.
Others find that collecting cars is enjoyable because it allows them to reconnect with their childhood.
Diecast car models, in some ways, are a symbol of their era and how childhood manifests itself over time.
Hence, some people are looking for diecast models, particularly old and rare ones.
5 Factors To Consider Before Buying Diecast Cars
1. Check the Model Size or Scale
Even though larger models are more valuable (on average) than smaller ones, they need more space to showcase and store, which may deter some collectors.
I also recommend getting 1:43 scale models since they're considered as the collector's scale.
For a detailed guide on model scales, you can find my other blog post here: Diecast Model Scales: An Analysis.
2. Check the Model Manufacturer
Some manufacturers, particularly those from the early 1900s, are far more desirable than others.
This is frequently because newer manufacturers are notorious for producing replicas of significantly lower quality and value.
If you need to know what model brands are popular with collectors, I surveyed a community of 24,300 collectors to find the answer, which I wrote here: Which diecast brand is the best?
3. Check the Model's Availability or Collectability
When a car is produced in limited numbers, it tends to be more valuable.
Highly sought-after makes, models, drivers, or sponsors may also be worth more because they are difficult to obtain.
4. Check Current Model Trends
Diecast car prices can fluctuate depending on market conditions.
For example, if a particular driver wins a championship, retires, or is involved in an accident, their car may gain temporary popularity, causing prices to rise.
5. Check Model Condition
One of the most important factors influencing the value of a diecast model car is its appearance.
Serious collectors are frequently only interested in vehicles in 'mint condition,' with no visible wear or defects.
These vehicles will have a higher resale value than an identical model with minor marks or blemishes.
I made a guide on properly opening these models if you want to open them without significantly reducing their price. If you're interested, you can find it here: How to open a model
What's next? If you've decided to buy or sell your models, where do you plan to do it? It is hard to sell online if you don't know how people do things on the platform. Thus, I made a guide on the market for these models. You can find it here: A Helpful Guide to Buying and Selling Models

"Only the things I love"
thediecastmodel.com is reader-supported. When you buy through links on the site, I earn an affiliate commission.
So, here are the things I love when taking care of my Diecast Models.
Cleaning the Models
The first we are going to talk about is cleaning the models.
Removing Dust
Air Brush – For me, this is the best since it not just removes dust but you can use it in painting/clear coating.
Air Duster – This is a good alternative to Airbrush
Normal Brush – If you are short on budget, you can use a normal brush. However, make sure that the brush has soft bristles because there are some hard brushes than can cause scratches. That's why I recommended a good brush that can do the job properly.
Cleaning and Shining Hacks
Well, here are some of my cleaning hacks for removing scratches, oxidation, and so much more.
Removing Decal Adhesive – Use Goo Gone on those hard-to-remove decal adhesives. It works fast and works like charm!
Waxing and Polishing – Here is something a lot of people don't know. Waxing protects the clear coat and paint while polishing shines the model. Instead of buying it separately, use a 2 in 1 to save money. Get this instead.
Beginner Wax – The wax I recommended earlier is good and provides the best results based on my experience. But a beginner might have a problem especially if they're not good at applying wax. Solid wax reaching hard to reach surface can be hard to remove. You have two choices here. One is to use a qtips to reach those surfaces, another is to use a liquid wax I recommended.
Cleaning Wheels, Rubber, Plastic – Do not forget that rubber and plastic surface are quite different, especially in the cleaning process. Just wiping it down won't do the job. That's why I use Meguiar's Vinyl and Rubber Cleaner and Conditioner. Works like charm!
Make the Wheels Shine! – Making our models look good won't be complete without tiny details such as shiny wheels! Do not forget this because however small this is, the difference can be as big as night and day.
Remove Scratches Easily – Tiny scratches are not the end for your model. Here is a simple trick I've been using to make my models look scratch-free even without repainting. Use T-Cut.
Painting the Models
Painting Tools
Make sure when you paint models, have these ready.
Tape – A tape is important if you are painting a straight line. Furthermore, it will prevent your paint to scatter on other parts. I recommend Tamiya Tape since it is really made for models. Furthermore, they stick really well preventing paint splatters.
Brush (Beginner) – Find a good set of brushes to paint your models. Of course, you can opt for an airbrush but it's quite expensive.
Airbrush (Intermediate/Expert) – This will yield a significantly better result than an ordinary brush because you can easily spray the paint evenly. I recommend this if you know what you're doing.
Stand(Optional) – Stands are good because it can be hard to manually hold the models while painting. It is optional but in my opinion, the price is well worth it for the comfort it gives.
Drop Cloths – Drop Cloths will protect your surroundings from the paint.
Primer – The most common beginner mistake I see is painting models without any Primer. A primer will prevent imperfections such as bubbles or paint not sticking to your models. It is a small price to pay for quality results.
Clear Coat – A clear coat will protect the paint of your models. This will make the paint last longer. Also, it is the one responsible for making your models shine.
Paints
Of course, you can't do painting properly without paint. So here are the ones I recommend.
Acrylic Paint – Good for beginners because it dries quickly. However, it doesn't produce results as good as enamel paint.
Enamel Paint – Provides a good quality finish and longer-lasting paint. However, it takes longer to dry and requires expertise to use.
Model Maintenance
Model Storage
Simple Wood Cabinet – While it doesn't let you display your models, wooden cabinets are good storage for these models. For one, they are not heat conductors which means that the temperature inside will remain constant and remain cool. Furthermore, they prevent light from reaching the models which can cause oxidation.
Clear Cabinet with Lock – If you want to display your models, then I recommend this. It closes so dust won't easily get to your models. I also recommend you don't put more than 1 model in each compartment since metals are good conductors of heat.
Model Photography
So you want to show off your models to others? Well, I got you covered.
Here is my beginner-friendly model photography tutorial that teaches everything from taking pictures to the editing process.
You will also see me doing hands-on photography in that tutorial.
Here is the link: How to Take Pictures of a Diecast Model or Model Kit | Helpful Illustrated and Video Guide
Source