Can you wet Diecast and Hot Wheels? What happens if you wet them?
Chances are, you got some old Hot Wheels from garage sales or a Hot Wheels in your possession for a long time. Over time, grease and dirt can accumulate on your model in which a simple brush won't work. Thus, you're wondering if you can wash or wet your diecast model. This article will talk about what will happen in case you do so.
You can wet a Hot Wheels car simply because it is water-resistant. This has been confirmed by Mattel which is the manufacturer of Hot Wheels. However, putting your model cars into the water can damage the stickers which are made of paper thus, not waterproof.
So, what happens if your Hot Wheels vehicle gets wet? Continue reading because the answer will certainly be found here.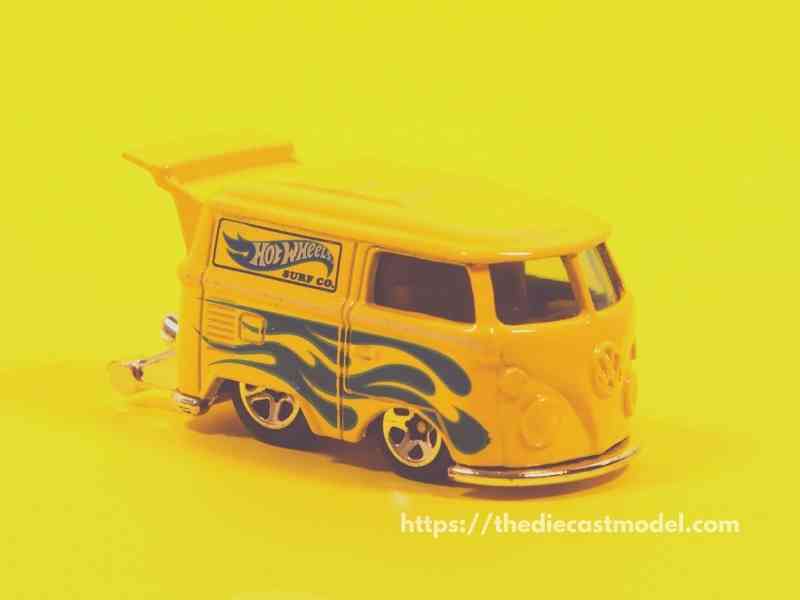 Can you get Hot Wheels cars wet?
Hot Wheels cars can go wet because they are waterproof. However, take note that the stickers in the models are not water-resistant since it's made out of paper. Furthermore, putting your model into the water can oxidize the metals which can cause discoloration. This is especially true if you mix water and soap.
If you want to know the best solutions to sanitize your diecast models, I actually made a guide for you to check out. Here is the link: How to Sanitize a Diecast Model
If you're wondering how to clean Hot Wheels or whether it's good to clean out the wheels, washing these model diecasts is quite required because people play with them and they're sometimes left outside in the rain or snow.
Even if your models are just for display, they can still accumulate dust and dirt.
Cleaning them is the only method to restore them if you don't want their quality to deteriorate and if you want to resell them later to recoup your investment.
This isn't meant to discourage you from playing with your Hot Wheels; by all means, do so, but you can and should clean them when you get the opportunity.
However, keep an eye out for paper decals or stickers on the model's exterior. Apart from that, everything else, including is water-resistant.
You'll need two buckets (one large and one little), or you may do it in the sink or outside.
To wash, fill a small bucket halfway with warm water and some dawn detergent.
You can use a larger bucket with clear water to rinse it using a toothbrush that isn't too rough or stiff.
Scrub the wheels, the base, and the windshield gently back and forth; you don't want to scrub too hard because it may inadvertently remove some of the fragile parts.
To clean your hot wheel correctly, simply get it wet enough to get all the nooks and crannies.
When done correctly, you will be able to see through the window and the interior will have been cleaned; in some Hot Wheel automobiles, the headlight area will also move back and forth, and we may even see the sink change color.
Color changers are the rage right now and have been for a number of years.
Everyone seems to be on the lookout for them.
In a nutshell, is it possible to wash Hot Wheels? Yes, of course!
Simply pour a little amount of liquid detergent into a sink, bucket, or basin and rinse with warm water.
To sanitize the toys, spritz them with a 50/50 mixture of rubbing alcohol and water and let them sit for a minute. Repeat the rinsing process, then lay flat to dry. It's been cleaned and sanitized!
What Happens if You Wet a Hot Wheels Car Model?
What happens if you wet a Hot Wheels is that the stickers will start to absorb water. Wetting a diecast model doesn't really affect it because it is water-resistant and not made from iron. However, prolonged exposure to water can cause it to build calcium deposits and discoloration due to zinc.
Even though the metal could rust, the cars are regarded as water-resistant. This was confirmed by Hot Wheels, which successfully scanned an id car that had been soaked in water for about five months.
When your hot wheel model becomes wet, one of the things that happen is that the paper (decals or stickers) on it gets wet and can be ruined by water, just as earlier mentioned.
The Hotwheel cars go through the car wash from left to right in Hot Wheels' huge car wash color shifters city playset.
The car gets a warm water shower as it passes down the path while being washed by three foams (one on top, right, and left), ensuring that the model car is clean from all sides.
The trail then drops the car in a pool of cool water, and the color changes quickly.
How do you remove rust from Hot Wheels?
In general, Hot Wheels don't rust.
If you're scared that your Hot Wheels might rust because of putting it in water, then it's not true.
Hot Wheels are made through the diecasting process which uses metal alloys particularly aluminum and zinc.
These don't really rust because rust comes from a certain metal called Iron.
However, zinc is prone to oxidation which is why you'll still see some discoloration on diecast models.
But its color is not the same as rust.
This can happen if you wet a diecast model, especially for a prolonged period.
An Easy Way to Remove Oxidation from Diecast Cars 
Lime A Way is a tile and bathroom cleanser that can readily remove calcium oxides that have built up hard layers.
Unlike the electro polisher, it will remove the oxidation but not the polishing
The Lime-A-Way only works really well and takes a long time.
Of course, you can use it without harming the plastic or the paint. After removing the oxides, you'll need to check on the part frequently to make sure you don't keep it in for too long.
Line-A-Way is a cheap and easy way to deoxidize cars without having to tear them apart. However, you do need to be careful and keep an eye on the progress so that you don't overdo it
If you're wondering where you'll find Lime-A-Way, here's where you'll find it.
Conclusion
Hot Wheels have been a part of every car-obsessed kid's toy box since 1968.
Aside from their great attention to detail, they were able to provide model cars at a cheap price.
Hot Wheels cars are waterproof, even after being soaked in water for five months.
The toys can be disinfected and clean by washing them with warm water and a squirt of liquid detergent. When dried out, they will reveal their new gleaming appearance.
You don't love your Hot Wheel cars except you play with them as often as you can, anyone can buy it for whatever purpose – don't have to be in love with it if you buy it.
No more excuses of not wanting to dirty your Hot wheels by playing with them because if you want, you can use the information on this page to clean and restore your model.

"Only the things I love"
thediecastmodel.com is reader-supported. When you buy through links on the site, I earn an affiliate commission.
So, here are the things I love when taking care of my Diecast Models.
Cleaning the Models
The first we are going to talk about is cleaning the models.
Removing Dust
Air Brush – For me, this is the best since it not just removes dust but you can use it in painting/clear coating.
Air Duster – This is a good alternative to Airbrush
Normal Brush – If you are short on budget, you can use a normal brush. However, make sure that the brush has soft bristles because there are some hard brushes than can cause scratches. That's why I recommended a good brush that can do the job properly.
Cleaning and Shining Hacks
Well, here are some of my cleaning hacks for removing scratches, oxidation, and so much more.
Removing Decal Adhesive – Use Goo Gone on those hard-to-remove decal adhesives. It works fast and works like charm!
Waxing and Polishing – Here is something a lot of people don't know. Waxing protects the clear coat and paint while polishing shines the model. Instead of buying it separately, use a 2 in 1 to save money. Get this instead.
Beginner Wax – The wax I recommended earlier is good and provides the best results based on my experience. But a beginner might have a problem especially if they're not good at applying wax. Solid wax reaching hard to reach surface can be hard to remove. You have two choices here. One is to use a qtips to reach those surfaces, another is to use a liquid wax I recommended.
Cleaning Wheels, Rubber, Plastic – Do not forget that rubber and plastic surface are quite different, especially in the cleaning process. Just wiping it down won't do the job. That's why I use Meguiar's Vinyl and Rubber Cleaner and Conditioner. Works like charm!
Make the Wheels Shine! – Making our models look good won't be complete without tiny details such as shiny wheels! Do not forget this because however small this is, the difference can be as big as night and day.
Remove Scratches Easily – Tiny scratches are not the end for your model. Here is a simple trick I've been using to make my models look scratch-free even without repainting. Use T-Cut.
Painting the Models
Painting Tools
Make sure when you paint models, have these ready.
Tape – A tape is important if you are painting a straight line. Furthermore, it will prevent your paint to scatter on other parts. I recommend Tamiya Tape since it is really made for models. Furthermore, they stick really well preventing paint splatters.
Brush (Beginner) – Find a good set of brushes to paint your models. Of course, you can opt for an airbrush but it's quite expensive.
Airbrush (Intermediate/Expert) – This will yield a significantly better result than an ordinary brush because you can easily spray the paint evenly. I recommend this if you know what you're doing.
Stand(Optional) – Stands are good because it can be hard to manually hold the models while painting. It is optional but in my opinion, the price is well worth it for the comfort it gives.
Drop Cloths – Drop Cloths will protect your surroundings from the paint.
Primer – The most common beginner mistake I see is painting models without any Primer. A primer will prevent imperfections such as bubbles or paint not sticking to your models. It is a small price to pay for quality results.
Clear Coat – A clear coat will protect the paint of your models. This will make the paint last longer. Also, it is the one responsible for making your models shine.
Paints
Of course, you can't do painting properly without paint. So here are the ones I recommend.
Acrylic Paint – Good for beginners because it dries quickly. However, it doesn't produce results as good as enamel paint.
Enamel Paint – Provides a good quality finish and longer-lasting paint. However, it takes longer to dry and requires expertise to use.
Model Maintenance
Model Storage
Simple Wood Cabinet – While it doesn't let you display your models, wooden cabinets are good storage for these models. For one, they are not heat conductors which means that the temperature inside will remain constant and remain cool. Furthermore, they prevent light from reaching the models which can cause oxidation.
Clear Cabinet with Lock – If you want to display your models, then I recommend this. It closes so dust won't easily get to your models. I also recommend you don't put more than 1 model in each compartment since metals are good conductors of heat.
Model Photography
So you want to show off your models to others? Well, I got you covered.
Here is my beginner-friendly model photography tutorial that teaches everything from taking pictures to the editing process.
You will also see me doing hands-on photography in that tutorial.
Here is the link: How to Take Pictures of a Diecast Model or Model Kit | Helpful Illustrated and Video Guide