American Flyer Trains: Production, Value, and History
American Flyer has a loyal following up to this date. This brand is famous for its S scale model trains. However, it didn't start producing S scale models until 1938. So what made American Flyer popular? What caused it to decline? Are there new American Flyer models coming out? We will answer all of this in this post.
American Flyer is still making trains under Lionel Corporation. This is because Lionel bought the rights to American Flyer in 1979 after the company's sales declined and went into financial trouble. Currently, most American Flyer models are made in the S scale.
This post will discuss a brief history of American Flyers, from their humble origins to their rise in popularity and what caused them to fall down. We will also discuss some rare American flyer models that are worth the money and were sold for thousands of dollars.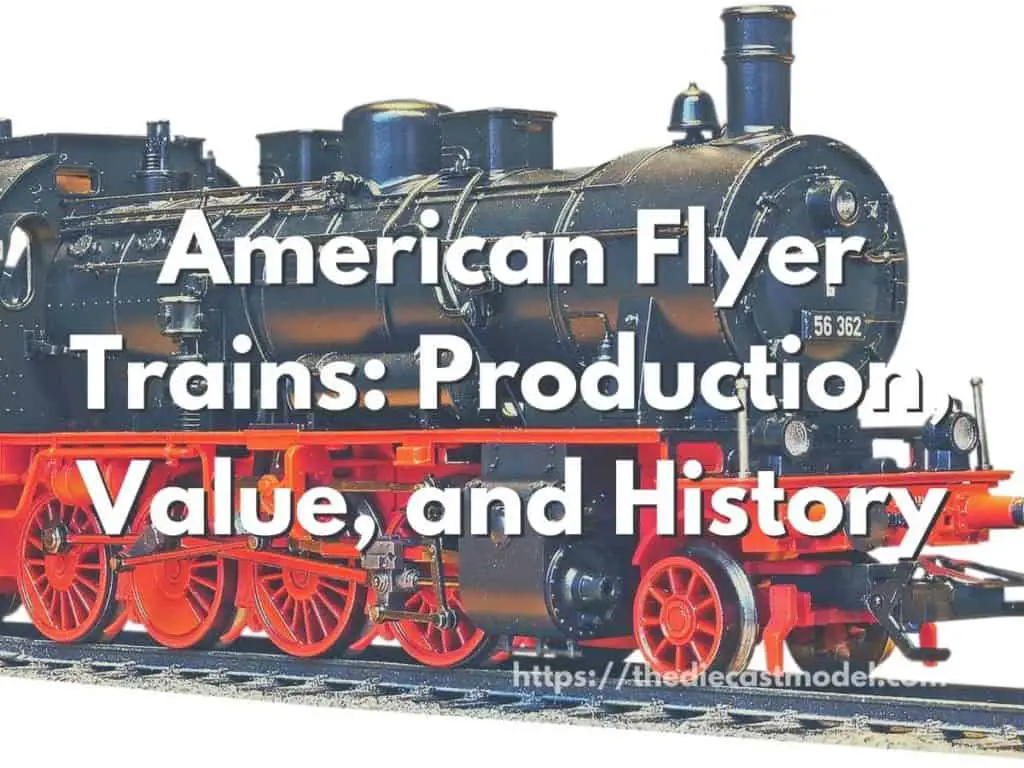 Are American Flyer trains still made?
American Flyer trains are still being made and can still be bought in hobby stores. However, the products are now being made by Lionel, who bought American Flyer in 1979. Modern American Flyer models are sold in the S scale, which still has a loyal following.
American Flyer was once one of the leading brands on the high-end O scale market. They are also popular for their S scale models, which were popularized by Alfred Carlton Gilbert, also known as A.C. Gilbert.
If the name is familiar, it is because he is the one who made American Flyer popular. However, did you know that he isn't the original owner of American Flyer?
A.C. Gilbert became affiliated with American Flyer when he bought the company from its original owner in 1937. After that, he started producing what he calls the 3/16″ scale O gauge trains, which later became the S scale.
The original American Flyer started in 1907 and was made by William Frederick Hafner.
Hafner was a designer of model trains, and he developed a clockwork O scale train in 1905. However, he lacked the resources to produce his models.
That's where Hafner's friend, William Ogden Coleman, acquired rights to the Edmonds-Metzel hardware company, a struggling hardware manufacturing company.
Coleman and Hafner collaborated to use the manufacturing company of Edmonds-Metzel to produce model trains, and it was a success. That's why in 1910, Edmonds-Metzel changed its name to American Flyer, which solely produces model trains.
American Flyer was a success, but its success didn't last as conflicts between the two owners emerged.
In 1913, Hafner finally left American Flyer, and Coleman stayed and maintained American Flyer.
American Flyer is still rising even after Hafner left. American Flyer has been producing premium O scale trains that were able to compete with Lionel.
However, in 1918, Coleman died and left the company to his son, Coleman Jr., who continued producing high-quality O scale trains, which American Flyer was known for.
But the trend is slowly changing as cheaper trains become more popular.
However, the rise of cheap model trains and competition from the likes of Marx trains became a stumbling block to American Flyers' future. That's where the company started to decline.
Recommended Read: If you are interested in Marx trains which is one of the biggest competitors for American Flyer, I also talked about their history and their valuable cars like what you are reading. You can find the post here: Everything you need to know about Marx trains.
American Flyer started having trouble in the 1930s as cheaper train models were more popular than premium model trains. So they tried producing cheaper train models, but it wasn't profitable.
That's when Coleman Jr. sold the company to A.C. Gilbert in 1937. Gilbert is a train enthusiast and started designing his trains.
One of his successful designs is his introduction of the 3/16″ scale model trains, which are smaller but runs on O gauge tracks.
The 3/16″ scale is now called the S scale.
This is where American Flyer reached its peak, as many people loved the 3/16″ scale trains. As a result, they produced premium models and became one of the two leading brands for high-end O scale model trains.
This content was originally posted on thediecastmodel.com. If it appears on other websites, it is a violation of the copyright owned by thediecastmodel.com.
American Flyer and Lionel dominated the high-end O scale market, and their 3/16″ scale trains that run on the O scale are a hit.
In the following decades, model trains were becoming less popular as there were more options for people to collect, such as car and space models.
Furthermore, Marx trains could dominate the low-end O scale market, and more people are buying cheaper model trains from discount stores rather than hobby stores.
This trend made Lionel and American Flyer enter some financial difficulty as they are now selling fewer models.
They also can't compete with Marx trains that have dominated the cheap train market.
However, American Flyer has no choice but to go and try competing in the low-end train market.
That's where they started producing cheaper model trains with lower-quality materials. This is also the main reason why the company declined.
Since American Flyer is known for giving high-quality model trains, their fans started to get confused when they offered cheap model trains.
Furthermore, they lowered the quality and price so much that returns are common as their new products aren't durable.
This ultimately led to their fans calling their newer models "Junk," where the company made little sales and lost some followers.
However, what triggered the decline of American Flyer was A.C. Gilbert's death in 1961. These issues caused American Flyer to struggle and ultimately be sold to Lionel in 1967.
When Lionel bought American Flyer, it was thought that the two giants were combining, and it will bring back the high-end O scale market to its former glory. However, the trend is still shifting towards cheap and HO scale model trains.
Lionel started to produce American Flyer models but isn't making anything new which angered American Flyer fans.
However, it changed in 2002 when Lionel saw increased demand for the S scale market.
In 2004, Lionel tried to relive old American Flyer models such as the 2-8-2 Mikado with new features such as TMCC controls. American Flyer loved the innovation, and Lionel has been producing more American Flyer models ever since.
Recommended Read: If you are interested in what TMCC controls are, its usage, and its principle, I talked about it while discussing the latest control system of Lionel, which is called Lionel Legacy. You can find the post here: What is Lionel Legacy Control system?
That's why American Flyer Models are being produced up to this date. However, Lionel is focused on producing S scale American Flyer models.
Currently, it will be hard to find American Flyer models on the O and HO scale since Lionel is focused on the S scale Americal Flyer train models.
As a company that started in 1907, we can be sure that there are lots of vintage American Flyer models sought by collectors. The following section will give some examples of American Flyer models sold for lots of money.
Are American Flyer trains valuable?
Generally speaking, American Flyer trains can range from $80 to $800 depending on the type and quality. However, some vintage and rare American Flyer models are valuable and can be sold for more than a thousand dollars.
With American Flyer's rich history, it is evident that there are lots of vintage models produced by the company circulating in the market. Furthermore, American Flyer has a loyal following willing to buy these rare models at a high price.
However, generally speaking, American Flyer trains are valued at $80 to $800 depending on their age, rarity, and condition.
There are also some models that can be sold for more than $800.
A perfect example is the 1956 American Flyer S gauge Santa Fe set, a rare model train that was sold for $2,999. The 1956 American Flyer Santa Fe set is not only vintage and rare but it is maintained in excellent condition with accessories that are running until this date.
Since the model was well maintained, the product was sold at a premium price in 2022.
Another example is the 1950 American Flyer Multipurpose car which is a rare mint-in-condition model train. The model is in mint condition, which means that it was never opened and is still sealed.
Because it is in excellent condition, the American Flyer Multipurpose car was sold for $1,195 in an auction.
Another expensive American Flyer train is the American Flyer Defender train set which was sold together with its original box.
While the model isn't in mint condition, it is sold in its original box. However, the problem is that the model has some flaking due to its use. Nevertheless, the train is still in good condition and was sold for $999.
However, these examples are not just lucky exemptions since many American Flyer models were sold for a lot of money.
Another example is the 1952 American Flyer Silver Streak Marble. This model is extremely rare and considered one of the two rarest chrome cars. The model was bought for $995.
If you're still not convinced that American Flyer models can be sold for a lot of money, then let me give another example.
The 1960 American Flyer MSTL and Red Stripe Passenger train set are vintages and well-maintained train models that included all stampings. While the model has some scratches and chipping due to use, it was sold for $899.
As you can see, as long as there are collectors of American Flyer models, they will remain valuable. These are only examples, and there are more models that have been sold for a lot of money.
What's next? Do you want to save money while doing model railroading? I made a post talking about tips on how you can get more for your hard-earned money here: Tips to save money on model railroading.